Letter & Notices of Liability
Business, Mask, Jab, PCR Testing, etc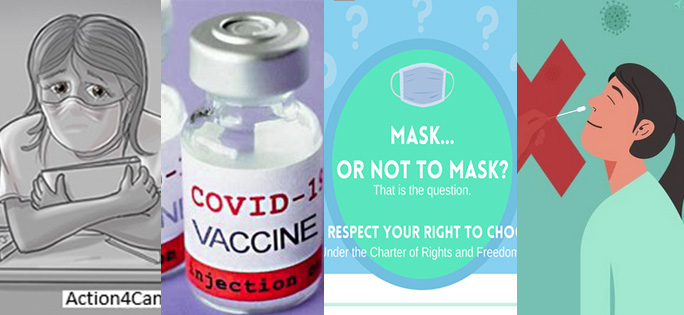 All things COVID Related:
Protect yourself and your children
Personal liability is a critical weapon in this war against individual rights and freedoms. Canadians have inalienable rights. We have a Constitution and a Charter of Rights and Freedoms, plus the Rule of Law. If you do not want to lose your rights then you need to take action to protect them by holding those who are violating your rights, personally liable.
No Order or government mandates supersede YOUR guaranteed right to work; assemble; worship; or see your family or loved ones; nor to force you to have anything stuck into any part of your body without your 100% consent. If you do not want to lose your rights then you must not concede, comply or give in to this tyranny.
To assist you, Action4Canada has created the following Notices of Liability and non-consent form to protect you and your family from a government that is out of control.
NOTE: You do not need a lawyer to serve a Notice of Liability. 
Fill in the top of the NOL with the name of the person you are serving, sign and date the bottom, keep a copy, and either deliver personally or send by registered mail. 
COVID Testing
Right to REFUSE Covid Testing. The Genetic Non-Discrimination Act, Bill S201, It is an indictable offence to force anyone to take an DNA/RNA test or deny any service, employment, or education opportunity. The PCR test measures the "genetic" material in a sample. 
Vaccine Notices of Liability
PROTECT MINORS – **Do not give the NOL to your child to serve. Follow the instructions provided.
Student Mask/Covid Notice Non-Consent NOL to Educators
AGAINST ELECTED OFFICIALS
AGAINST 'ANYONE' ADMINISTERING  THE EXPERIMENTAL INJECTION
We have a duty to protect the public and minors from this harmful, deadly, injection.
BUSINESS
NOL AGAINST GOV'T INTERFERING WITH THE OPERATION OF BUSINESSES.
VaxPASS: NOL AGAINST BUSINESS OWNERS FOR VIOLATING CITIZEN'S RIGHTS
Notices to Premiers and Health Officials
If you are a church leader, business owner, educator, medical professional, law enforcement or firefighter…. Sign and send one of the following notices to your Premier and Provincial Health Officer advising them that you will no longer comply with Orders that are unlawful, irrational, causing harm, and in violation of the Constitution and Charter of Rights and Freedoms.   
MOBILITY RIGHTS
Every citizen has the Guaranteed right to travel in Canada. The right to enter, remain and leave Canada.
Notice of Liability Flyer
Notices of Liability In Action
Notice of Liability (Elected/Appointed Official) Served to Mayor and Council (Kamloops, BC)
Action4Canada accepts no responsibility or liability for any harms or losses that occur as result of delivering this notice. If you do not agree to these terms then please do not use this notice. We do not make any representations or warranties about the potential consequences of delivering this Notice of Exemption/Non-Consent (eg. removal of child from a private school). A parent/legal guardian must decide what is in the best interest of their child.