Masks
What are the Facts About Masks?
Here's Why Masks Don't Work!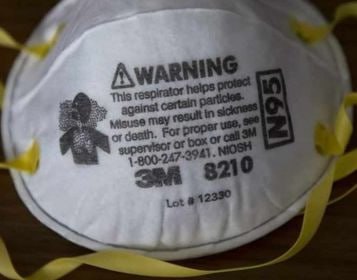 Mask Leaflet and Expert Testimony
Chris Schaefer is a Respirator Specialist that lives in Edmonton, Alberta, Canada with 27 years experience.
He's an advisor for Military, Health Care, Educational Institutions including the University of Alberta Faculties of both Medicine and Dentistry as well as Private Industry.
A court approved respirator expert who has submitted expert reports for 5 different court cases across the Country against "mask" mandates.
Chris has been invited and spoken at numerous city councils and school boards on this issue.
His letters to AHS Chief Dr. Hinshaw and Medical Directors across Canada have been published and circulated all over the world and translated into multiple languages.
Chris has been interviewed locally, nationally and internationally on this topic.
Mask evidence for Quebec judicial review case filed by FDDLP in the summer 2021 :
Chris Schaefer report, June 10, 2021 for FDDLP
Chris Schaefer, June 16, 2021 for FDDLP
Greg Gerrie: Masks are Ineffective
Breaking News
COVID rules are blamed for 23% dive in young children's development
Disturbing study shows scores in three key cognitive tests slumped between 2018 and 2021, with face mask rules among possible culprits. Read more.
Face masks cause PERMANENT brain damage according to Neurologist
"The reinhalation of our exhaled air will without a doubt create oxygen deficiency and a flooding of carbon dioxide. We know that the human brain is very sensitive to oxygen deprivation. There are nerve cells for example in the hippocampus that can't be longer than 3 minutes without oxygen – they cannot survive."
"To deprive a child's or an adolescent's brain from oxygen, or to restrict it in any way, is not only dangerous to their health, it is absolutely criminal. Oxygen deficiency inhibits the development of the brain, and the damage that has taken place as a result CANNOT be reversed." Read more.

Masks are Neither Safe nor Effective

This printable pdf contains 64 scientific studies (with links) that prove the ineffectiveness and dangers of masks. Big thanks to Paul Bowman for compiling this.
Aerosols vs. Droplets
Why should you care about the difference between an aerosol and a droplet? Because it's affected your life for the last 2 years.  https://pairodocs.substack.com/p/aerosols-vs-droplets?r=1dvque&s=r
A Group Of Parents Sent Their Kids' Face Masks to A Lab for Analysis. Here's What They Found:
The analysis detected the following 11 alarmingly dangerous pathogens on the masks, including: Streptococcus pneumoniae (pneumonia); Mycobacterium tuberculosis (tuberculosis); Neisseria meningitidis (meningitis, sepsis); Acanthamoeba polyphaga (keratitis and granulomatous amebic encephalitis); Acinetobacter baumanni (pneumonia, blood stream infections, meningitis, UTIs— resistant to antibiotics); Escherichia coli (food poisoning); Borrelia burgdorferi (causes Lyme disease); Corynebacterium diphtheriae (diphtheria); Legionella pneumophila (Legionnaires' disease); Staphylococcus pyogenes serotype M3 (severe infections—high morbidity rates); Staphylococcus aureus (meningitis, sepsis).
The face masks studied were new or freshly-laundered before wearing and had been worn for 5 to 8 hours, most during in-person schooling by children aged 6 through 11. Read More.
It took an entire year, but lockdowns and mask mandates are officially incredibly unpopular with half of the country, to the point that governors are rapidly making sweeping changes to their year-long COVID-19 policies. 16 States  have announced an end to business restrictions and statewide mask mandates.
March 26, 2021
In 2012 Health Canada demanded that nurses who refused to take a vaccine would be mandated to wear a mask throughout the 6 month flu season. It was known as VOM (Vaccinate or Mask). In 2015 the Ontario Nurses Union filed a grievance against St. Michael's Hospital's VOM policy. The result was a precedent setting win for nurses across the country. The arbitrator in the case ruled that wearing masks "was not supported by science and was most likely an attempt to drive up vaccination rates among staff."
BC's Health Officer, Dr. Bonnie Henry, was one of the expert witnesses who was instrumental in overturning the mask mandate and testified in the 2015 case saying, "there's very scant evidence about the value of masks in preventing the transmission of influenza." Henry goes on to say that there is no data to support wearing masks and, "When we look at individual strains circulating and what's happening, I think we need it to be consistent with the fact that there was nothing that gave us support that providing a mask to everybody all the time was going to give us any additional benefit over putting in place the other measures that we have for the policy." 
In 2019 Bonnie Henry supported the arbitrator's 2015 decision on behalf of BC Nurses.
In May 2020 Bonnie Henry unequivically states, "there is no evidence that if you're not ill wearing a mask, particularly wearing a mask outside, or out in public, that provides much protection or any benefit at all."  "we have not seen anybody not showing any symptoms passing it on to anyone else."
Bonnie Henry further states that there is no real science behind the decisions she is making. View here
Numerous peer-reviewed studies, as well as the expert opinions of doctor's and scientist's, report masks are ineffective in protecting against so called Covid-19. The reason, "aerosol particles" (< 2.5 μm), are too fine to be blocked. They are so minute that they easily penentrate through, and around, every model of mask. The following video is an excellent and simple visual experiment to show you how this works.
Denis G. Rancourt, PhD
Researcher, Ontario Civil Liberties Association (ocla.ca)
There have been extensive randomized controlled trial (RCT) studies, and meta-analysis reviews
of RCT studies, which all show that masks and respirators do not work to prevent respiratory
influenza-like illnesses, or respiratory illnesses believed to be transmitted by droplets and
aerosol particles
Jim Meehan MD: ophthalmologist and preventive medicine specialist with over 20 years of experience and advanced training in immunology, inflammation, and infectious disease
"The evidence is clear, masks are ineffective, unnecessary, and harmful."

Does the science support wearing a mask?  Based on the top studies, the answer is…NO!
Is wearing a mask harmful to the healthy? Yes.  Blaylock: Face Masks Pose Serious Risks
Dr. Russell Blaylock warns that not only do face masks fail to protect the healthy from getting sick, but they also create serious health risks to the wearer. The bottom line is that if you are not sick, you should not wear a face mask.
"This can vary from headaches, to increased airway resistance, carbon dioxide accumulation, to hypoxia, all the way to serious life-threatening complications."
"In our systematic review, we identified 10 RCTs that reported estimates of the effectiveness of face masks in reducing laboratory-confirmed influenza virus infections in the community from literature published during 1946–July 27, 2018. In pooled analysis, we found no significant reduction in influenza transmission with the use of face masks"
"For someone who's experienced trauma of any sort having any kind of restriction, especially on your breathing, could be very traumatic." – Danielle Aubrey, Calgary Communities Against Sexual Abuse
Hypoxia is a health hazard
We consider it urgent for children to be released from mask "mandates," based on the following information.
The issue of mask wearing is especially critical for children. In children, any hypoxic condition is even more of an emergency than it is for an adult. This is partly due to their more horizontal ribs and barrel-shaped chest, resulting in children relying primarily on diaphragm muscles for breathing, not nearly so much intercostal muscles, as in adults. These diaphragm muscles have proportionately fewer type I muscle fibers, resulting in earlier fatigue. Also, a child's tongue is relatively large in proportion to the size of the pharynx, and the epiglottis is floppy.45 These anatomical differences make a child potentially more vulnerable than an adult to injury from hypoxic assault.
Hypoxia is deadly. Each year, many workers are injured or die due to oxygen deficiency. Read On…
"There is no evidence to suggest that wearing masks will prevent the spread of infection in the general population. Improper use of masks may in fact increase the risk of infection. Masks do not act as an effective barrier against disease when they are worn for extended periods of time. In addition, removing your mask incorrectly can spread virus to your hands and face." – Infection, Prevention and Control CANADA*
Disclaimer:  This information is not intended to be used as legal or health advice. We encourage you to do your own research.
ALL RIGHTS RESERVED ACTION4CANADA INC.