Empower Hour
Every Wednesday Action4Canada hosts Empower Hour, an online zoom meeting open to everyone. We have a special guest each week, who will educate, inform and answer your burning questions.

To be kept informed of these webinars sign up for our Email Updates to receive advance notification along with details on how to pre-register for each Empower Hour webinar.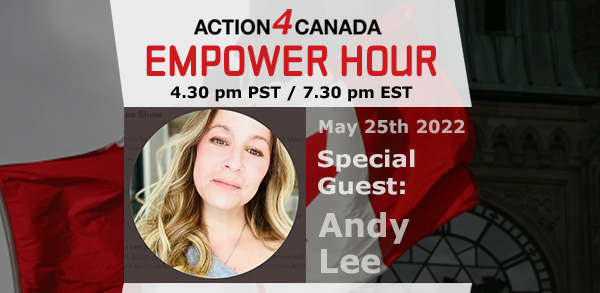 May 25th, 2022
4.30pm PST/7.30pm EST.
Special Guest Journalist Andy Lee joins Action4Canada to discuss Rapid Tests.
Pre-Register Now for this Webinar
For Videos/Podcasts of Previous Empower Hours…see below
Video Introduction to Action4Canada 
Video Recordings of Previous Empower Hours

Click here for the links shared in the weekly Empower Hour Chats
Hear How Our Youth Feel About Being Used as "Agents of Change"
May 18th, 2022

Corinne Beresford discussing the World Economic Forum
May 11th, 2022

Pastor Billy Crone
May 4th, 2022

Pastor Artur Pawlowski
April 27th, 2022

David Lindsay
April 20th, 2022

Rev. Majed El Shafie
April 13th, 2022

Alan Strudwick
April 6th, 2022

Click here to see the testimonies Alan received after this Empower Hour.
Dr Greg Gerrie
March 30th, 2022

Dr Greg Gerrie and Genevieve Coulombe
March 23rd, 2022

Leighton Grey
March 16th, 2022

Hon. Brian Peckford
March 9th, 2022

Stewart Staudinger
March 2nd, 2022

Danny Bulford and Vincent Gircys
February 23rd, 2022

Giving Kids a Voice
February 16th, 2022

Laura-Lynn Tyler Thompson
February 9th, 2022

Tanya Gaw
February 2nd, 2022

Meet the Chapter Leaders
January 26th, 2022

Jeff Rath, Brian Mark and Kevin Brett
January 19th, 2022

Vincent Gircys
January 12th, 2022

David Lindsay
January 5th, 2022

Previous Empower Hour videos: page 1
Feedback from Previous Empower Hour Participants

Thank you for your encouragement everyone! & for being on the front line to help teach us to stand!
Thank you so much for your efforts and sacrifices. Thank you for helping us fight
This has been great info. Blessings to you all and the team and a big thanks to David!!
Hey Tanya I tuned in on Wednesday. Excellent excellent excellent. Lots of my friends also tuned in. I can't even thank you enough for all your work!
Huge Thanks to all the panelists for a brilliant Zoom!
Thanks for all the amazing information 💖💫🙏😇
I can't thank you enough Tanya for all the stunning work you're doing 🙏
FREEDOM♥️
Thank you Tanya and David for all your hard work! Very much appreciate such an informative and encouraging evening. 🙏
Thank you David, Tanya and Heather for this awesome program. So glad you fighting for us who are in our late 70's.
♥️thank you!!!!!!
Bless you, Tanya and all A4C
Bless Each One and remember the power of numbers and the power of prayer.
Thank you!!! Amazing session.
Tanya for premier!
You are awesome! Truly amazing people!
YOU GUYS ARE ASTOUNDING.
YES. Amazing! So grateful for your hard work!
Thanks all for excellent information!