Empower Hour
Every Wednesday Action4Canada hosts Empower Hour, which is an online zoom meeting open to everyone. We have a special guest each week, who will educate, inform and answer your burning questions.

To be kept informed of these meetings sign up to our email list so that you will receive advance notification along with details on how to pre-register for each of these meetings.
For current zoom Invites and Videos from Previous Empower Hours…see below
Video Introduction to Action4Canada 
October 20, 2021 
Special Guest: Derek Sloan
Tanya and Derek will discuss the political landscape, plans moving forward, exposing the corruption, and rising up in defense of Canadians.
When: October 20th, 2021. Sign on starts at 05:30pm PST/8:30pm EST
Pre-registration Zoom Link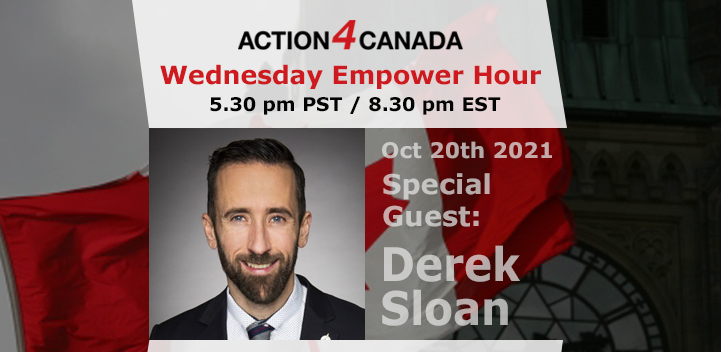 Video Recordings of Previous Empower Hours



Tanya Gaw and David Lindsay discuss:
How to Hold People Liable When Your Rights are Being Violated
October 13th, 2021
Guest Speaker: David Lindsay C.L.E.A.R.
Oct. 6th, 2021- Where Do Your Rights Come From
More about David

Guest Speaker: Tanya Gaw, Founder Action4Canada
Sept. 29, 2021- Questions and Answers With Tanya Gaw (pt. 2)
Guest Speaker: Dan Dicks, Press for Truth
Sept. 22, 2021
Guest Speaker: Tanya Gaw, Founder Action4Canada
Sept. 15, 2021- Questions and Answers With Tanya Gaw (pt. 2)
Guest Speaker: Tanya Gaw, Founder Action4Canada
Click here for the Chat file
Guest Speaker: Ted Kuntz of Vaccine Choice Canada
Guest Speaker: Maxime Bernier, PPC
Feedback from Previous Empower Hour Participants

Thank you for your encouragement everyone! & for being on the front line to help teach us to stand!
Thank you so much for your efforts and sacrifices. Thank you for helping us fight
This has been great info. Blessings to you all and the team and a big thanks to David!!
Hey Tanya I tuned in on Wednesday. Excellent excellent excellent. Lots of my friends also tuned in. I can't even thank you enough for all your work!
Huge Thanks to all the panelists for a brilliant Zoom!
Thanks for all the amazing information 💖💫🙏😇
I can't thank you enough Tanya for all the stunning work you're doing 🙏
FREEDOM♥️
Thank you Tanya and David for all your hard work! Very much appreciate such an informative and encouraging evening. 🙏
Thank you David, Tanya and Heather for this awesome program. So glad you fighting for us who are in our late 70's.
♥️thank you!!!!!!
Bless you, Tanya and all A4C
Bless Each One and remember the power of numbers and the power of prayer.
Thank you!!! Amazing session.
Tanya for premier!
You are awesome! Truly amazing people!
YOU GUYS ARE ASTOUNDING.
YES. Amazing! So grateful for your hard work!
Thanks all for excellent information!