Notices of Liability
Business, Mask, Jab, Testing etc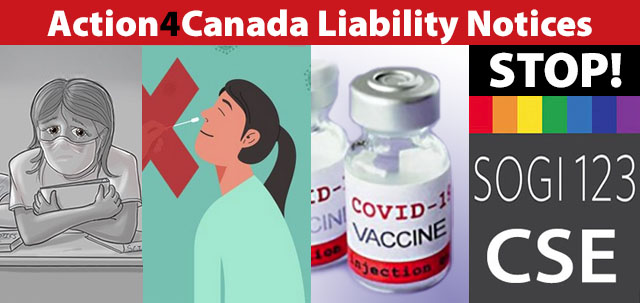 Further Response Letter Templates

Have you served a Notice of Liability and are now engaging in follow up conversation with Elected Officials, government officials, unions, educators or employers and wondering how to write a letter?
Then this page is for you. Action4Canada has also been engaging in letter writing and we have creative templates as examples for you to use to craft your own letter.
Notice of Liability Flyers
NEW: Occupational Health & Safety Legislation: In relation to Workplace Violence and Harassment Canada.
Fill out this I Care Card to report potential hazards or events of objectionable or unwelcome conduct, comments, threats, bullying, physical and psychological harm.
Action4Canada accepts no responsibility or liability for any harms or losses that occur as result of delivering this notice. If you do not agree to these terms then please do not use this notice. We do not make any representations or warranties about the potential consequences of delivering this Notice of Exemption/Non-Consent (eg. removal of child from a private school). A parent/legal guardian must decide what is in the best interest of their child.