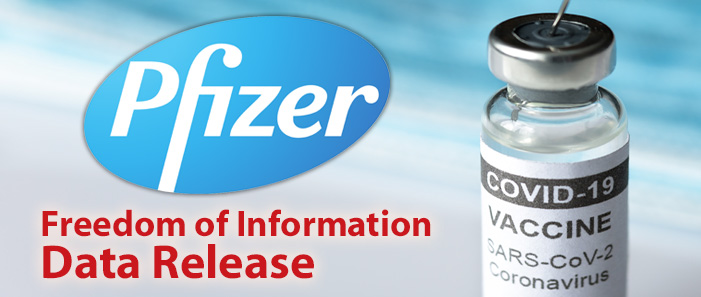 On August 27, 2021, four days after the Pfizer vaccine was approved for ages 16+, the group Public Health and Medical Professionals for Transparency (PHMPT) submitted a Freedom of Information Act Request to the FDA for all of the data within Pfizer's COVID-19 vaccine biological product file.
The FDA did not release the data and so the PHMPT sued them. The FDA's response to the lawsuit was to offer to release the data within 75 years, because they said it would take that long to produce the data.
This was challenged and the subsequent court order specified that:
The FDA shall produce the "more than 12,000 pages" articulated in its own proposal, see ECF No. 29 at 24, on or before January 31, 2022.

2. The FDA shall produce the remaining documents at a rate of 55,000 pages every 30 days, with the first production being due on or before March 1, 2022, until production is complete.
What is Pfizer trying to hide?
In this interview Naomi shares the revelations about them trying to suppress the miscarriage rates, which appear to be off the scale.
We discuss the images that have been released of hideously damaged placentas, does this show that the jabs are even effecting unborn babies?
Summaries of Data Released
April 1st 2022: Pfizer Data Dump #3
FDA & Pfizer Knew COVID Shot Caused Immunosuppression. Read More.
First Look at Newly Released Pfizer Docs Part 1:
Case Report Errors and Anomalies
This is a summary of my findings after an initial review of the plethora of papers in a limited space of time. All the evidence gleaned over a limited time appears to back up whistle-blower Jackson's claims of poor trial site data management and raises questions as to how Ventavia conducted the Pfizer clinical trials. The errors and anomalies in the CRFs also allude to her claims that the clinical research associates were not trained adequately, with many having had no prior clinical experience history. If such egregious findings are true at these sites, could they manifest at other trial sites around North America and beyond?
Analysis of Adverse Event Reports
of PF-07302048 (BNT162B2)
Received 01-DEC-2020 through 28-FEB-2021
Below are some highlights from the report:
Reports are submitted voluntarily, and the magnitude of underreporting is unknown.
The spontaneous reporting system yields reporting proportions not incidence rates.
Due to the large numbers of spontaneous adverse event reports received for the product, the MAH has prioritised the processing of serious cases
Pfizer has also taken a multiple actions to help alleviate the large increase of adverse event reports.
Total of 42,086 case reports (25,379 medically confirmed and 16,707 non-medically confirmed) containing 158,893 events. Most cases (34,762) were received from United States (13,739), United Kingdom (13,404) Italy (2,578), Germany (1913), France (1506), Portugal (866) and Spain (756); the remaining 7,324 were distributed among 56 other countries.
Female: 29,914
Male: 9,182
Unknown sex: 2,990
Fatal: 1,223
Not recovered: 11,361
Unknown outcome: 9,400
<17: 175
18-30: 4,953
31-50: 13,886
51-64: 7,884
65-74: 3,098
>75: 5,214
Unknown age: 6,876
Greatest number of events
General disorders and administration site conditions (51,335 AEs), Nervous system disorders (25,957), Musculoskeletal and connective tissue disorders (17,283), Gastrointestinal disorders (14,096), Skin and subcutaneous tissue disorders (8,476), Respiratory, thoracic and mediastinal disorders (8,848), Infections and infestations (4,610), Injury, poisoning and procedural complications (5,590), and Investigations (3,693).
Anaphylaxis: 1,002 (9 fatal)
Vaccine-Associated Enhanced Disease: 138 (38 fatal)
Pregnancy cases: 274
Spontaneous abortion: (25)
Lack of efficacy cases: 1665
Drug ineffective cases: (1649)
Cardiovascular AESIs: 1403 (136 fatal)
COVID-19 AESIs: 3067 (136 fatal)
Dermatological AESIs :20
Haematological AESIs: 932 (34 fatal)
Facial Paralysis: 449
Immune-Mediated/Autoimmune AESIs: 1050 (12 fatal)
Musculoskeletal AESIs: 3,600
Neurological AESIs (including demyelination): 501 (16 fatal)
Other AESIs: 8,152 (96 fatal)
Renal AESIs: 69 (23 fatal)
Respiratory AESIs: 130 cases (41 fatal)
Thromboembolic Events: 151 (18 fatal)
Stroke: 275 (61 fatal and resolved/resolving)
Vasculitic Events: 32 (1 fatal)
Medication error: 2056 (7 fatal)
The findings of these signal detection analyses are consistent with the known safety profile of the vaccine.
Review of the available data for this cumulative PM experience, confirms a favorable benefit: risk balance for BNT162b2.
APPENDIX 1. LIST OF ADVERSE EVENTS OF SPECIAL INTEREST
9 pages long
13,000% increase, in male children aged 12-15, of suffering from myocarditis after receiving the shot.