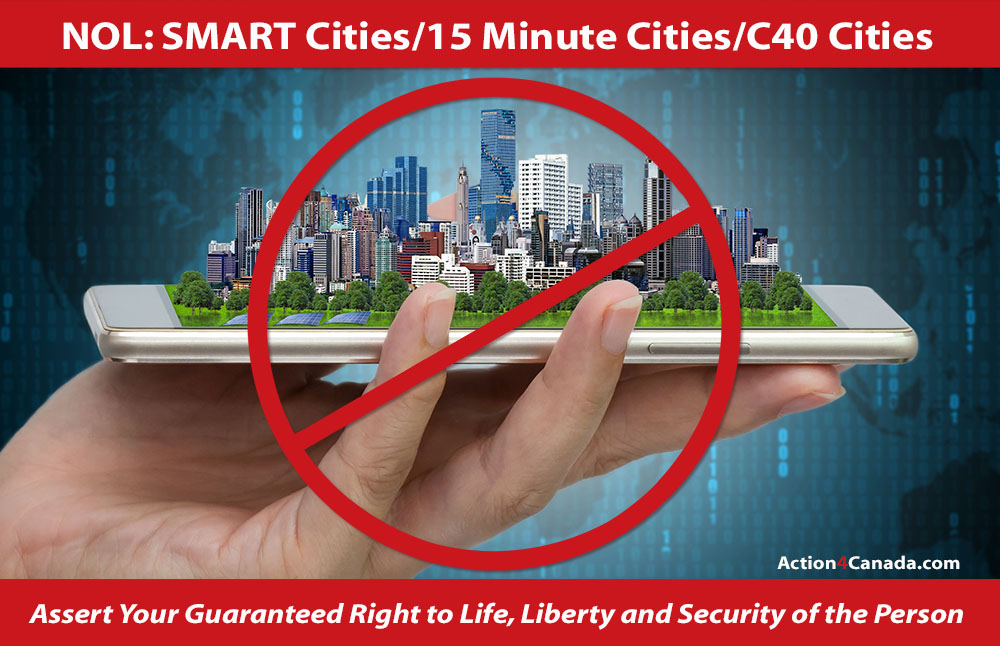 Are SMART Cities really so smart? Do 15 Minute Cities make them sound SMARTer? Does spending trillions of taxpayers dollars on this money laundering scheme sound like a good deal? If the answer is no, no and no then you need to get involved and make your voice heard.
In response to the global nonsense Action4Canada has created another amazing resource to help you educate elected officials as they are being sold a bill of lies in order to get them on board with SMART/15 Minute cities. This is what they are being told:
"A 15-minute city does not confine us to our neighbourhoods or restrict our ability to travel. If your city adopts a 15-minute city approach, it simply means that it will become more possible and pleasant to meet more of your day-to-day needs, like buying groceries, within a short walk or bike ride from home if you want to. It means creating the conditions for local businesses, that rely on local custom, to thrive. Millions of people in cities around the world already live like this, and always have done; others are forced to travel to meet basic needs. Being able to do more close to home does not change your freedom to travel further whenever you would like to."
Sounds good right? Sign me up. But wait a minute, we know that the globalists are master manipulators and wordsmiths, but does your elected official know that? Do they know what is really going on? In some instances yes, but in many instances, no. They genuinely believe they are doing what is best for the planet and for the future of our kids.
This is your opportunity to meet with your mayor and council, MLA/MPP and MP and provide them valuable information. It is also the right time to be proactive and serve them the new Notice of Liability advising them that if they take part in developing a SMART City/15 Minute City they could be held personally liable. SMART Cities/15 Minute Cities create a threat to our security, they put Canadians at risk of serious harm, violate privacy and citizens' guaranteed rights and freedoms.
Read the Notice of Liability and then please serve every elected official in your community. 
If you are in need of prayer please reach out to our Prayer Team @ [email protected]
Remember: Freedom of speech, thought, belief and the right to life, liberty and security of the person are guaranteed. We do not need to beg, barter or ask for them…these are God-given inalienable rights and ours for the taking.
As Action4Canada continues to courageously defend Canadians rights and freedoms we ask that you would please consider courageously giving, either a one time donation or becoming a monthly donor. Help Action4Canada continue to bring solutions and hope to the nation!
God bless you and God bless Canada!
The Team @
Action4Canada