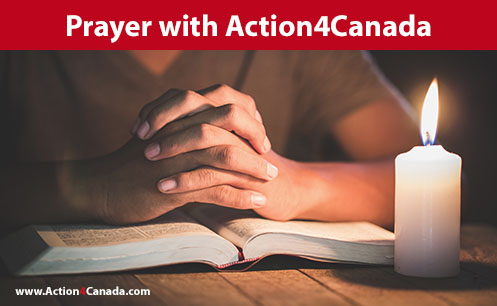 Action4Canada Prayer Warrior Team, Prayer Group & Prayer Requests

Our dedicated prayer group and prayer warrior team is a growing army of believers from across Canada who are dedicated to praying for our Nation, citizens, the Action4Canada Leadership Team and valued volunteers!
 
Public Prayer Requests:
Many Canadians have lost hope and are struggling and in need of support. Please contact us for prayer by submitting a prayer request. The Action

4

Canada Prayer

Chain Team will receive your

 confidential prayer requests and pray for you.


Email us at

[email protected]
Intercessor Prayer Chain Team:
This is a vetted team of leaders to pray with those who submit prayer requests. Action

4

Canada is a Christ-centered, Bible-believing organization. Our Intercessor Prayer Chain Team members need to be aligned with and reflect these tenets.
Sign up here: Join the Intercessor Prayer Chain Team. 
Prayer Group to pray for Action

4

Canada, Chapter Leaders and our Nation:
We are dedicated to praying for Canada and the Action

4

Canada Leadership Team and all of our valued volunteers who are working together to defend the foundation of this nation, built on Godly biblical principles. The A

4

C prayer group meets every Monday, Wednesday and Friday and have been doing so since April 2022. As a result, many of our prayers have been faithfully answered by God!
Mondays, Wednesdays, Fridays, 7:00 a.m. PT / 10:00 a.m. ET:
Join Zoom Meeting: https://action4canada.zoom.us/j/85433566485
Remember: Freedom of speech, thought, belief and the right to life, liberty and security of the person are guaranteed. We do not need to beg, barter or ask for them…these are God-given inalienable rights and ours for the taking..
As Action4Canada continues to courageously defend Canadians rights and freedoms we ask that you would please consider courageously giving, either a one time donation or becoming a monthly donor.  Help Action4Canada continue to bring solutions and hope to the nation!
God bless you and God bless Canada!
The Team @
Action4Canada