Unionized and Non-Unionized Workers.
All Employees Welcome!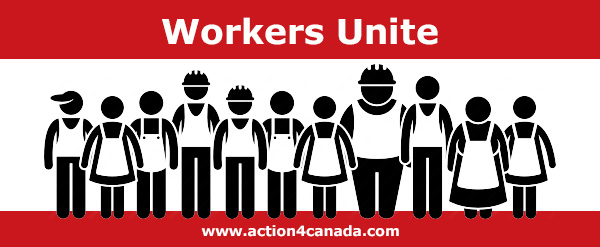 Workshop: Laying Criminal Charges. Register Today!
IMPORTANT EVENT: How to Lay Criminal Charges
When: Sunday, November 28 @ 2-5pm PST
In this workshop, David Lindsay will guide you through the entire process of how anyone can lay criminal charges, including against law enforcement and government officials, without needing to hire a lawyer. David will discuss: the meaning of some legal terminology; tips on what to watch out for; how to structure your case; instruction on the evidence that is required to make a strong case; as well as a slide-by-slide discussion of the relevant sections of the Criminal Code. There will also be a time of Q&A. You won't want to miss this workshop. Register Today!
In response to the overwhelming number of employees/workers in varying sectors requesting help, Action4Canada has created a group to provide support and unite ALL employees: trades, nurses, teachers, police, fire, maintenance, etc. (See further resources below)
We will provide the opportunity to attend informative zoom meetings and strategize best options to unite. There is strength in numbers and it is time to come together nationally to support each other and unify campaigns and initiatives. Sign Up Here
Join A4C's Telegram page: https://t.me/joinchat/OTauPV8viHVkZWIx
Resources
Instructions:
Send a Notice of Liability to your Employer or Union Leader along with the Employee Further Letter of Response. Include the NOL against forced testing as well if you are being demanded to test (attach the warning letter with this testing NOL). 
Protect Employees:

If your employer or union is disregarding the NOL then use the following letter to inform the 'individual' that they will be held 'personally' liable for any loss of income or damages you suffer as a result of their actions. You are not addressing them in their capacity as employer or union rep but as a citizen who is committing indictable offenses.
NEW: Employee Further Letter of Response 
COVID-19 Testing (include warning letter below)
Right to REFUSE COVID-19 Testing. The Genetic Non-Discrimination Act, Bill S201, it is an indictable offence to force anyone to take an DNA/RNA test or deny any service, employment, or education opportunity. The PCR test measures the "genetic" material in a sample. 
If the employer and/or union refuse to comply…it is time to file criminal charges. Remember, you are not going after anyone in their capacity as an employer or union rep but as a citizen who is in violation of the criminal code and your guaranteed protected Constitutional rights. Criminal charges can be filed directly through the court and not through the police. Sign up for the workshop above to learn how to lay criminal charges. 
Watch the October 13th and 27th Empower Hour with Tanya Gaw and David Lindsay to learn about next steps after serving the Notices of Liability. You have the Rule of Law and the Constitution on your side!!
David Lindsay's E-book on how to file criminal charges against other citizens, "The Annotated Criminal Code Procedure in Canada," is available by emailing David at [email protected]
Be sure to Sign Up Here and join
First Responder/Law Enforcement/Frontline Worker Notice to Premier and Provincial Health Officer:
Action4Canada today!
Workers Unite Zoom Presentation w/Q&A
Tanya Gaw gives a brief overview on how the government was ushering  in tyranny prior to COVID and then goes into detail on what resources are available to protect your employment and how to use them. Q&A is also provided. 
Consent Not Coercion
United Workers Against Medical Mandates
MSM Report:
"Mandating Vaccines is ILLEGAL"
Please consider becoming a monthly donor and help Action4Canada continue to bring solutions and hope to the nation.
Thank you and God Bless Canada!
The Team @
Action4Canada
Action4Canada accepts no responsibility or liability for any harms or losses that occur as result of delivering this notice to anyone. If you do not agree to these terms then please do not use this notice. We do not make any representations or warranties about the potential consequences of delivering this Notice of Liability (eg. removal of child from a private school).
Disclaimer:  This information is not intended to be used as legal or health advise. We encourage you to do your own research.