Notice of Liability Response Templates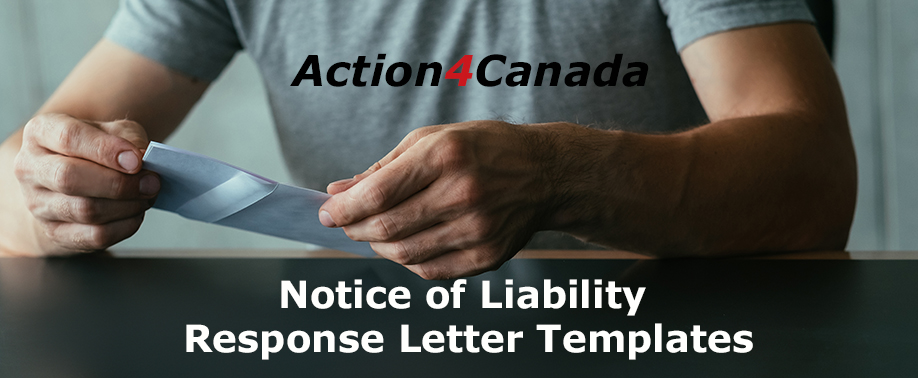 Are your rights being violated? Have you served a Notice of Liability? Are you engaging in follow up communication with Elected Officials, government officials, unions, educators or employers and wondering how to write a letter in response?
Then this page is for you. Action4Canada has also been successfully engaging in letter writing and so we have created template letters as examples to assist you in crafting your own letter of response.
Click on the links below to jump to the section that applies to you and then click on the letter to review it. Copy and paste the whole letter to a document or pick and choose paragraphs. Remember to copy the links at the bottom of the page if they apply.
Employer Letter Templates
Letter to School Board Trustees/Superintendents Regarding Masks
Letter to School Board Trustees
Letter to BC School Board Trustees in response to the BC government instructing the School Boards to vote whether or not school staff should be vaccinated.
Further Letter to School Board Trustees
Letter to address Bonnie Henry's January 17, 2022 Order (School Staff Member Vaccination Status Reporting) and how it does not remove personal liability. 
Letter to School Superintendent
Letter to BC School Superintendent, Kevin Kaardal, who sent an email to school staff in December instructing them to fill out a Vaccination Date Collection Notice.  The Notice was created in an effort to work around the success of Action4Canada's campaign holding school trustees liable if they voted in favour of mandating vaccinations. Kaardal admitted that the Collection Notice failed due to lack of staff response.
On January 17, 2022 the Provincial Health Official signed an Order further attempting to work around the success of Action4Canada's campaign in protecting the guaranteed rights of staff. The Order is once again in violation of staff's human rights and private protected medical information. Any Vaccination Data Collection is unlawful and anyone collecting the private medical information and then sharing it is putting themselves at risk of personal liability. A4C is commencing an additional campaign to ensure staff and trustees are fully aware of the law and charter rights violations.
Municipalities/Employer Letter Templates
Rapid Testing: An employee was on paid leave after sustaining an injury at work. While on paid leave the City had implemented rapid testing. Upon returning to work the employee was sent an email advising them they must submit a test before showing up for work the following morning.
As a result of the following communication with the city management, the employee returned to work without having to submit to the rapid test.
Read order begins with original email from city to the employee. All communication transpired in one day.
Vax Mandate: Original Letter from Employee who had unexpectedly found out she was being terminated from her position for not taking the 'vaccine'. The employee was re-instated after successfully communicating with the Union.
Letter to City/Fire Department
Letter to City and Deputy Fire Chief who attempted to mandate vaccination with the threat of being put on unpaid leave.
They removed the term mandatory and also the threat to put employees on unpaid leave as a result of the letter sent in November 2021.
Business Letter Templates
Email Reply to Senior Environmental Health Officer
Public Health Act email reply to Senior Environmental Health Officer who claimed to be immune from personal liability.
Message to the Provincial Government from Fitness Industry Business Owners
A message from business owners involved in the fitness industry in response to the provincial government's nonsensical orders to close.
This letter was in response to Meg Krueger of Equine Canada to clarify that the NOL was served to her personally, as she was under the impression it was served to the organization.

Information on Informed Consent
Disclaimer:  This information is not intended to be used as legal or health advise. Use at your own discretion. We encourage you to do your own research.