Taboo Talks with Tanya
Tackling the Difficult Topics!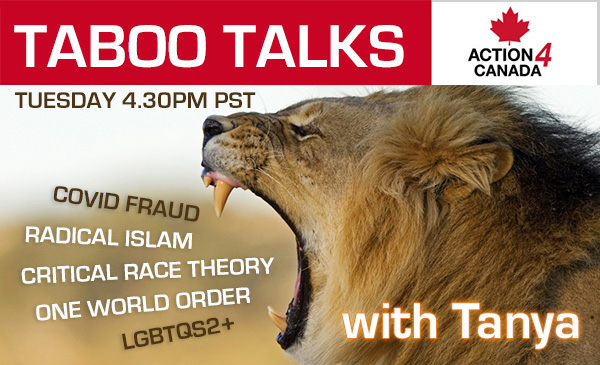 Discussing the "difficult" topics that the Government would rather we kept silent about. Action4Canada meets via zoom every Tuesday @ 4:30pm PDT/7.30pm EDT to help further equip Canadians in defending their rights and freedoms as well as educate them on how to best utilize the Action4Canada resources. Register in advance for this meeting.
Recordings from Previous Taboo Talks
Dealing with Vax Adverse Reactions
April 6th 2022

Central Banks and Your Money
March 14th 2022
Dr Greg Gerrie is our guest in this video, and he talks about the financial and banking systems of the world as well as crypto currency and government digital currency.
Please consider becoming a monthly donor and help Action4Canada continue to bring solutions and hope to the nation.
Thank you and God Bless Canada!
The Team @
Action4Canada
Action4Canada accepts no responsibility or liability for any harms or losses that occur as result of delivering this notice to anyone. If you do not agree to these terms then please do not use this notice. We do not make any representations or warranties about the potential consequences of delivering this Notice of Liability (eg. removal of child from a private school).
Disclaimer:  This information is not intended to be used as legal or health advise. We encourage you to do your own research.