Unionized and Non-Unionized Workers
All Employees Welcome!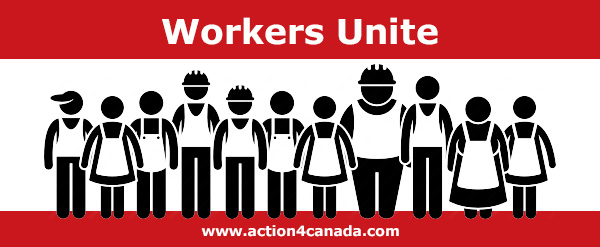 In response to the overwhelming number of employees/workers in varying sectors requesting help, Action4Canada has created a group to provide support and unite ALL employees: trades, nurses, teachers, police, fire, maintenance, etc. (see further resources below) and including Business Owners (Resource Page).
If you are being discriminated at work and mistreated be sure to file a complaint in addition to serving the Notices of Liability. 
Fill out this I Care Card to report potential hazards or events of objectionable or unwelcome conduct, comments, threats, bullying, physical and psychological harm.
Occupational Health & Safety Legislation: In relation to Workplace Violence, Harassment and Unsafe Work in Canada.
Visit the following resource page to access template letters to assist you in responding to city managers, school boards, government officials, employers, etc.
In the fall of 2021 all BC School Board Trustees and Superintendents were served the Notice of Liability, followed up by additional letters for being in violation of the rights of School Staff. As a result of this campaign, Action4Canada, was successful in ensuring 45,000 teachers, plus school staff, had the option to refuse the jab. remain employed and were not put on unpaid leave! Critical information on school staff's privacy and rights was included in the correpsondence. This particular letter can be modified and used by school staff nationwide.
Sign Up Here for the Workers Unite Group.
The group zooms are currently on pause but please review the following videos and information to educate yourself on your rights and the options available to protect your employment.
Resources
Instructions:
Send a Notice of Liability to your Employer or Union Leader along with the Employee Further Letter of Response. Include the NOL against forced testing as well if you are being demanded to test (attach the warning letter with this testing NOL). 
Protect Employees:

If your employer or union is disregarding the NOL then use the following letter to inform the 'individual' that they will be held 'personally' liable for any loss of income or damages you suffer as a result of their actions. You are not addressing them in their capacity as employer or union rep but as a citizen who is committing indictable offenses.
NEW: Employee Further Letter of Response 
COVID-19 Testing (include warning letter below)
Right to REFUSE COVID-19 Testing. The Genetic Non-Discrimination Act, Bill S201, it is an indictable offence to force anyone to take an DNA/RNA test or deny any service, employment, or education opportunity. The PCR test measures the "genetic" material in a sample. 
If the employer and/or union refuse to comply…it is time to file criminal charges. Remember, you are not going after anyone in their capacity as an employer or union rep but as a citizen who is in violation of the criminal code and your guaranteed protected Constitutional rights. Criminal charges can be filed directly through the court and not through the police. Sign up for the workshop above to learn how to lay criminal charges. 
Watch the October 13th, 27th , Nov. 24th and Jan. 5th, 2022 Empower Hour with Tanya Gaw and David Lindsay to learn about next steps after serving the Notices of Liability. You have the Rule of Law and the Constitution on your side!!
David Lindsay's E-book on how to file criminal charges against other citizens, "The Annotated Criminal Code Procedure in Canada," is available by emailing David at [email protected]
Be sure to Sign Up Here and join Action4Canada today!
First Responder/Law Enforcement/Frontline Worker Notice to Premier and Provincial Health Officer:
April 19th, 2022: Review of A4C resources, new NOL for masks and for rapid antigen tests.

Jan. 11, 2022: A4C Website and Resources Review

In the above video learn more about Action4Canada and where to find the resources we have made available to protect your rights and freedoms.
Breaking News
December 21, 2022 – An unvaccinated Ontario woman wins her EI back after a tribunal agreed with her right to choose
December 19, 2022 – Final Approval in $10.3 Million Settlement Case for Health Care Workers Granted by Court
November 17, 2022 – TTC Ends Covid Vax Mandates, Reinstate Employees who were Fired
November 9, 2022 – City of Windsor, ON Votes to Remove Vax Policy
October 28, 2022 – Italy to end ban on health workers not vaccinated against Covid
October 25, 2022 – New York Supreme Court rules to rehire fired unvaccinated workers with back pay
Sept 21, 2022 – US Federal Judge Strikes Down Federal Mask and Vax Mandate
June 1, 2022 – Unvaccinated officers, employees can return to work as Toronto police lift vaccine requirement
April 1, 2022 – City Staff Put on Unpaid Leave Receive Back Pay & Vacation Pay
March 3, 2022 – CUPE Union 1754 Supports Members Against Mandatory Vaccination
March 3, 2022 – Ontario Government Workers Will No Longer Need To Be Vaccinated Starting April 4
Feb. 24, 2022 – Employee Severence Claims Over the Vax Mandates Could Become Stronger
Alert: Feb. 24, 2022 – Advise your employer you will not submit to testing.
50 calls made to poison control centres over exposure to COVID-19 rapid test kit ingredients | CBC News.  
Health Canada Recalls and Safety Alerts: Rapid antigen test kits and potential exposure to hazardous substances.
January 4, 2022: Pandemic Related Job Losses BC Class Action Accepted
December 7th, 2021: Vancouver police will not be implementing COVID-19 vaccine mandate
November 21, 2021:  Employees refusing COVID-19 vaccine mandate cannot be disciplined nor terminated: labour arbitrator
Health official, with a smirk on her face, admitted that closing down businesses/gyms was not about transmission but meant to create incentive to vaccinate.
BC Health Officer, Bonnie Henry, was an expert witness in the 2015  Ontario Nurses Arbitration against the vaccinate or mask mandate. The arbitrator in the case ruled that wearing masks "was not supported by science and was most likely an attempt to drive up vaccination rates among staff." Henry agreed masks are punitive and discriminatory and on Dec. 4, 2019 signed an agreement supporting BC nurses. 
MSM Report: "Mandating Vaccines is ILLEGAL"
Consent Not Coercion
United Workers Against Medical Mandates
A4C Workers Unite Zoom Meetings
To view additional Worker's Unite videos that addressed Taboo Topics, such as Central Banks, 5G, Vax Adverse Reactions, Political LGBTQ click here.
Tanya Gaw gives a brief overview on how the government was ushering  in tyranny prior to COVID and then goes into detail on what resources are available to protect your employment and how to use them. Q&A is also provided. 
Please consider becoming a monthly donor and help Action4Canada continue to bring solutions and hope to the nation.
Thank you and God Bless Canada!
The Team @
Action4Canada
Action4Canada accepts no responsibility or liability for any harms or losses that occur as result of delivering this notice to anyone. If you do not agree to these terms then please do not use this notice. We do not make any representations or warranties about the potential consequences of delivering this Notice of Liability (eg. removal of child from a private school).
Disclaimer:  This information is not intended to be used as legal or health advise. We encourage you to do your own research.