Action4Canada is hosting two important webinar series. One for youth on Sexual Risk Avoidance and a second one
for parents on Family Foundations addressing key issues related to your child's optimal sexual development.
Watch this video for an overview of topics covered in both the parent and youth programs. Listen to Tanya Gaw's interview below to hear more about why you should REGISTER BELOW…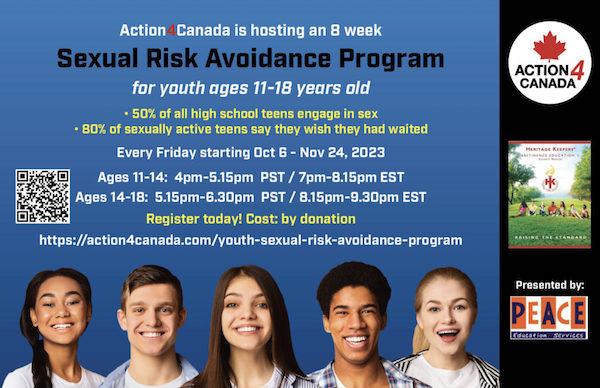 Next Youth Webinar: October 6, 2023 
Are you concerned about what the education system is teaching your child about sexual health?
If the answer is yes, then you will want to register your child for this 8 week program. It will counter the worldview that is based on sexual promiscuity and deviancy and instead, present a traditional biblical view that includes teaching abstinence, having good boundaries and understanding self-worth.
Watch this video highlighting the Youth Sexual Risk Avoidance Program.
Dates: October 6th – November 24th, 2023, on Fridays
Times: Based on maturity level, i.e. some 14 year olds may be mature enough to attend both sessions.
11yrs to 14 yrs, 4:00 – 5:15 pm PST / 7:00 – 8:15 pm EST
14yrs to 18yrs, 5:15 – 6:30 pm PST / 8:15 – 9:30 pm EST
To register for the Youth Program please go to https://action4canada.com/youth-sexual-risk-registration/
**After registering, you will receive a confirmation email containing information about joining the meeting.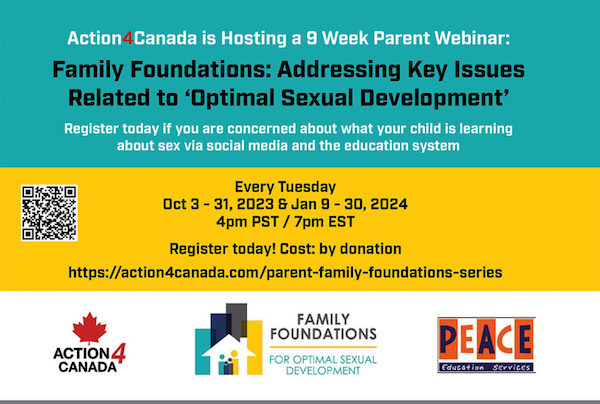 Next Parent Webinar: October 3, 2023
Time: 4pm PST/7pm EST
Phil Lees, from Peace Education Services, pastor Dave Willweber and Mirthia Coronel will facilitate the Family Foundations: Addressing Key Issues Related to Optimal Sexual Development program to help parents who are concerned about what their children are learning about sex on social media and the education system and the strategies to help youth find their self worth and develop healthy boundaries.  Watch this video highlighting the Youth and Parent Sexuality Program Fall 2023.

**After registering, you will receive a confirmation email containing information about joining the meeting.
The key to the future of our country is our children.  
Children and youth play an incredibly important roll in what is transpiring in Canada. The Trudeau government has spent their time in office working to undermine the relationship between parents and their children in an effort to fully indoctrinate kids by filling their heads with communist propaganda and unscientific  harmful ideologies.
It was Lenin who said, "Give me four years to teach the children and the seed I have sown will never be uprooted." 
It is critical that we rise up in defense of our children and take back our private and public education systems which have become the most toxic institutions in Canada.
What transpired as a result of the Trucker's Convoy is a renewed spark of patriotism and love for our Country. This is a gift and a blessing. One which we cannot waste and must take full advantage of. Let's all work together to help our kids take off the masks, reject the unlawful mandates and vile ideologies and social justice programs, and live and breathe FREELY!
The Homeschooling Revolution
There is a mass exodus from the education system and Action4Canada is helping to lead the way. Check out our Homeschooling resource page and consider pulling your child out of school today and into a safe environment to learn. 
Youth Leadership and Speaker Program

The key to the future of Canada is our youth and so we must make it a top priority to invest in them. Action4Canada is hosting training courses to empower youth to become strong future leaders.

Next Course: 2024
Deadline for registration: TBA
Cost: By Donation
More information:  HERE.
Parent Feedback:
"I would like to take the opportunity to thank you from the bottom of my heart for holding this course. I have seen an immense difference in our daughter's confidence being boosted. We have a saying in our family that all it takes is 10 seconds of courage to change your perspective. This course has made a world of difference for Naomi."
Thank you, Emily   March 2023
Thailand study of young adults post jab, showed nearly 30% with cardiovascular injuries.
Face masks cause PERMANENT brain damage according to Neurologist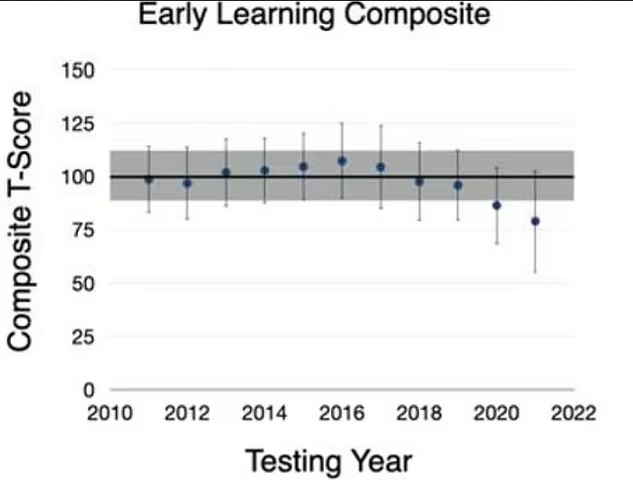 13,000% increase, in male children aged 12-15, of suffering from myocarditis after receiving the shot. 
Disruptions to Ontario's education system could lead to long-lasting harm, experts warn.
Dr. Kieran Moore believes that masks are likely to remain for kids in schools in Ontario EVEN AFTER they are lifted for the broader community.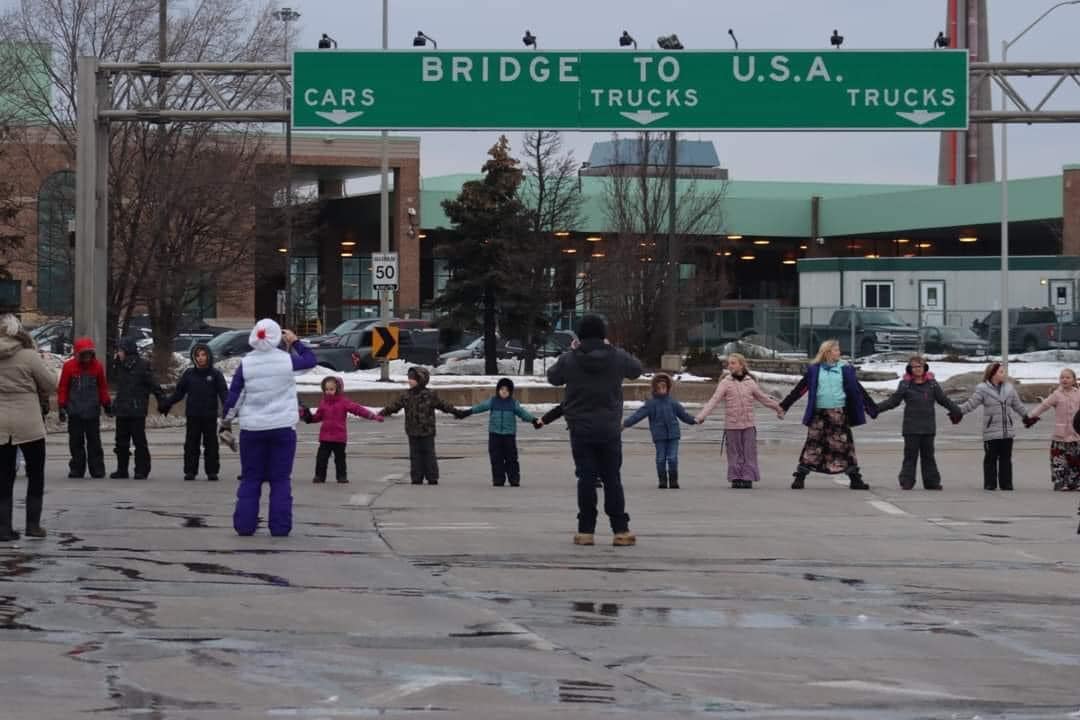 Steinbach Regional Secondary School Walkout Feb 2022