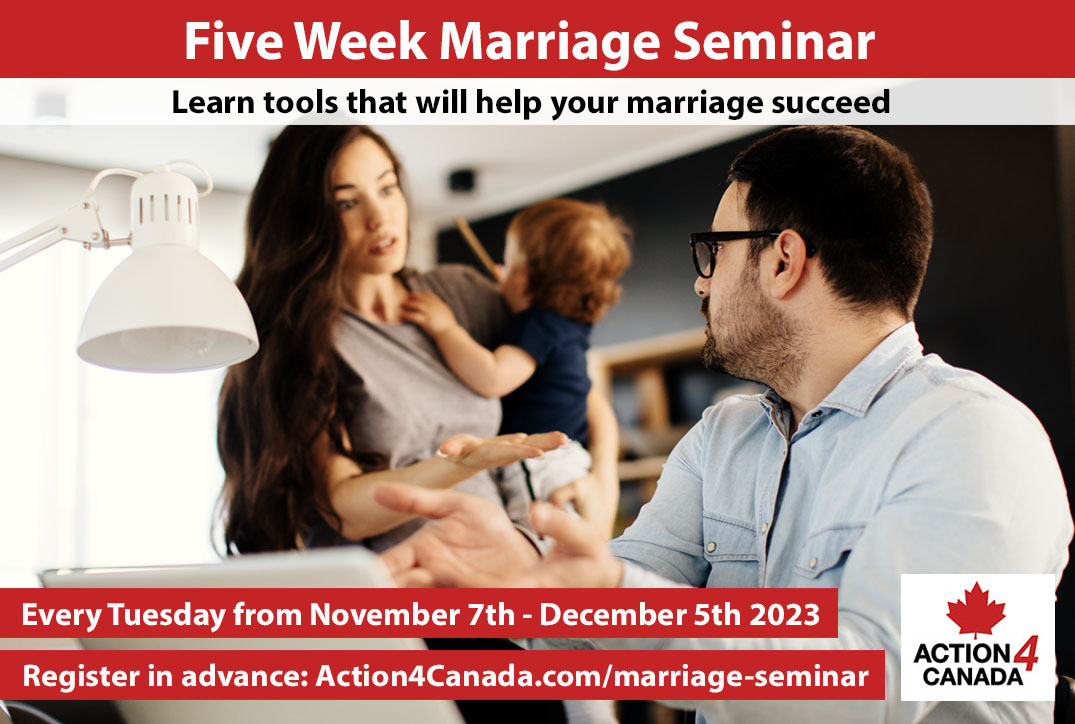 Action4Canada is hosting an online, five week Marriage Seminar via zoom with author and presenter Israel Wayne, and his wife Brook of Family Renewal. Israel offers insightful presentations on marriage, emphasizing the importance of building a strong foundation of love, respect, and trust, and providing practical tools for couples. 
Action4Canada believes it is critical to help build strong marriages as they are key to a thriving society: Morally, Financially and Spiritually. 
We invite you to sign up and join us to reap the rewards as you invest in your marriage. 
Location: Online Zoom
Dates: Every Tuesday, November 7th – December 5th
Time: 4pm PST/7pm EST
Suggested donation: $50 per person / $75 per couple. If you are unable to make a donation please do not let that stop you from registering.
We encourage churches and couples to host a group from your community, at your church or in your home.
If you are unable to attend all of the sessions, recordings will be made available.
Biblical Marriage Seminar 
Five Week Topics Include:
Marriage and Conflict
We all know how to do conflict, but do we know how to do conflict resolution in a Biblical manner? Learn better skills for your marriage in this session.
Marriage and Communication
Communication is vital in a marriage whether it is about finances, intimacy, parenting or any aspect of our relationship. Learn tools that will help your marriage succeed.
Marriage and Parenting
It can be difficult to balance the marriage relationship with our parenting duties. Learn how to work together as a team and avoid being driven apart by your parenting roles.
Marriage and Intimacy
Making time for each other in a marriage is essential. It is so easy for stress and time restrains to snuff out romance and physical intimacy. Learn how to keep the love fires burning!
Safeguarding Your Marriage
There are many forces today that battle against closeness in marriage. Learn how to proactively and preventatively keep your marriage safe from harmful influences that can tear it apart.

As Action4Canada continues to courageously defend Canadians rights and freedoms we ask that you would please consider courageously giving, either a one time donation or becoming a monthly donor.  Help Action4Canada continue to bring solutions and hope to the nation!
If you are in need of prayer please reach out to our Prayer Team @ [email protected] 
Remember: Freedom of speech, thought, belief and the right to life, liberty and security of the person are guaranteed. We do not need to beg, barter or ask for them…they are ours for the taking.
God bless you and God bless Canada!
The Team @
Action4Canada