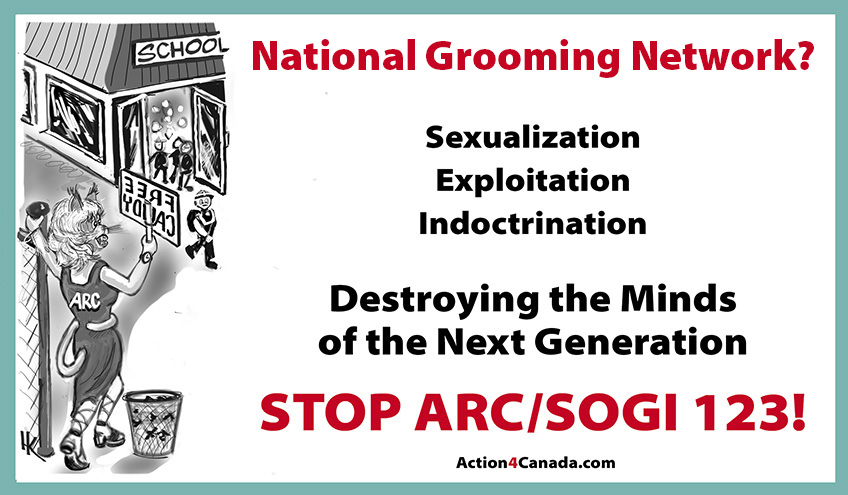 The SOGI 123 (Sexual Orientation and Gender Identity) resource was launched in BC and Alberta public schools in 2016. SOGI 123 is a resource that has been integrated into all areas of the school curriculum under the guise of an anti-bullying program but is in reality focused on sexualizing and indoctrinating students by teaching and promoting unscientific 2SLGBTQ+ gender ideology and exposing them to harmful and sexually explicit material.
The ARC Foundation is the creator of SOGI 123 and is collaborating with the BC Ministry of Education; BC Teachers' Federation; school districts across BC; UBC Faculty of Education; education partners; and various local, national, and international 2SLGBTQ+ community organizations. All of whom endorse and facilitate the provision of pornographic books (extended list), explicit material and training to children ages K – 12. The United Nations has mandated that every member nation implement the Comprehensive Sexuality Education (AKA SOGI 123).
On September 16, 2022 the BC Minister of Education, Jennifer Whiteside, admitted collaborating with the ARC foundation and a long list of other 'partners.'
The question that needs to be answered: Is this an International network of sexual groomers preying on children and using our education system as a conduit?
A Systematic Attack Against Trustee, Barry Neufeld
When: Wednesday, September 21, 2022 4:30pm PST/7:30pm EST Register in Advance. The zoom doors open at 4:30pm PST and the Empower Hour begins at 5pm PST/8pm EST.
We are very pleased to have Barry Neufeld, Chilliwack School Board Trustee and National Hero, on the next Empower Hour. Mr. Neufeld has been on the front-line taking a stand against the sexualization of our children through the education system.
Mr. Neufeld is headed to the Supreme Court of Canada on October 11th. Please read the overview of his story and donate to this extremely important case. Mr. Neufeld is up against an army of lawyers representing a dozen 2SLGBTQ+ cohorts involved in the largest network in Canada who are illegally grooming, sexualizing and exploiting minors by exposing them to sexual deviancy, pornographic/explicit resources, as well as adult performers (Drag Queens). Share the Empower Hour invite and learn more HERE.
But this Chilliwack School Trustee is OK?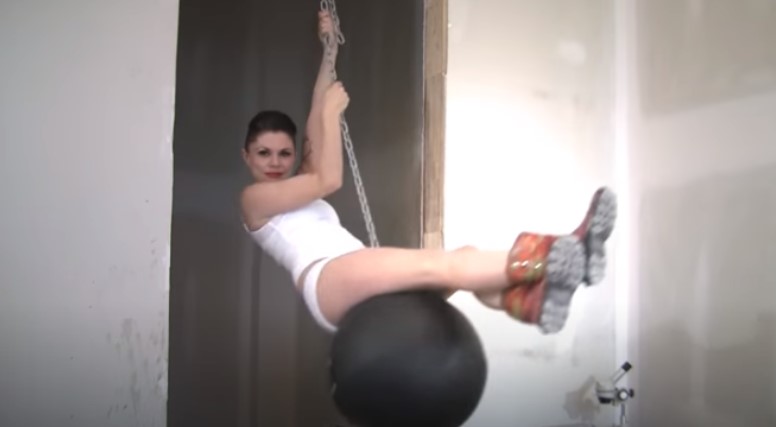 So Barry Neufeld is deemed unsafe to be around children yet Carin Bondar, a Chilliwack trustee who made a parody video of Miley Cyrus' "Wrecking Ball, "where she swung on a wrecking ball both in her underwear and in the nude, making indecent gestures, is perfectly acceptable to be making decisions involving children?
Sexual grooming is the process by which a sexual predator cultivates a relationship with a potential victim, or victims. Through grooming, the abuser builds trust and an emotional connection to the targeted victim in order to manipulate and abuse them.
Target the victim; gain the victim's trust; gain the trust of the victim's family; gain access and isolate the victim; sexualize the relationship; control and conceal the abuse.  
Sex-oriented Grooming Behaviors 
Teasing a child about the development of their sexual body parts
Discussing sexually explicit information with a child
Telling sexually explicit jokes to a child
Showing a child sexually explicit content
Justin Trudeau's New Normal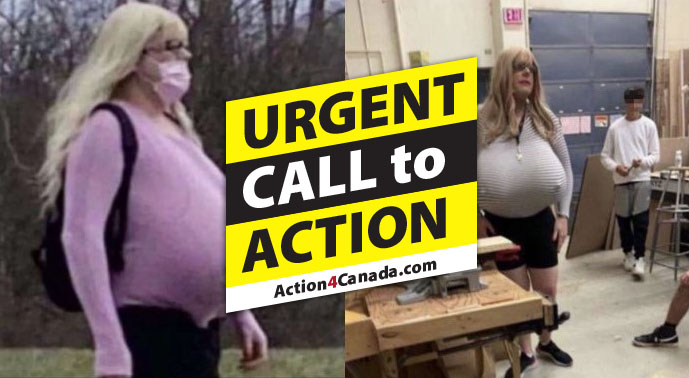 The image above, taken by a student, is of a teacher who is wearing a massive prosthetic bust to class at the Oakville Trafalgar High School in Ontario. You may think that this can't be real and is part of some kind of sick joke, but it isn't a joke and the Halton District School Board is actually "standing behind" this "accepted" transgender teacher. Sadly, this is not an isolated incident as other such obscenities are taking place at schools across Canada. Students are uncomfortable. They recognize it isn't normal but feel helpless to do anything about it. Sexual exploitation and indecency are Criminal Code offences. Read more and take Action.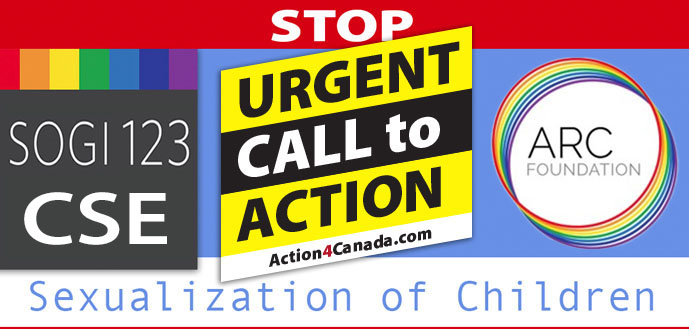 Use the following Notice of Liability and demand that: the SOGI-123 learning resource be immediately and completely removed from libraries and the education system; all of the books listed, including titles by the same authors, be immediately removed; and that all educational facilities including libraries cease and desist promotion of any and all activities, performers and clubs that exploit vulnerable minors.
What Else Can YOU do to STOP SOGI 123/CSE?
Help candidates who align with your values run for office, and then get out and VOTE! 
The above video is just one example of the available options to oust current Social Justice School Boards who have shown a marked departure from the original roll of educators.
Join an Action4Canada Chapter to help support and recruit candidates to run for office. We MUST remove and replace every elected official who has been complicit with this deviant agenda that is corrupting the hearts and minds of our children. BC, Manitoba, Ontario and PEI are having Municipal/School Board elections in the fall of 2022. The municipalities are key to the UN Agenda and we have the power to take back our towns and cities…but we need you! Join a Chapter today or apply to become a Chapter Leader. Join or apply HERE
Be sure to know who you are voting for in upcoming elections, and where they stand on these critical issues.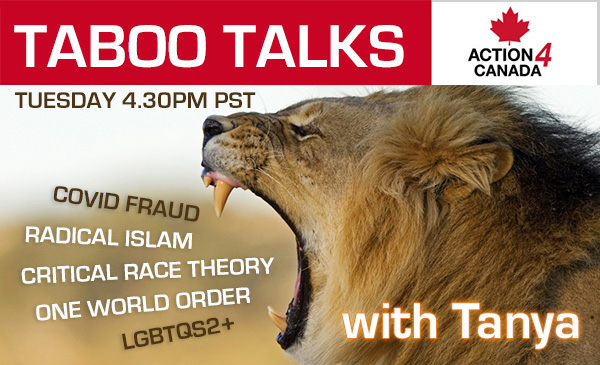 Taboo Talks: Sept. 20, 2022 at 4.30PM PST | 7:30PM EST.  Register in advance for this meeting. Share this invitation HERE
Action4Canada meets via zoom every Tuesday to help further equip Canadians in defending their rights and freedoms, as well as educate them on how to best utilize the Action4Canada resources. A4C also covers current events and taboo issues that the government would prefer we didn't discuss. This Tuesday Pierre Barns joins Tanya to discuss the ARC Foundation's promotion of a large catalogue of inappropriate and pornographic books included in their learning resources for children, as well as the shocking number of teachers charged with sexually assaulting students. What is going on in the education system?
NEW: Action4Canada has created a website directory to help you more easily navigate the website.
Remember: Freedom of speech, thought, belief and the right to life, liberty and security of the person are guaranteed. We do not need to beg, barter or ask for them…these are God-given inalienable rights and ours for the taking..
As Action4Canada continues to courageously defend Canadians rights and freedoms we ask that you would please consider courageously giving, either a one time donation or becoming a monthly donor.  Help Action4Canada continue to bring solutions and hope to the nation!
God bless you and God bless Canada!
The Team @
Action4Canada