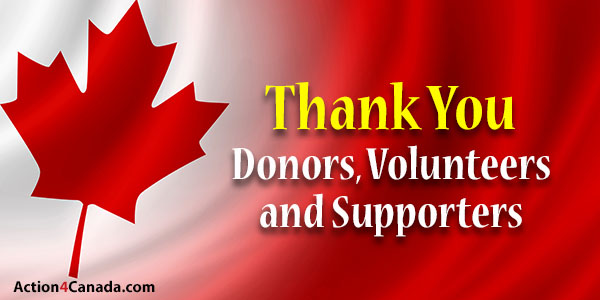 This is a heartfelt message of thanks to all of our financial donors, volunteers and supporters for helping make Action4Canada the force it is today. Because of you we are having a huge impact in pushing back against government tyranny and taking back ground that the enemy has stolen.
The following report highlights many of our successes with the intention of not only encouraging you but to also empower and embolden you to continue to partner with us in our fight to defend our freedoms and democracy!
Updates, Campaigns, Wins and Success Stories:
Legal Action:
Action4Canada is continuing to pursue our Constitutional challenge to take on the BC and Federal Government and address their egregious human rights violations and authority overreach which have caused irreparable harm to Canadians and our economy.
Despite what the critics had to say about filing a 391 page Statement of Claim (SOC), it  gave us the strategic ability, thanks to Rocco Galati's expertise, to ensure that the full scope of our legal action is on record in the courts. Judge Ross ruled that the case has merit and to submit a shorter SOC. The new SOC will be filed in the near future. Several of Judge Ross' decisions were incorrect and unfounded so we will also be appealing those to ensure that they do not remain on record. 
It's important to note that, as a result of other federal actions filed by Rocco, there have been several associated major wins that the public may be unaware of. For example, the case filed in May 2022 on behalf of 600 federal workers which resulted in Trudeau cancelling the travel mandates on June 14th, and the Travel Vax App on October 1, 2022. We have full confidence in Rocco and we are in this battle to win it! Follow our legal updates here. 

Campaigns
1) Education Campaigns:
a) Remove SOGI 123/CSE: As a result of Action4Canada leaders and volunteers serving the SOGI/CSE NOL and working to bring public awareness to the agenda to sexualize children using the education system and public libraries; the government; the teachers union; Reg Krake, Executive Director, of the ARC Foundation; the media (report 1 an  report 2); the BCTLA and the Canadian Federation of Library Associations, are all publicly responding in an effort to defend their position, and thereby exposing themselves to greater liability. It is a criminal offense to sexualize and exploit children, and attempting to disguise it as anything other than this does not change the fact that it is unlawful.
We mean business and we will not stop until this agenda is completely removed from the education system and public libraries. We also intend to dismantle Critical Race Theory and the Climate Change propaganda along with it. Using children as "Agents of Change" is a strategic part of the global agenda to mold the minds of future generations into supporting Marxism. We can't allow this to happen.
b) Homeschooling: We have developed a homeschooling parent group to assist parents/guardians in removing their children from public/private schools by providing support and connecting them with trusted Homeschooling associations in their respective province.
2) Serving Covid-Related Notices of Liability
We are pleased to report that citizens Canada wide have benefited from using Action4Canada's multiple NOL's to remove masks from their children, gain access to loved ones in hospitals (story of Luc), maintain employment (eg 45,000 BC teachers plus school staff), travel freely and so much more.
As another example, and as a direct result of the work of Action4Canada's Chapter Leaders in Ontario who rallied A4C members together to oppose the government trying to once again mandate masks for children, we've recently had significant wins in both Ottawa and Durham (9-2 win)!
A few messages of gratitude from citizens providing personal success stories:
I just wanted to pass on some good news. My EI appeal for being suspended because I morally/religiously opposed UNB's testing or vaccination policy, was resolved in my favour at the Social Securities Tribunal level. It was in part due to the strength and information given by Action

4

Canada that I have made it this far in asserting my rights. Thank you for all you do. And most importantly, thanks be to God for allowing justice to prevail!
The advance medical directive works!
My friend had a bad bicycle accident and when taken to hospital they saw his directive taped to his medical card and did not even ask him to take a covid test, Nanaimo, B.C. Let's wake everybody up!!!
After serving your NOL my employer actually took steps to protect me!
Dear Tanya, I want to take the time to thank you and encourage you. You have done incredible work for Canadians. What a Godsend you are. I used one of your Notices of Liability recently to defend my rights at work. It was indeed successful as it informed my employer of the legalities. It actually made them take steps to protect me – to ensure that I did not have to take the jab. God bless you! I pray for people like you who are brave leaders in standing up for truth.
Here are a more areas where the generosity of donors, volunteers and supporters is helping to serve Canadians:
Providing critical resources to educate, equip, empower and mobilize citizens.
Maintaining and updating the website to make it as user friendly as possible. Website Directory 
Producing the weekly Empower Hour, and hosting guests who are relevant to our mission, giving Canadians the confidence they need to become actively involved in countering tyranny.
Facilitating the Youth Program, which will commence again in the New Year.
Supporting, comforting and encouraging citizens by providing prayer via the A4C Prayer Team.
And of course…. locally serving Canadians through the Action4Canada Chapters…
There is power in knowledge and strength in numbers!
Action4Canada believes that by building communities within communities through our Chapters nationwide we can, and are, mobilizing an incredible army of like-minded citizens who are working together to protect our inalienable, God-given rights. We are committed to supporting businesses, families, children, the elderly, our churches and candidates at all levels of government. 
We are determined to take back our federal and provincial legislatures, our municipalities, our school boards, our neighbourhoods, our courts, our Senate and this Country! Join an Action4Canada Chapter or apply to become a Chapter Leader today!

Thank you again for all of your support, whether financial or volunteering your time, we can't do this without YOU! 
Remember: Freedom of speech, thought, belief and the right to life, liberty and security of the person are guaranteed. We do not need to beg, barter or ask for them…these are God-given inalienable rights and ours for the taking..
As Action4Canada continues to courageously defend Canadians rights and freedoms we ask that you would please consider courageously giving, either a one time donation or becoming a monthly donor.  Help Action4Canada continue to bring solutions and hope to the nation!
God bless you and God bless Canada!
The Team @
Action4Canada