We hope you had a wonderful Christmas and that you are making plans to bring in the New Year with a large gathering of family and friends. Remember, the government, and especially appointed Health Officials, are not the boss of us, they are employees of the people and work for the people. **There are no provisions in any orders of any health minister, doctor, or provincial legislation that can, nor pretend that any measures can, override Charter or other pre-Charter constitutional rights.**
Message from Tanya Gaw, Founder of Action4

Canada
Spotlighting the Powerful Impact of

A

4

C

Chapters Nationwide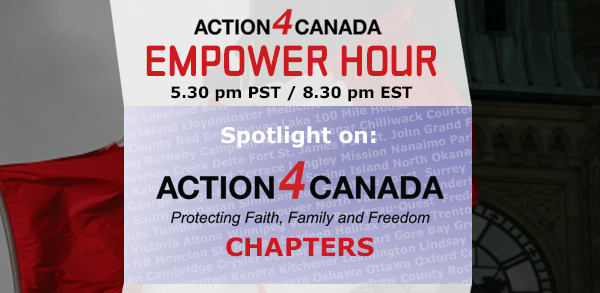 When: December 29th, 2021. The Empower Hour will begin at 5:45pm PST/8.45pm EST with a special Intro Presentation highlighting Action4Canada's accomplishments and tremendous growth in 2021, including the incredible increase in A4C's Chapters which grew from approximately ten in August to over 110 nationwide (and growing). Register in Advance.
Ron Rehwald, A4C's National Chapter Leader Coordinator, will join the meeting at 6pm and introduce Chapter leaders from across the country who will give their firsthand testimonies on A4C campaigns they have implemented and the success they are experiencing in their communities.  Read More
Below are several examples of A4C Chapter Leaders taking action on behalf of one of the fastest growing and most effective freedom movements in Canada!
 Pastor Ken & Bonnie in New Brunswick Reversing Vax for Food
Action4Canada is very blessed to have Pastor Ken and Bonnie Gilliard as Chapter leaders in New Brunswick since February of 2021. Their experience and unrelenting spirit have led to incredible wins in NB and their knack for leadership has been an inspiration in uniting many people throughout the Maritimes. They not only have a drive to protect the rights of their fellow Canadians but also hearts of compassion, giving counsel and support to those in need. Read More 
Priscille, Parent Lead, in Kelowna, BC
Matt in Kamloops, BC: Serving the Mayor and Council
Paul in Hamilton, ON: Serving School Superintendents and Trustees
Tonie in Regina, SK: Knocking it out of the Park
Andy in Maple Ridge, BC: Serving the Mayor and City Council
Kim in Calgary, AB: Rallying the Troops
Join and Become a Leader Today!

Thank you so much for being a part of Action4Canada and your willingness to participate in the critical campaign of serving Notices of Liability and supporting businesses, parents and all Canadians. We anticipate increasing success in 2022 as we focus our efforts on assisting citizens in laying criminal charges against employers, union leaders, elected officials and anyone else who is collaborating in the unlawful and criminal acts of extortion, intimidation, and assault.
Please consider becoming a monthly donor and help Action4Canada continue to bring solutions and hope to the nation!
God bless you and God bless Canada!
The Team @
Action4Canada