Your Prayers and Support are Appreciated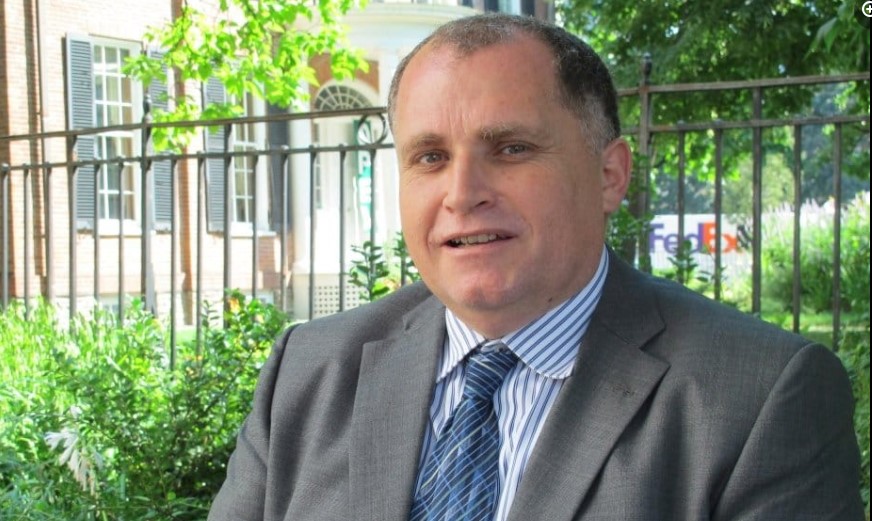 You may have heard that Rocco Galati is in ICU. This information is correct. He is stable.  Your prayers and support are appreciated.

Just to note…another lawyer from Rocco's office is overseeing Action4Canada's case so we are in good hands. The media, and others who like to spread misinformation and cause doubt are using this opportunity to undermine Rocco but be assured that Rocco has been working very hard to defend ALL Canadians.

Throughout history, when a corrupt leadership attempted to destroy a free nation one of two things happened: the citizens either mindlessly submitted to the tyranny; or they rose in defiance – and won.
Action4Canada and its thousands of volunteers nationwide are hard at work assisting Canadians to win this war. The first step is to know and name your enemy so then you can effectively take action against them. Civil disobedience is a long honoured tradition and non-compliance to unlawful and irrational government dictates is absolutely necessary. Each of us have a duty and a responsibility to do our part in upholding the Constitution, Charter of Rights and Freedoms and the Rule of Law. Action4Canada has created effective resources to assist and equip you but they only work if you put them to use. The A4C Chapters are having a huge impact in pushing back against local elected officials and supporting citizens in their community so please join a Chapter today. There is great strength in numbers.
Hate, Surveillance and a Police State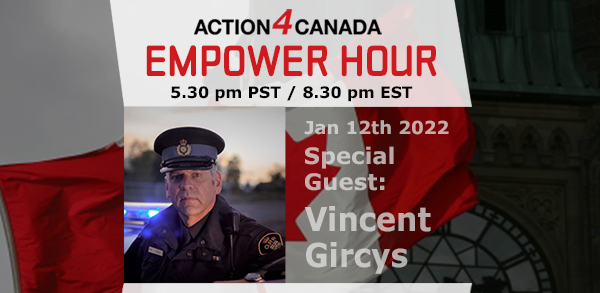 Empower Hour: Wednesday Jan. 12th. 
Note – This week only the Empower Hour will begin at  5:45pm PST/8:45pm EST due to a scheduling issue.  Register in Advance 
On Jan. 19th we will return to the 4:45pm PST/7:45pm EST 
Tanya Gaw and special guest retired OPP Officer, Vincent Gircys will discuss Trudeau's statements promoting hate, as well as the era of online surveillance in what is rapidly becoming a police state. Read More
No Wonder Trudeau was a Drama Teacher 
The recent video exposing Trudeau's asinine and irrational statements toward the unvaccinated shows his lack of intelligence and grasp of proper grammar. 
"extremists, who do not believe in science, who are often misogynists, often racists, too; it is a sect, a small group, but who are taking up space, and here we have to make a choice, as a leader, as a country. Do we tolerate these people?"
Trudeau's promotion of hate shows a further irreverence for the Constitution and the Canadian Rule of Law. Justice is coming and Trudeau's foolishness will be his demise. 
They Say You Are Who Your Friends Are

Trudeau has closely aligned himself with individuals who are reported to be the most dangerous and murderous people in the world. Their lust for power, and fixation on death and destruction of innocent lives is an unprecedented global attack against humanity. Trudeau is not only suspected by many of committing treason but also deemed guilty of egregious crimes against humanity.  Bill Gates is facing charges in countries around the world. This definitely increases our chances of justice prevailing.
Trudeau and Gates: A Match Made in Hell?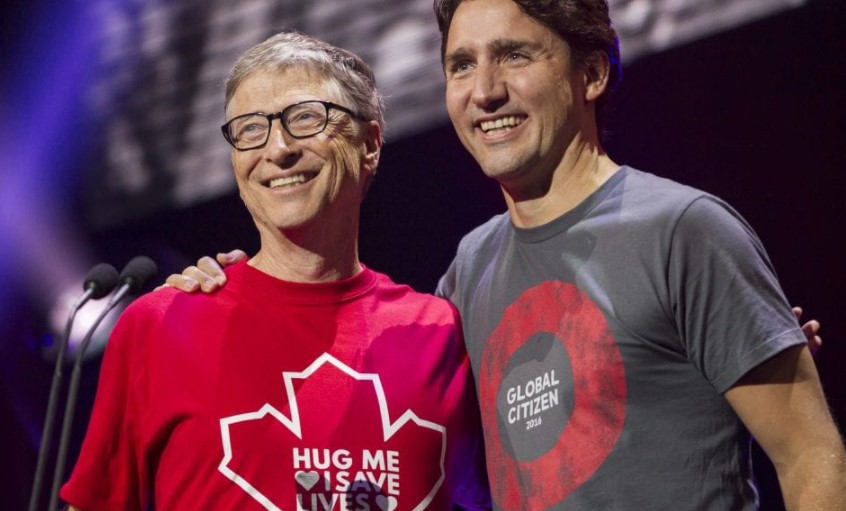 Note the message on Gate's t-shirt: "Hug Me, I Save Lives"
Despite the fact that Gates has a long history of experimenting on vulnerable populations and harming and killing innocent people, mostly children, Trudeau remains a committed ally.
Gate's sordid history in third world countries and using their children as human guinea pigs for his vaccinations is well documented. His evil deeds are also well known in developed countries, from his polio vaccine in India paralyzing 490,000 children to an experimental vaccine used in many countries on girls as young as nine, resulting in their death.
Gate's polio vaccine is responsible for the resurgence of polio with the most frightening epidemics in Congo, Afghanistan, and the Philippines. In fact by 2018, 70% of all global polio cases were of the vaccine strain. In 2017, the World Health Organization (WHO) reluctantly admitted that the global explosion in polio is predominantly of the vaccine strain.
So when people try to use the polio vaccine as an example of an effective vaccine saving lives…think again. But let's also remember that the current Covid-19 injection is NOT a vaccine but a lethal experimental gene therapy never before tested on humans, until now. Read More
Looks and Sounds Like Pre-Meditated Murder
The WHO Knows the Jab is Causing Serious Harm

Shocking information located on the WHO's site regarding adverse reactions to the covid shot…Review Here
To directly access this report use duckduckgo and key in vigiaccess. Select VigiAccess and then scroll to the bottom and check the box to search data. Key in "Covid-19 vaccine" and then select Adverse Drug Reactions. Total number of records retrieved: 2,933,902
VigiAccess was launched by the World Health Organization (WHO) in 2015 to provide public access to information in VigiBase, the WHO's global database of reported potential side effects of medicinal products. 
And This Repugnant Degenerate is Pushing Provinces to Force the Jab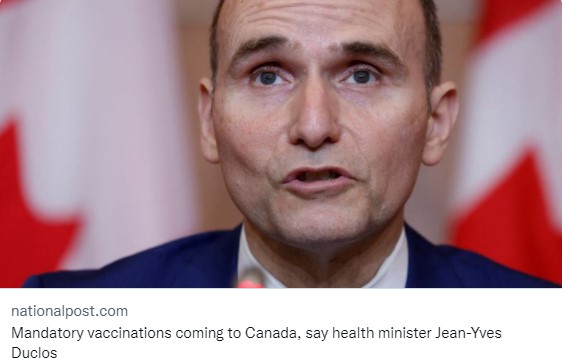 Call To Action!
Contact Minister Jean-Yves Duclos and demand that he immediately retract his statement advising provinces to mandate vaccination  and also serve him a Notice of Liability along with the additional letter today!                                      
Ottawa                                                                                  Constituency 
House of Commons                                                               Main office – Québec
Ottawa, ON                                                                              Suite 201, 600 Charest Blvd East, PO Box 30014
K1A 0A6                                                                                   Québec QC G1K 3J4
(No postage required!)                                                          Phone: 1 418 523-6666
Phone: 1-613 992-8865
In addition, contact every Premier in Canada and demand they refuse to comply with mandating the Covid-19 injection. Premiers Email List
The Premiers of Alberta and Saskatchewan have already made a public statement saying they will not support mandating vaccines. However, we have seen them retract their statements as quickly as they make them so stay on them and make sure that your voice is heard. Scott Moe recently addressed Action4Canada and the Notices of Liability in the legislature so please be sure to continue to serve them and let them know we are very serious about pursuing justice against those who are behind this whole charade. Share this Action
In closing, we appeal to you not to be discouraged by this report as it is intended to legitimize our position that Trudeau is fully aware of the heinous crimes he and his cabinet ministers, are committing against the citizens of this nation. Trudeau has been personally served Action4Canada's 391 page Statement of Claim providing further evidence of his involvement so he will have no defence on the day of judgement. 
As this report began, so we will end in encouraging you to join Action4Canada and be part of a freedom movement that is successfully gaining ground. We have received many more testimonies of success stories this week in response to serving the Notices of Liability and we will be highlighting those in our next email.
Freedom of speech, thought, belief and the right to life, liberty and security of the person are guaranteed. We do not need to beg, barter or ask for them…they are ours for the taking.
Please consider becoming a monthly donor and help Action4Canada continue to bring solutions and hope to the nation!
God bless you and God bless Canada!
The Team @
Action4Canada
Disclaimer:  This information is not intended to be used as legal or health advise. We encourage you to do your own research.