Call to Action!
This Repugnant Degenerate is Pushing Provinces to Force the Jab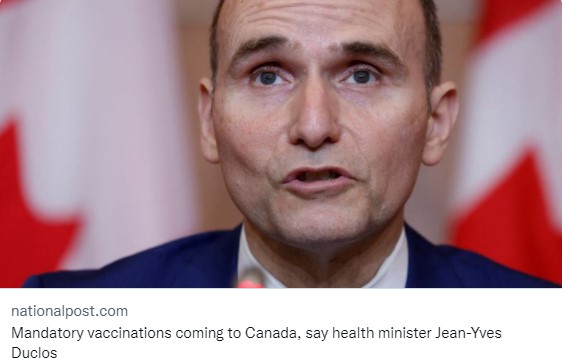 Contact Minister Jean-Yves Duclos and demand that he immediately retract his statement advising provinces to mandate vaccination and also serve him a Notice of Liability along with the additional letter today!
Ottawa                                                                                  Constituency
House of Commons                                                              Main office – Québec
Ottawa, ON                                                                             Suite 201, 600 Charest Blvd East, PO Box 30014
K1A 0A6                                                                                   Québec QC G1K 3J4
(No postage required!)                                                          Phone: 1 418 523-6666
Phone: 1-613 992-8865
In addition, contact every Premier in Canada and demand they refuse to comply with mandating the Covid-19 injection.  Premiers Email List
The Premiers of Alberta and Saskatchewan have already made a public statement saying they will not support mandating vaccines. However, we have seen them retract their statements as quickly as they make them so stay on them and make sure that your voice is heard. Scott Moe recently addressed Action4Canada and the Notices of Liability in the legislature so please be sure to continue to serve them and let them know we are very serious about pursuing justice against those who are behind this whole charade.
Remember: Freedom of speech, thought, belief and the right to life, liberty and security of the person are guaranteed. We do not need to beg, barter or ask for them…they are ours for the taking.
Please consider becoming a monthly donor and help Action4Canada continue to bring solutions and hope to the nation!
God bless you and God bless Canada!
The Team @
Action4Canada
Disclaimer:  This information is not intended to be used as legal or health advise. We encourage you to do your own research.