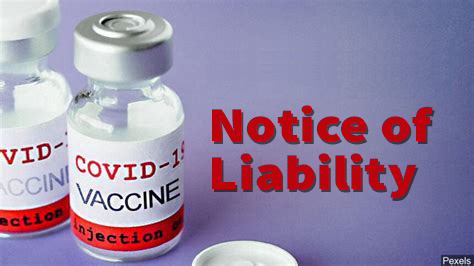 Print PDF – Elected Officials Vaccine Notice of Liability
Elected officials are not medical professionals and, therefore, they are unlawfully practising medicine by prescribing, recommending, and/or using coercion to insist citizens submit to the experimental medical treatment for Covid-19, namely being injected with one of the experimental gene therapies commonly referred to as a "vaccine".
According to top constitutional lawyer, Rocco Galati, "both government and private businesses cannot impose mandatory vaccinations…"
Be proactive and take action and inform the elected officials in your community that they have absolutely no authority or jurisdiction to prescribe medical treatments and that they must cease and desist or be held personally, civilly, and criminally liable for any injuries or deaths that may occur as a result of recommending, encouraging, advertising, mandating, facilitating, incentivising, coercing, or administering these experimental injections to members of the public, including minors.
Take ACTION!
Print the Notice of Liability 

Fill in the name of the person you are sending it to, owner and/or management (one notice per person)

Keep a photocopy of the Notice for your records
Record the event when providing the signed copy to the recipient in person.
If sending by mail we recommend you send it by registered mail
Action

4

Canada accepts no responsibility or liability for any harms or losses that may occur as result of delivering this notice to anyone. If you do not agree to these terms then please do not use this notice. We do not make any representations or warranties about the potential consequences of delivering this Notice of Liability