Pastors: Courage Under Fire
When: Wednesday, December 14, 2022 4:30pm PST/7:30pm EST Register in Advance. The zoom doors open at 4:30pm PST and the Empower Hour begins at 5pm PST/8pm EST.
Join us on the next Empower Hour as we hear from faithful Canadian pastors who kept their doors open during the unlawful lockdowns. Their courageous stand in continuing to preach the gospel and serve in their communities came at a cost, but one they were willing to pay. Draconian government overreach included surveillance, fines, harassment, intimidation and for some, imprisonment.
Government leaders who are pursuing the destruction of our democracy know that the church is the greatest obstacle standing in their way. This is why the government is hellbent on demonizing and persecuting pastors and believers who are unwilling to bow and submit to their unlawful dictates. 
Hebrews 10:25 exhorts Christians to "not forsake assembling together…" We are called to assemble to draw near to God and He to us. It is in fellowship within the church that we praise and honour and glorify Him. Christians MUST continue to gather together to worship and pray and exhort one another to hold unto their Faith.
Be it resolved that when, as followers of Christ, we find God and our governments colliding,
"we must obey God rather than men." (Acts 5:29)
About Our Guests:
Pastor Randy Beatty, Living Waters Fellowship, Black Creek, BC 
Pastor Randy was born into a pastor's home and was saved in 1965 at the age of ten, at which time he already felt the call into the ministry. Pastor Randy has been pastoring for 40 years and the past 30 years has been at Living Waters Fellowship in Black Creek. Pastor Randy and his wife Diane decided to take a stand to remain open early on in the so-called pandemic. As a result, the RCMP put their church under surveillance. Pastor Randy learned about Action4Canada and attended webinars wherein A4C provided training and resources on clergy's guaranteed right to assemble. As a result Pastor Randy successfully remained open throughout the remainder of the lockdowns. Pastor Randy is looking forward to what God has for the future and believes his main call is to continue to be faithful, regardless of the cost, and to preach truth without compromise. Pastor Randy relates to Paul the Apostle in Acts chapter 20 and verse 24 where he says, "I consider my life worth nothing if only I may finish the race and complete the task the Lord Jesus has given me the task of testifying to the gospel of God's grace."
Pastor Artur Pawlowski, Street Church, Calgary, AB
Prior to Covid, Pastor Artur was well known as an advocate for the poor and the homeless. Pastor Artur emigrated from Poland to Canada in 1973 and is therefore very familiar with the abuse of power under a communist regime. Pastor Artur is not only a Canadian clergyman but also a civil and human rights activist and as such, he is unwilling to compromise and bow to government tyranny. He is a ferocious defender of the faith and unwavering in preaching and obeying the Word of God. 
In 2020 and 2021, when the Alberta Premier, public health authorities and police services began violating the protections for conducting religious services and assemblies in Section 176 of the Criminal Code of Canada, Pastor Artur stood up and said, "No!"  and as a result endured fines, arrests, jail and solitary confinement. The Calgary Police Service staged highly visible takedowns to publicly embarrass him. Instead, Pastor Artur  became a hero of the faith for all right-thinking Albertans and Canadians who believe in standing up for ordered liberty and freedom. 
One of the judges who helped orchestrate Artur's arrest was Judge Germaine. After a review of his actions, three appeal court judges ruled that his actions were illegal. Action4Canada commenced a campaign to have Judge Germaine removed from the bench but the Canadian Judicial Council has not upheld their duty to do so. Please continue to apply pressure to the CLC demanding they remove Judge Germaine. Take Action HERE
Rev. Philip Hutchings, His Tabernacle Family Church, Saint John, New Brunswick
Rev. Hutchings has a passion and love for God and His Word and a desire to lead people to repentance and salvation. Rev. Hutchings, his wife Jamie and his associate pastor, Cody Butler and his wife, Dana, endured bullying, harassment, surveillance and intimidation for refusing to comply with the unlawful government lockdowns and restrictions. Rev. Hutchings was jailed for a week and Pastor Cody was arrested.
Pastor Ken and Bonnie Gilliard, A4C Fredericton, NB, Chapter Leaders, immediately came to their assistance and provided them with A4C's resources as well as personal support. Pastor Ken was at every court appearance with Rev. Phil, and Bonnie was outside drawing a crowd of supporters and live streamed it on Facebook. Pastor Ken reached out to Ruth Ross from Christian Legal Defence who provided the name of Johnathan Martin who became Phil's lawyer. As a result the tickets have been dismissed and the multiple charges dropped. Rev. Phil still faces a contempt charge but after all others have failed to hold up in the courts, why is this still being pursued? 
Be sure to join us and Register in Advance
Read the weekly email with info related to this topic HERE
Canadians: Unite and Say NO More!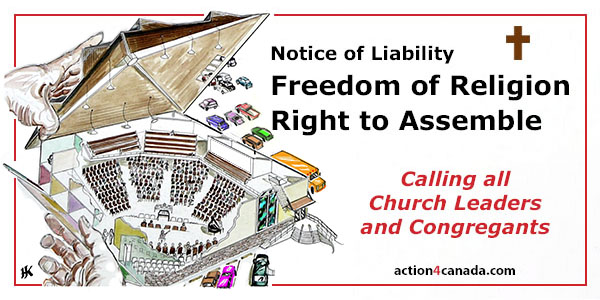 Are you ready to send a message to the government declaring that you will not comply with any further mandates or restrictions?
Justin Trudeau has made threats to reimpose COVID restrictions if Canadians do not get the COVID boosters. It is possible that if left unchallenged, the government will re-instate the oppressive measures previously endured, in order to force compliance.
Action4Canada has created a NEW Liability Notice as a proactive measure, to inform the government and government institutions, that under no uncertain terms will Christians/citizens comply with any arbitrary/unlawful/unconstitutional mandates or ideologies that violate God's law, citizen's rights, including parental rights, or an individual's right to bodily autonomy. Please join us in uniting Canadian's voices. Take Action! Sign and send the Freedom of Religion and Right to Assemble Notice of Liability today!
If you are in need of prayer please reach out to our Prayer Team @ [email protected] 
Remember: Freedom of speech, thought, belief and the right to life, liberty and security of the person are guaranteed. We do not need to beg, barter or ask for them…these are God-given inalienable rights and ours for the taking.
As Action4Canada continues to courageously defend Canadians rights and freedoms we ask that you would please consider courageously giving, either a one time donation or becoming a monthly donor.  Help Action4Canada continue to bring solutions and hope to the nation!
God bless you and God bless Canada!
The Team @
Action4Canada