It's Time for Chief Justice Germain to be Removed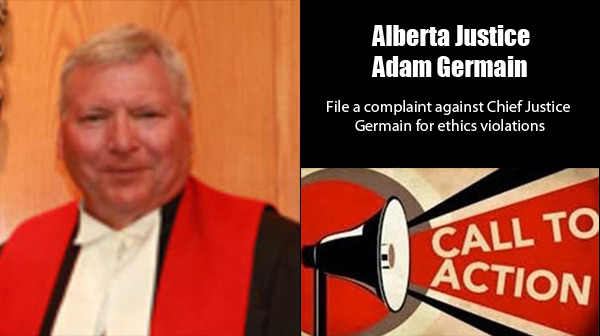 On July 22, 2022 Pastor Artur Pawlowski had a great win as the Alberta Court of Appeal ruled that the injunction against him, his arrest, his jail time, the censorship order and fines were all illegal.
Chief Justice Germain played a large part in this as he upheld illegal warrants and made multiple rulings that were in breach of his oath to the bench. Germain supported and facilitated the unlawful arrest and incarceration of Pastor Pawlowski. Arresting clergy is in violation of Section 176 (1-3) of the Criminal Code and further. violates multiple Sections of the Charter of Rights and Freedoms as well as being an unethical abuse of Germain's trusted position on the bench.
Contact the Canadian Judicial Council (CJC) and file a complaint against Chief Justice Germain demanding his removal for ethical violations including: subverting the criminal code, violating the Constitution, judicial misconduct and unfair treatment by a judge. Submit your complaint via one of the following options. 
Complaint Form: https://cjc-ccm.ca/en/resources-center/filing-complaint
Docket #: 2101 05742
Appeal court judges decision: Docket #L Docket: 2101-0234AC 
Email: [email protected]
Telephone: (613) 288-1566
FAX: (613) 288-1575
Mailing Address: Canadian Judicial Council, Ottawa, ON K1A 0W8
CJC Procedures for the Review of Complaints and Allegations About Federally Appointed Judges. Read HERE.
Judges have successfully been dismissed in Canada but many also step down before they are removed. By applying enough pressure, Germain may do the same. It can be done!
But to make this happen we need your help! Please file a complaint. Take Action Today!
CJC: "Judges are the link between society and justice. They are expected to conduct themselves in an irreproachable manner, both in their professional and personal lives. Their behaviour must reflect a high level of ethics and integrity."
Remember: Freedom of speech, thought, belief and the right to life, liberty and security of the person are guaranteed. We do not need to beg, barter or ask for them…they are ours for the taking.
As Action4Canada continues to courageously defend Canadians rights and freedoms we ask that you would please consider courageously giving, either a one time donation or becoming a monthly donor.  Help Action4Canada continue to bring solutions and hope to the nation!
God bless you and God bless Canada!
The Team @
Action4Canada