We Must First Obey God, Not Man
Christians are expected to obey the laws of the land and thereby honor God. However, when the laws of the land contradict the laws of God, Christians are instructed to obey God's law. Jesus was our greatest example of how we must not bow to any authority that violates God's perfect law. Daniel, Moses, Peter, Paul, and Silas are further examples.
Pastors: Courage Under Fire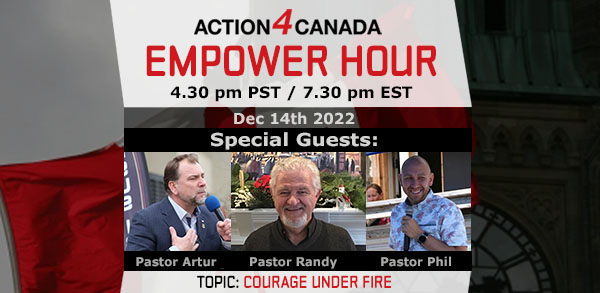 When: Wednesday, December 14, 2022 4:30pm PST/7:30pm EST Register in Advance. The zoom doors open at 4:30pm PST and the Empower Hour begins at 5pm PST/8pm EST.
Join us on the next Empower Hour as we hear from faithful Canadian pastors who kept their doors open during the unlawful lockdowns. Their courageous stand in continuing to preach the gospel and serve in their communities came at a cost, but one they were willing to pay. Draconian government overreach included surveillance, fines, harrassment, intimidation and for some, imprisonment. Read More and Share the Empower Hour HERE.
Say "NO" to Unlawful Government Overreach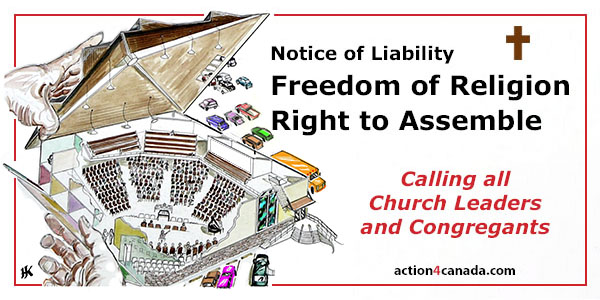 Call to Action: Are you ready to send a message to the government declaring that you will not comply with any further unlawful mandates or restrictions?
Justin Trudeau has threatened to reimpose COVID mandates if Canadians do not get the COVID boosters. It is possible that, if left unchallenged, the government will reinstate the oppressive measures previously endured in order to force compliance.
Action4Canada has created a NEW Notice of Liability as a proactive measure. It is to inform the government and its institutions that under no uncertain terms will Christians/concerned citizens comply with any arbitrary/unlawful/unconstitutional mandates or ideologies that violate God's law, an individual's right to bodily autonomy, or citizens' rights, including parental rights. Please join us in uniting Canadians' voices in one accord. Take action! Sign and send the Freedom of Religion and Right to Assemble Notice of Liability today!
A4

C

Empowering Pastors: Church Resources
It is vital, now more than ever, that clergy understand the law and their guaranteed God-given rights. Action4Canada has created many Church Resources to assist pastors and church leaders to confidently remain open. These includes webinars, No Trespass Signs, a Canadian Rights and Freedoms resource, how to deal with law enforcement, educational material, and much more. Please share this information with pastors and church leaders and encourage them to join the Action4Canada pastoral team.
"Soft Christianity is Not Enough"
More and more men, in leadership positions, are calling on other men to join the battle against evil. We desperately need men to rise up.
"Soft Christianity from the 1990's is not sufficient to do war with the intensity of the other side. We need a more assertive gospel culture that can battle with the wickedness of the day. So we need men who are more stiff-spined." 
Amen to that! Action4Canada is blessed to have warrior men on our team and we are calling on more of you to put on your armour and join us in this Spiritual battle of epic proportions!
What Does God have to do with Freedom?
Tanya Gaw, founder of Action4Canada, responds to the question: "Everything!"
When you remove God you open the door to evil.
It's time for Canadians to take a knee, humble themselves and repent.
It comes with a promise, that God will heal our land.
~~~~~~~~~~~~~~~~~~~~~~~~~
If my people, which are called by my name, shall humble themselves,
and pray, and seek my face, and turn from their wicked ways;
then will I hear from heaven, and will forgive their sin,
and will heal their land.
2 Chronicles 7:14
If you are in need of prayer please reach out to our Prayer Team @ [email protected] 
Remember: Freedom of speech, thought, belief and the right to life, liberty and security of the person are guaranteed. We do not need to beg, barter or ask for them…these are God-given inalienable rights and ours for the taking..
As Action4Canada continues to courageously defend Canadians rights and freedoms we ask that you would please consider courageously giving, either a one time donation or becoming a monthly donor.  Help Action4Canada continue to bring solutions and hope to the nation!
God bless you and God bless Canada!
The Team @
Action4Canada