A4C is Taking the Country Back by Storm!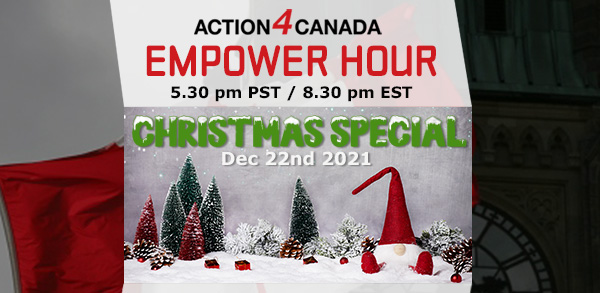 When: December 22nd, 2021. Sign on starts at 05:30pm PST/8:30pm EST Register in Advance. There will be no Orientation this week. Rather, we will begin The Celebration promptly at 5:45pm PST/8.45pm EST
The Action4Canada Team invites you to join us for a lighthearted evening of caroling, storytelling and fun. There will be an Ugly Christmas Sweater Contest with prizes awarded to the top three. In order to enter please email a photo of you in your sweater to [email protected]  Subject: Sweater Contest. Eight finalists will be chosen in advance, and on Wednesday night we will have a live poll so you can help choose the winners.
We are Winning in Ontario!

On November 19th, 2021 Action4Canada Chapter Leader Paul Schillaci, along with Bryan Naylor and Rob Shortill, served the Hamilton-Wentworth District School Board Trustees and Superintendents, Notices of Liability. The NOL's advised the officials of their personal liability if they were to vote in favour of mandating vaccinations for school staff. Paul followed up with an email on Dec. 11th just prior to the School Board voting. As a result, the Board voted 7-3 against mandating vaccination for staff! Read More
We are Having a Massive Impact in Saskatchewan!
Message from A4C Chapter Leader, Tonie Wells
Action4Canada Chapter Leader, Tonie Wells, recently reported that the government of Saskatchewan, Scott Moe, Don Morgan, and the Occupational Health and Safety Council, launched several press releases in regards to Action4canada's NOLs being served across the province by A4C volunteers. It is reported by two MLA's that Scott Moe has even addressed Action4Canada's NOL's in the Legislature.
Elected officials and employers are being served the NOLs at their home address since they are no longer working, or available, at their office. The government is trying to make it out like this is some sort of sinister tactic but serving documents to individual's is perfectly lawful and is in no way a threat to any person. The NOL's are in response to the government's unlawful orders and it is important that every citizen, regardless of their position, be compelled to understand that they are responsible and will be held accountable, for their participation in administering the illegal and unlawful orders which are infringing on individual human rights and are in violation of the Constitution, Charter of Rights and Freedoms and Rule of Law. Read More.
Incredible Success in New Brunswick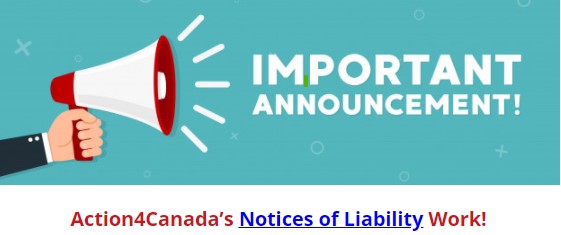 Pastor Ken and Bonnie Gilliard have been Action4Canada's New Brunswick Chapter Leaders since February of 2021. Pastor Ken and Bonnie have been working around the clock to unite citizens and educate them on their guaranteed rights and train them in how to effectively hold the NB government to account. Pastor Ken and Bonnie have been actively involved in serving A4C's NOL's and commencing large actions. So, on December 4th when the New Brunswick government passed an Order mandating the VPASS for Food, Action4Canada's Chapter team, in unison with other organizations, took swift action and were successful in forcing the government to reverse their decision by December 17th. Thank you, and well done, A4C New Brunswick Team!! Read More.
Upsetting the Apple Cart in Alberta
As reported last week, and as a result of Action4Canada leaders and volunteers serving NOL's to elected and non-elected officials across the province, RMA Insurance sent out an URGENT BULLETIN on December 10th  attempting to discredit the NOL's. In their bulletin they made libelous, defamatory and completely false and misleading statements about Action4Canada, promoting hate towards A4C executives, members and volunteers. They also used inflammatory language to insinuate that individual's personal safety was at risk and to call law enforcement. In response, on December 15th Action4Canada immediately sent a cease and desist notice advising RMA to retract their statements. As of December 19th, RMA has yet to do so.
The actions of RMA are a personal attack against all Canadians and, as per the criminal code, promoting hate is an indictable offense. Action4Canada has a very high standard of conduct in treating others with the utmost respect and at no time have we, nor will we, pose a physical threat to anyone.
Therefore, please consider sending Mr. Paul McLauchlin, President of RMA Insurance, an email (or contact by phone) and respectfully request that he immediately retract their aforesaid publicized information and comparisons of A4C to "Freeman on the Land" and "Sovereign Citizens", which is knowingly false, misleading, and to also retract their promoting hate against A4C, its Executive and members and notify us of same. Ph#: 780.955.4076   Email: [email protected]
Another Update: The BC School Trustee Campaign

Wow, the BC government must really be annoyed with Action4Canada successfully pushing back against the tyranny.
In response to 22 School Board Districts (out of 60) voting NO to mandating vaccines for school staff, due to being served the NOL's, the government appears to have put a halt on voting in order to regroup and come up with another plan. On Friday, Dec. 10th, the plan was released via School District 23's Superintendent Kevin Kaardal when he sent an email to all school staff demanding that they complete an unlawful online Vaccination Data Collection Notice. The demand is an obvious attempt to indirectly work toward putting employees on unpaid leave if they choose not to get the experimental injection, and to set a precedence for the other thirty seven school boards who have yet to vote.
Action4Canada once again jumped into action and served a further Notice advising Mr. Kaardal that it doesn't matter how he goes about it, he is violating the protected rights of employees and that he is continuing to put himself and the trustees at risk of personal liability. Stay tuned for further updates!
CBC: More Misinformation and Fake News

If the CBC truly believes Action4Canada's Notices of Liability are "not a thing" then why do they keep reporting on them and why don't they provide Action4Canada's name and a link to the website so that their readers can decide for themselves? 
And what is with their fixation on comparing anyone who opposes the government's unlawful measures with organizations who don't believe in our constitution and the rule of law? You can read about it Here, or not, it is CBC after all!
Remember: Freedom is Ours for the Taking!
Freedom of speech, thought, belief and the right to life, liberty and security of the person are guaranteed. We do not need to beg, barter or ask for them…they are ours for the taking.
Please consider becoming a monthly donor and help Action4Canada continue to bring solutions and hope to the nation!
God bless you and God bless Canada!
The Team @
Action4Canada