Comprehensive Sexuality Education AKA Global Grooming Network
Sex activists are rife throughout the education system and they are using their position to hyper-sexualize our children in order to break down their defenses against predatorial behaviour. The education system also provides the perfect opportunity to erode societal norms and destroy the relationship between a parent and their child. 
Our children our being preyed upon, all in the name of diversity and inclusion. Pedophilia is the name of the game and it is a global epidemic. 
Damaged by The Predators Among Us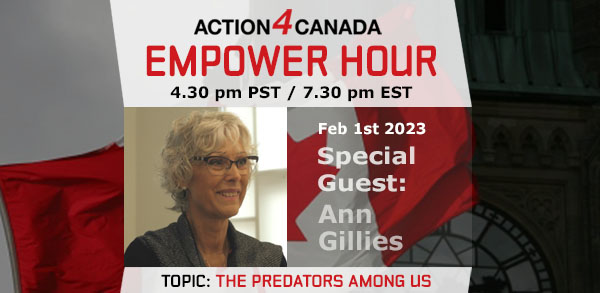 When: Wednesday, February 1, 2023 4:30pm PST/7:30pm EST Register in Advance. The zoom doors open at 4:30pm PST and the Empower Hour begins at 5pm PST/8pm EST.
Special Guest Dr. Ann Gillies (author, international speaker, ordained pastor and founder of Restoring the Mosaic) joins Tanya Gaw to have a frank conversation about the "Damage Done by the Predators Among Us." The world has gone mad as citizens fall prey to the rising normalization of perversion in our society, grooming our children to accept pedophilic interests. The predators among us are no longer hidden, they are in plain view. They are in our schools, public libraries, and on social media, always ready with a funny story, silly dance, a sympathetic ear and a shoulder to cry on. Dr. Gillies works to help people recognize and become vigilant to such evil, which is already running so deeply in our society, including our homes.
Dr. Gillies is trained jointly in professional counseling and theology, and focused primarily on individuals struggling with complex traumatic stress. Her research is in the area of child and adult attachment, trauma, same-sex attraction, gender dysphoria, and the current transgender phenomenon. Read more about our guest, review her incredible collection of books and share the Empower Hour HERE.
The Fallout and the Victims of the Sexual Revolution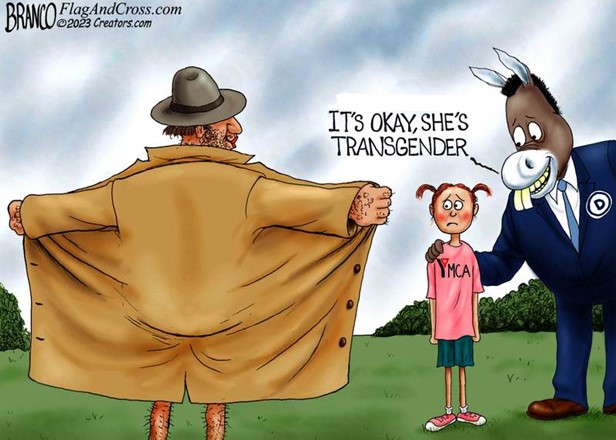 Dr. Gillies book, Closing the Floodgates: Setting the Record Straight about Gender and Sexuality,  exposes the biased, unscientific, and corrupt methods used to promote the sexual revolution of the last sixty years. In her powerful and compelling analysis, she shows how the truth of scientific fact has been overturned in the interest of pleasure and personal feelings, and how a determined minority is using social engineering to reconstruct our social and moral worlds by redefining gender, sexuality and the family. She draws an alarming picture of the consequences: identity confusion among the youth; sexual abuse and victimization of children; soaring rates of suicide and sexually transmitted diseases; the embedding of false, unhealthy, and immoral teaching in the school curriculum; and the loss of freedom of speech and parental rights.
Landon Starbuck is a former Hollywood star-turned-advocate who left the industry when she refused to conform. She is now empowering parents to fight back against the dangers of sexualized children's entertainment and education.
Action4Canada is providing just the kind of action Landon recommends. We are building communities of like-minded people and getting involved in every aspect of civic engagement. Join an A4C Chapter today, or register to become a leader, and get involved at the community level with the fastest growing resistance movement in the nation. Together we will take back our towns and cities and this nation. 
What Else Can You Do? Sign the Petition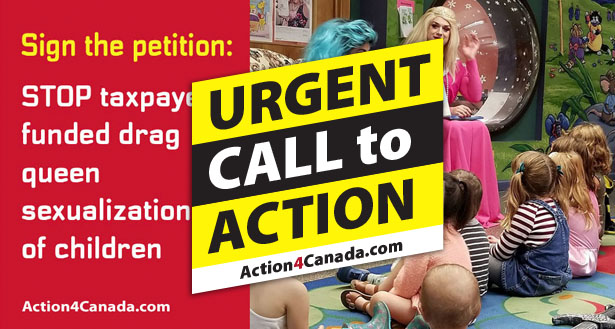 Across the nation, and around the world, citizens are rising up in opposition to the radical LGBTQ sex activist's agenda. Thankfully the radicals are finally losing ground which is very evident when you listen to the mainstream media. The MSM has been called upon to help rescue them by creating sympathy for the Drag Queens and portray them as wonderful upstanding citizens who are serving their communities by reading to children to increase their level of literacy. Oh, what heroes. Bring out the red carpet the Drag Queens have arrived.
But the truth cannot be hidden. There are mountains of evidence that exposes the true nature of Drag Queens. Crude and explicit performances in front of children. Video after video of children being exploited as librarians, politicians, School Superintendents, School Boards, Mayors and City Councils celebrate the Drag Queens. Children's innocence be damned!
Lets get this straight. Drag Queens are men with adult deviant sexual proclivities who are being given access to our children at an alarming rate in taxpayer funded public libraries and at special "family friendly" events. If you don't like funding the exploitation of children then you need to let your mayor and council know. Demand they stop funding your local public libraries. You can start by signing and sharing this petition.
What Else Can You Do?
Support the A4C Youth Program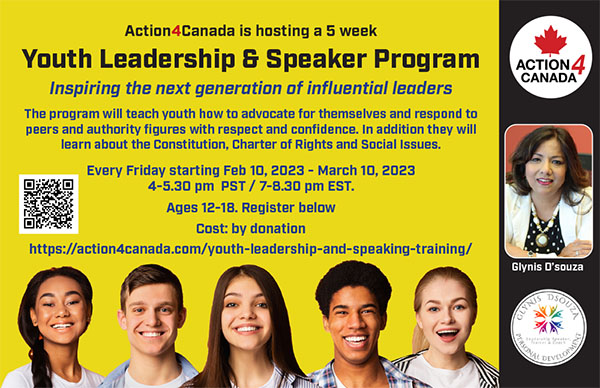 Registration is now available for the next Action4Canada Youth Program. For more details and to register, visit the Youth Program page.
The key to the future of Canada is our youth and so we must make it a top priority to invest in them. This five week training program will empower youth and help them become strong future leaders.
If you are in need of prayer please reach out to our Prayer Team @ [email protected] 
Remember: Freedom of speech, thought, belief and the right to life, liberty and security of the person are guaranteed. We do not need to beg, barter or ask for them…these are God-given inalienable rights and ours for the taking..
As Action4Canada continues to courageously defend Canadians rights and freedoms we ask that you would please consider courageously giving, either a one time donation or becoming a monthly donor.  Help Action4Canada continue to bring solutions and hope to the nation!
God bless you and God bless Canada!
The Team @
Action4Canada