Citizens Hold the Political Power 
On October 29, 2019 Rocco made the following powerful statement on the steps of the Ontario legislature: "The right to choose does not belong to the state. It belongs to the individual. Only in a police state could you violate a person's body without their informed knowledge and consent."
Rocco believes it is his duty not just as a lawyer, but as a citizen, to speak up and take action. He says that "As Canadians we prefer not to engage, and pretend that everything is OK, and it's not." He says that he does not seek out controversy. But if no one else will call out the government when it's wrong, rest assured that Rocco Galati will.
"As my father would have said, I'd rather be controversial than complicit in ignoring the law, in spitting in the face of the Constitution."
We are so grateful to Rocco for his tenacity in the face of such adversity and together we look forward to achieving great wins on behalf of every single Canadian in response to this war on humanity.
When: Wednesday, February 8, 2023 4:30pm PST/7:30pm EST Register in Advance. The zoom doors open at 4:30pm PST and the Empower Hour begins at 5pm PST/8pm EST.
Please join Tanya Gaw as she once again welcomes Rocco Galati, top Canadian Constitutional Lawyer, onto the Empower Hour to engage in conversation to address the status of ongoing legal actions, an update on Rocco's health, Government Inquiries, and so much more.
In 2020, Action4Canada, retained Rocco Galati as legal counsel in one of the most important cases in Canada's history. The legal action is in response to the BC and federal government's massive "pandemic" fraud that misled millions of citizens into believing that they were facing a deadly virus, Covid-19, in order to implement a lethal experimental injection and totalitarian mandates. This of course is in lockstep with the Globalist's agenda to depopulate the world, control the masses and rule with an iron fist. Read more about our guest, and share the Empower Hour HERE.
Press Conference August 2021
The original Notice Of Civil Claim (NOCC) was filed on August 17, 2021. In December of 2021 Rocco became critically ill. The defendants filed a Motion to Strike in January of 2022 but due to Rocco needing many months to recover, he was unable to address it before the courts until May 31, 2022. Rocco was brilliant as he argued the merits of the case.
On August 29th, 2022 the Supreme Court of British Columbia ruled on the defendants' Motion to Strike. The defendants had requested that the claim be DISMISSED without leave (permission) to amend it because they felt it was frivolous, an abuse of process, and demonstrated no cause of action. The Court REJECTED the defendants' Motion to Strike and permitted an amended NOCC to be submitted. Read more here.
Rocco is currently preparing the amended NOCC. Action4Canada will email our members to advise them once it is filed. You can also look for updates, watch further interviews, review legal documents and other relevant information HERE.
Ogunkoya Family Update: A Tremendous Win!
We are so pleased to report that Morufat and her children Victor, Hephzibah, and Rejoice, will finally be allowed to live freely and legally in Canada! This is not only a win for this family but it is a very significant win in the realm of immigration policy in Canada. Action4Canada is very strategic about who we partner with to ensure your donations have the greatest impact.

Since 2019, Trudeau repeatedly refused to provide asylum for the Ogunkoya family or approve their application for "Humanitarian and Compassionate Considerations." He welcomed thousands of illegal immigrants to cross into Canada and even funded this invasion, but refused refuge to this Christian family in desperate need. At one point they were even forced into hiding, in Canada, after a deportation order was issued. However, Majed refused to give up and held our corrupt government and the Immigration Minister to account.
Thank you to Majed El Shafie and the One Free World International team for never giving up on this family. Thank you to all the Action4Canada members who responded to our Calls to Action and donated to help cover the legal costs of this very lengthy battle. Read more HERE.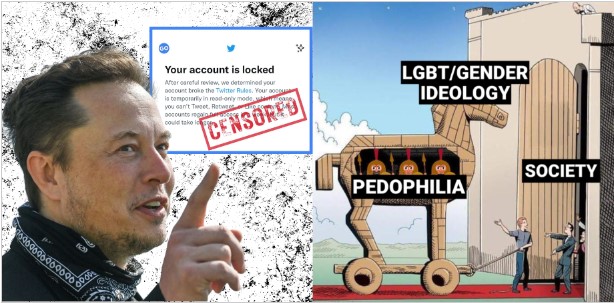 Our petition to STOP Taxpayer Funded Drag Queen Sexualization of Children has now gained 11,570 signatures, as of writing. Thank you to everyone that has signed and if you haven't yet there is still time. CitizenGo has been very supportive in sharing this petition and in turn we would like you to help support an initiative to protect them against censorship.
CitizenGo is a faith-based petition site that provides an essential service to people around the world. CitizenGo petitions provide the opportunity for people to express their concerns about matters of importance to them without fear of being censored. Protecting the free flow of ideas, without censorship, is critical to our democracies.
Petitions play a key role in understanding public opinion on an issue, and we know how the government feels about the public having an informed opinion. Elon Musk has reversed some censorship, but why is CitizenGo still banned from Twitter? Please sign the following petition demanding that Twitter CEO, Elon Musk ends the censorship. Sign HERE.
If you are in need of prayer please reach out to our Prayer Team @ [email protected] 
Remember: Freedom of speech, thought, belief and the right to life, liberty and security of the person are guaranteed. We do not need to beg, barter or ask for them…these are God-given inalienable rights and ours for the taking.
As Action4Canada continues to courageously defend Canadians rights and freedoms we ask that you would please consider courageously giving, either a one time donation or becoming a monthly donor.  Help Action4Canada continue to bring solutions and hope to the nation!
God bless you and God bless Canada!
The Team @
Action4Canada