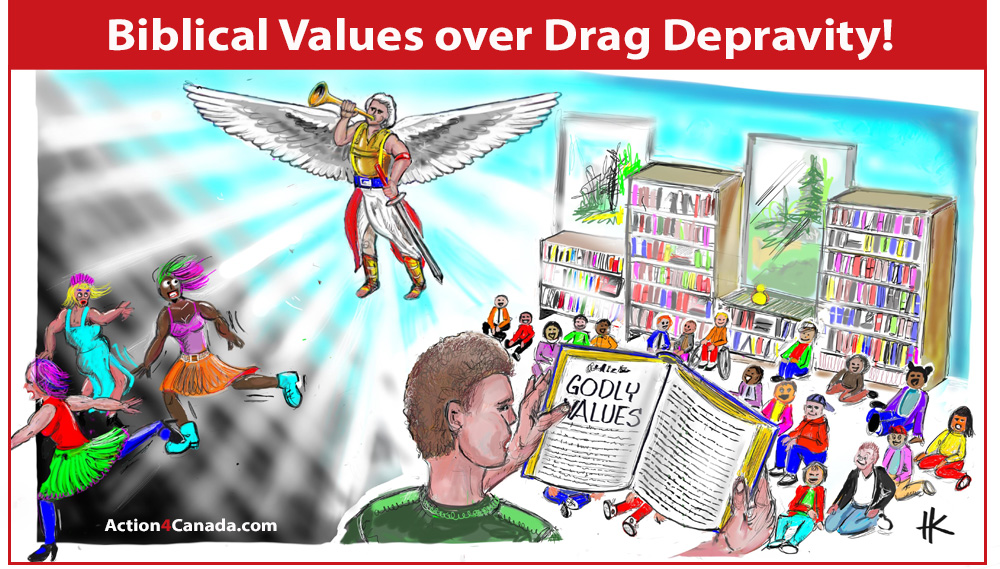 Public libraries and schools have become a dangerous place wherein sexual deviants and pedophiles are gaining easy access to children. Some parents, under the delusion of championing equity and inclusion, allow their children to participate at the expense of corrupting their morals.
However, sanity is coming back to humanity and an army of citizens is rising up in opposition and taking the necessary steps to defeat our adversary. We are taking back ground that the enemy has stolen.
Action4Canada is on the front line of this battle and the recent win in Saskatchewan is evidence that our strategy and resources are effective. We need all hands on deck to win this war! Please visit the Political LGBTQ page to access our Notices of Liability, school board presentation, pdf of books, flyers, letter to ban non-governmental and special interest group flags and propaganda, and so much more!
Storytime and Homeschool Awakening
Wednesday, August 30, 2023 4:30pm PST/7:30pm EST Register in Advance.
4:30pm PST – A4C Orientation; 4:45pm PST – Tanya's update; 5pm PST/8pm EST – Empower Hour guest segment
On the next Empower Hour, Kirk Cameron joins Tanya Gaw to discuss his mission to positively nurture children's innocence and counter the 'woke' agenda to pollute children's minds and hearts. Kirk's book, As You Grow, is about teaching "biblical wisdom and the value of producing the fruit[s] of the spirit: love, joy, peace, patience, kindness, goodness, gentleness, faithfulness, and self-control". 
Doesn't this sound a whole lot nicer than the sexually deviant drag queens reading to children in public libraries and performing for them in schools? The drag queen's objective is to teach queer theory, confuse children, break down their natural defenses against predatory behaviour and undermine the natural family.
Kirk will also talk about his documentary, The Homeschool Awakening, that delves into the lives of homeschooling families around the US and is directed towards those who are sitting on the fence about homeschooling. It provides a look into how parents balance work and life, and it combats the stigma around the qualifications required for a parent to homeschool their child.
As parent's en masse are exiting the public and private school systems this is an Empower Hour you won't want to miss. Learn more about our guest and share this Empower Hour HERE.
Trailer: Homeschool Awakening
The government wants control of our children and they are stripping parents of their God-given right to be involved in their child's education. Public and private schools have been bought out and infiltrated by extreme activists. It has become a matter of urgency for parents to consider alternatives, such as homeschooling.
Are you aware that you can teach your child more in two hours than they will learn in a five hour school day and the best part is, they will not be at risk of indoctrination?
Homeschooling is a great way to invest in both your your child's future and your entire family.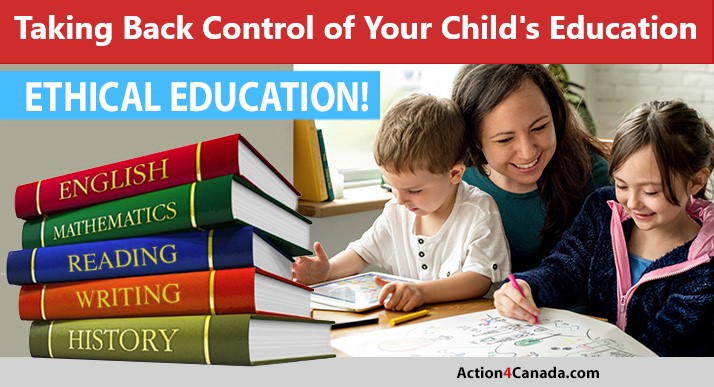 Action4Canada's goal is to assist parents, grandparents and guardians by providing webinars, resources, support, and solutions to counter the growing assault against our children, that is being implemented via the education system. 
Public schools, at all levels of education, currently pose a serious threat to our children as a result of the globalist's agenda to use them as "Agents of Change" to advance an aggressive Marxist agenda, that includes sexualizing children at the earliest age possible. In response, there is a growing national movement wherein parents are pulling their children out of public and private schools and opting to homeschool. More and more Canadians are seeing the value in good old fashioned, traditional learning built on a biblical Christian worldview and passing these values on to their children. Children are the future and what goes in is what comes out! Therefore, parents need to champion the outcome.
If you are considering homeschooling and haven't yet committed because you just don't know where to begin, then please visit Action4Canada's Homeschooling Revolution Page for help on how to get started!

Action4Canada is encouraging men (fathers/grandfathers/step-dads/uncles) to accompany their children on the first day of school, to remind teachers and principals just whose children they are! *Mom's can participate too!
We are requesting that you:
1) Serve your child's teachers and principal with our Notice of Liability prohibiting the sexualization of children; and
2) Deliver the Ban Non-governmental and Special Interest Group Flags and Propaganda Letter that, according to the "Duty of State Neutrality", stipulates all public spaces MUST be neutral. This includes schools. All LGBTQ flags and propaganda MUST be removed from classrooms, hallways, offices, etc.
Thank you for your Participation in this critical campaign!
Together we will take back our education system!
As Action4Canada continues to courageously defend Canadians rights and freedoms we ask that you would please consider courageously giving, either a one time donation or becoming a monthly donor.  Help Action4Canada continue to bring solutions and hope to the nation!
If you are in need of prayer please reach out to our Prayer Team @ [email protected] 
Remember: Freedom of speech, thought, belief and the right to life, liberty and security of the person are guaranteed. We do not need to beg, barter or ask for them…they are ours for the taking.
God bless you and God bless Canada!
The Team @
Action4Canada