Empower Hour Registration, Call to Action, and More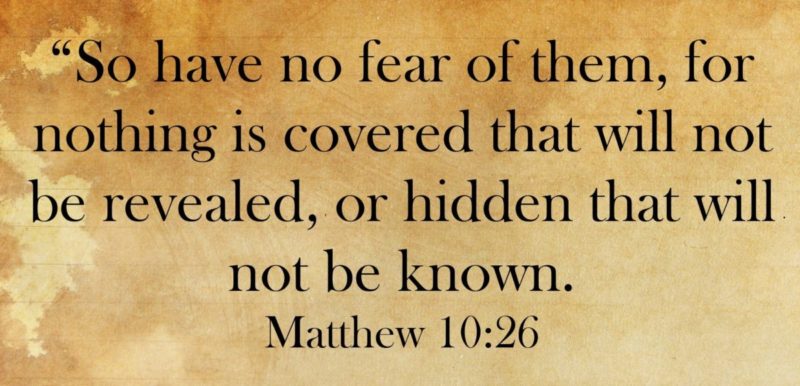 Action4Canada has been on the frontline of exposing government corruption and providing effective resources for Canadians to use to protect themselves, their jobs and their loved ones. We are receiving positive feedback from across the Nation.
In addition to A4C's resources, our legal action filed against the BC and federal government is having an impact. It is evident that we do not need to be in court, to get results as several of the defendants are already re-considering their policies. Such as:
BC Ferries are finally respecting passengers who can't wear a mask. This comes after a year of abusive treatment by BC Ferry staff. BC Ferries also announced it is not mandating the injection for passengers.
The BC Minister of Education, Jennifer Whiteside, is passing the liability buck onto School Boards by instructing the trustees to mandate teachers and staff take the jab. Trustees are rightfully troubled by the risk of liability associated with this directive. Intentionally coercing people into taking a harmful and deadly experimental injection, under threat of losing their job, qualifies as an indictable, criminal, offense.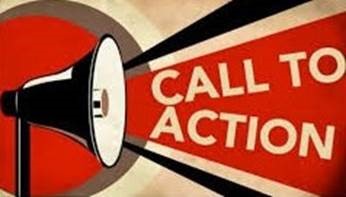 A4C has commenced a Call to Action campaign in BC calling on all School Board Trustees to oppose this directive from the government. As the Notice of Liability points out, the risk of liability is real and citizens are ready to take this to the next level and file human rights complaints and civil and criminal actions.  Please share the Call to Action with all your BC contacts. The successes we are experiencing in BC will set a precedent nationwide.
Register for the Upcoming Empower Hour with Derek Sloan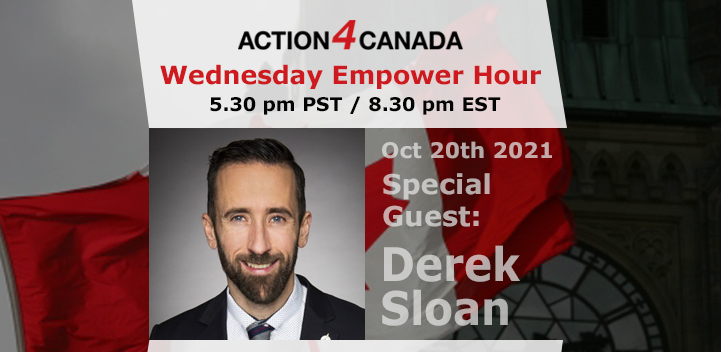 When: October 20th, 2021. Sign on starts at 05:30pm PST/8:30pm EST  Pre-registration Zoom Link
The meeting starts at 5:45pm PST/8.45pm EST with an Intro Presentation to Action4Canada. At 6pm PST/9pm EST the Empower Hour begins. Closed captioning is available for the hearing impaired. 
Join us this week with our special guest Derek Sloan, former MP and leader of the True North Party. Tanya and Derek will discuss the political landscape, plans moving forward, exposing the corruption, and rising up together in defense of Faith, Family and Freedom. READ MORE
Last Week's Empower Hour is a Must Watch
Tanya Gaw and David Lindsay, along with Lonnie Tkach, business owner and A4C Business Team Lead, discuss how to hold people liable when your rights are being violated. They provide tangible resources and information to educate you on the Notices of Liability and guide you through the next steps. You will learn how to dissect the misinformation that the government, the media and the unions are providing the public.
 

Damming Evidence of Government Corruption and Coercion 
On September 20, 2021 there was a meeting of key health officials. The COVID-19 Virtual Medical Forum: "Build Back Better" and COVID-19 update.
In the meeting Dr. Patty Daly, Chief Medical Health Officer for Vancouver Coastal Health, was asked the following question:
Question:
We aren't allowing unvaccinated people into restaurants, but they are still allowed to visit patients in Acute care (ICU, etc). Is this true? If so, what are the risks?
Answer:
"Maybe I can answer this question briefly. The vaccine passport requires people be vaccinated to do certain discretionary activities such as go to restaurants, movies, gyms, not because these places are high risk, we're not actually seeing COVID transmission in these settings. It's really to create incentive to improve our vaccine coverage. The vaccine passport is for non-essential opportunities and it is really to create incentive to get higher vaccination rates."

The International Longshore and Warehouse Union Canada (ILWU) has requested Transport Canada and the federal government as a whole to stay out of its business when it comes to COVID-19 vaccines.
The International Dockworkers Council, an international nonprofit association comprised of 92 dock workers organizations from 41 countries, and representing 100,000 affiliated members, has issued a statement in solidarity with dock workers around the world striking against unlawful vaccine mandates. "We reject these dictatorial policies." Read MORE (Rally videos included)
Protect Your Rights…Serve your employer a Notice of Liability today!
Rally to Protect the Supply Chain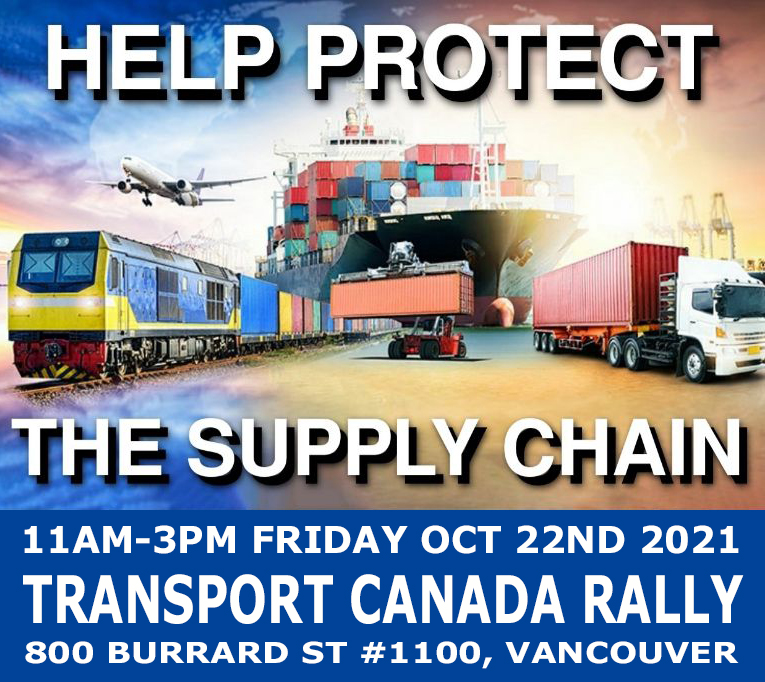 Please consider becoming a monthly donor and help Action4Canada continue to bring solutions and hope to the nation.
Thank you and God Bless Canada!
The Team @
Action4Canada