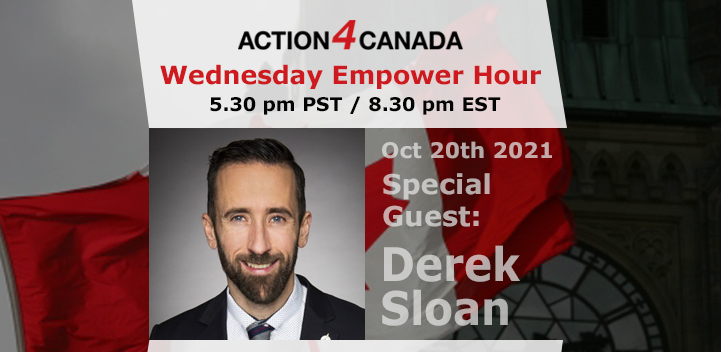 When: October 20th, 2021. Sign on starts at 05:30pm PST/8:30pm EST  Pre-registration Zoom Link
The meeting starts at 5:45pm PST/8.45pm EST with an Intro Presentation to Action4Canada. At 6pm PST/9pm EST the Empower Hour begins. Closed captioning is available for the hearing impaired. 
Join us this week with our special guest Derek Sloan. Former MP and leader of the True North Party. Tanya and Derek will discuss the political landscape, plans moving forward, exposing the corruption, and together rising up in defense of Faith, Family and Freedom.
 Derek is not shy about calling out the tyranny and supporting doctors, politicians, pastors and Canadian patriots who are doing the same.
Recent message from Derek Sloan. 
After nearly two years of deceit, Canadians really are ready to hear the truth, but governments of every level don't want the truth spoken.
What we are witnessing goes beyond mere questions of science and medicine and safety. Something much bigger is going on here.
It's light vs. dark.
It's good vs. evil.
We are truly in a spiritual battle for the heart and soul of Canada.
That's why I'm excited to announce the next chapter in my fight to defend Canadian freedoms.
I am going to fight for a Canadian institution that, since March of 2020, has been forgotten.
I'm going to devote my time to defending the Canadian family!
Those who fight against the light have attacked the family first, because they know that strong Canadian families are the building blocks of the great country they wish to destroy.
Parents are grappling with the economic fallout of the war against independent business, and many now are faced with the choice between taking a vaccine they don't want and unemployment.
Children have had their childhoods stolen from them. Their lives have been turned upside down. They have been deprived of milestones and normal socialization, and now they're being forced to get a vaccine that threatens their health as the price of participation in sports and other activities.
All too quickly, Canada has morphed into a land of coercion, where mandatory vaccines are the only solution imaginable, and nearly every institution seems bent on forcing people to "choose" them.
We really do live in a time of universal deceit, and at times it can feel hopeless.
We are going to band together and restore hope!
We are going to take real action, and accomplish great things!
We will petition legislatures, in person, across the country, to allow Ivermectin and other early COVID treatment protocols, proven effective in other countries, to be used in Canada.
We will do what Canadian mainstream media refuses to do, holding press conferences and podcasts to amplify the voices from the scientific and medical communities who are bravely speaking the truth about what's really happening.
We will connect ordinary Canadians with the professionals who can help them fight back against unjust overreach regarding vaccine mandates and other measures.
We will stand up for children who have been denied access to activities because their parents have decided that COVID vaccines pose a greater threat to their health than the virus does.
We will reach out and connect with people in other countries and broadcast their stories of reactions to COVID that protected the vulnerable while NOT destroying liberties or economies.
I am so excited to get this started, but I can't do it alone.
Send this email to your friends and family, and stay tuned to learn about ways in which you can help.
The truth train is just getting started, and there will be no stopping it once it's rolling!
Keep strong. Keep involved. Keep the faith!
God Bless You and God Bless Canada!
Derek Sloan
P.S. I will never stop fighting for the true conservative values of Faith, Family & Freedom.