Sarah's Detransition Story
When: Wednesday, October 26th, 2022 4:30pm PST/7:30pm EST Register in Advance. The zoom doors open at 4:30pm PST and the Empower Hour begins at 5pm PST/8pm EST.
Please join us to hear the testimony of a young woman who has escaped the hands of her oppressors and has joined us on the front line to expose the evil behind the radical sex activist's agenda to medically transition children. Sarah was lured into the SOGI 123 web of lies within the public school system, that taught her that she could be a boy, girl, neither or anything in between. At the vulnerable and impressionable young age of 14, Sarah was struggling with her self-worth and her identity as a young woman. Unaware that this is a natural season for many adolescents to go through, Sarah was convinced by the LGBTQ activists who are permitted to have access to children in the school system, that she was struggling with gender dysphoria and that transitioning would be the answer to her depression and feelings of body shaming. 
After years of being managed and handled by the radical activists (counsellors, teachers, surgeons, psychologists, etc) who participated in fast-tracking her onto drugs for depression, hormone blockers and medical transitioning, Sarah realized with deep regret that she had been deceived. 
Sarah's story is one that every Canadian should hear. Our children our being indoctrinated in the education system and this is the real-life story of a courageous young woman.
More about Sarah: 
Sarah is very passionate about both Christianity and psychology and believes that every situation, especially something like transitioning, must involve thorough assessments, including psychological evaluations. Sarah is intent on exposing the indoctrination taking place in schools that is directly related to rapid-onset dysphoria, as well as the harm that is being caused by giving minors the power to make life-altering choices beyond their years, maturity or ability to comprehend the permanent repercussions. Minors are not receiving informed consent when making decisions that will render them sterilized and permanently mutilate their bodies.
There were many questions that Sarah never thought to ask, but believes now that had she asked them they would have very likely caused her to pause and reconsider her decisions. Sarah's desire is to share these questions in an effort to help others benefit from her experience and that of her family. Sarah more than ever, hopes that the following questions will help other youth to stop and fully consider what they are doing before moving forward with a decision that they will very likely regret. STOP: Questions to ask before transitioning
"All I say will be said with love, many will hate me for speaking out, maybe out of fear, but I will love them too and I've made my peace with that. While society can deny a lot of things, they can't deny my story as living proof of the flaws in our healthcare system and schools." Sarah.

In closing, Sarah is raising funds to have medical treatments to de-transition. Please help Sarah heal. Donate HERE
Discord: NotPotato#5878
Twitter: SarahElizHar
Email Sarah here
Read the weekly email with info related to this topic HERE.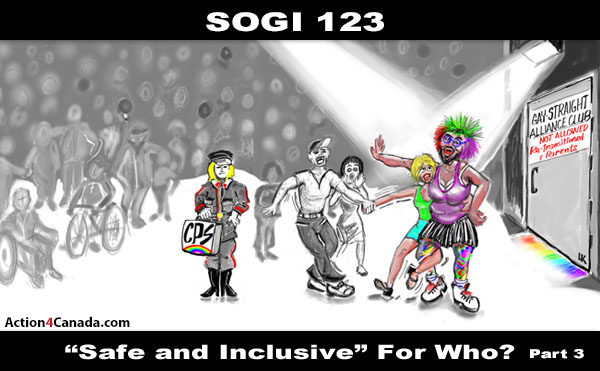 Please make a decision to Join Action4Canada in this war for the hearts and minds of our children.
If you are in need of prayer please reach out to our Prayer Team @ [email protected] 
Remember: Freedom of speech, thought, belief and the right to life, liberty and security of the person are guaranteed. We do not need to beg, barter or ask for them…these are God-given inalienable rights and ours for the taking..
As Action4Canada continues to courageously defend Canadians rights and freedoms we ask that you would please consider courageously giving, either a one time donation or becoming a monthly donor.  Help Action4Canada continue to bring solutions and hope to the nation!
God bless you and God bless Canada!
The Team @
Action4Canada