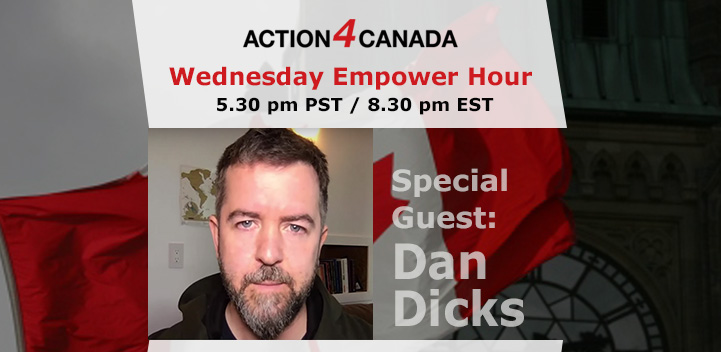 When: September 22th, 2021. Sign on starts at 05:30pm PST/8:30pm EST
The meeting begins at 5:45pm PST/8.45pm EST with an Intro Presentation to Action4Canada. At 6pm PST/9pm EST the meeting begins. Closed captioning for the hearing impaired.
This week our special guest is Dan Dicks. Dan is an investigative journalist and an award winning documentary filmmaker. He is also the founder of an independent media outlet known as Press For Truth (pressfortruth.ca) which produces videos and documentary films about issues that the mainstream media often fails to report on. Dan is on the front lines of exposing the corruption behind the COVID fraud and was recently detained and fined by the RCMP while exposing an unlawful quarantine hotel in Richmond, BC. (Part 1) (Part 2)
We would be in the dark were it not for our courageous Independent Media. Help keep Dan on the frontlines…please donate HERE.
You won't want to miss the A4C Empower Hour so Register in Advance. After registering, you will receive a confirmation email.
We look forward to spending time with you in conversation.
God bless you and God bless Canada!
The Team @
Action4Canada