Action

4

Canada

Chapter Leaders are Working Hard for You!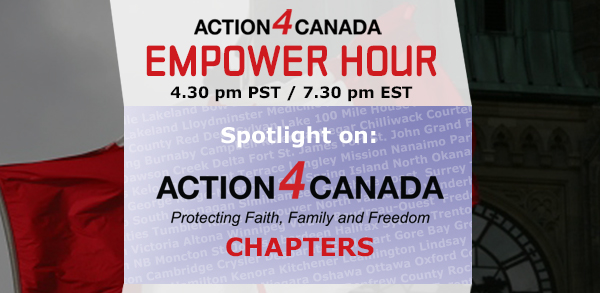 When: January 26, 2022.  The Empower Hour starts at 4:45pm PST/7:45pm EST with an Intro Presentation to Action4Canada. At 5pm PST/8pm EST the Empower Hour begins. Closed captioning is available for the hearing impaired. Register in Advance
Join us for another "Meet the Chapter Leaders" session to hear powerful testimonies from Action4Canada Chapter Leaders across Canada. You will be encouraged, feel empowered and want to get involved with one of the most effective and fastest growing freedom movements in Canada. Your participation involves you at the grassroots level right in your very own community. You will be provided the resources, team support and the strategy to take back your School Boards, Municipalities, and the Provincial and Federal Legislatures. Share and invite others.
Teachers/School Staff: Know Your Rights

School Staff across Canada have been under the threat of losing their jobs if they do not comply with completing vaccination data collection notices and submit to mandatory vaccination. This is an egregious violation of human rights, privacy rights, the rule of law, the Constitution and the Charter of Rights and Freedoms. On Monday, January 17th Bonnie Henry passed an Order in BC announcing that local "Medical Health Officers" could request BC school staff's vaccination status. Henry did this in an effort to counter Action4Canada's successful campaign against the school board trustees voting to mandate vax for staff.
The fact is that the government does NOT have the authority to do this but they have been using fear and intimidation to force compliance. As soon as people stop complying then this whole fraud will end.
We witnessed this firsthand recently when gym owners across BC successfully called the government out on their bluff. Action4Canada had been working closely with the the gym owners and provided them with the education and resources they needed to stand in their power to unite and say NO MORE! As a result the BC Health Officer, Bonnie Henry, was forced to revise the recent Order and open the gyms. They will not be closing again.
Action4Canada is calling on all school staff in BC, and across Canada, to do the same. We have written the following letter in response to the BC Health Officer's Order and we are requesting that all school staff carefully review it so you too can stand in your power and fight back. Also, sign and serve a Notice of Liability to all Trustees and Superintendents in your District. Take Action Now!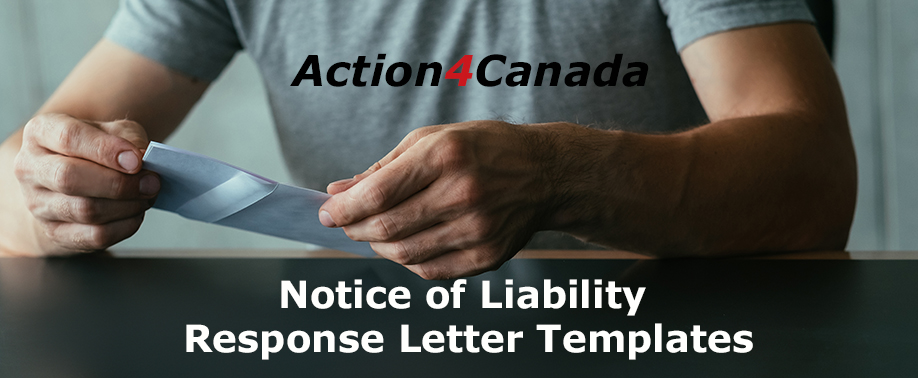 Are your rights being violated? Have you served a Notice of Liability? Are you engaging in follow up communication with Elected Officials, government officials, unions, educators or employers and wondering how to write a letter in response?
Then this page is for you. Action4Canada has also been successfully engaging in letter writing and so we have created template letters as examples to assist you in crafting your own letter of response. View Here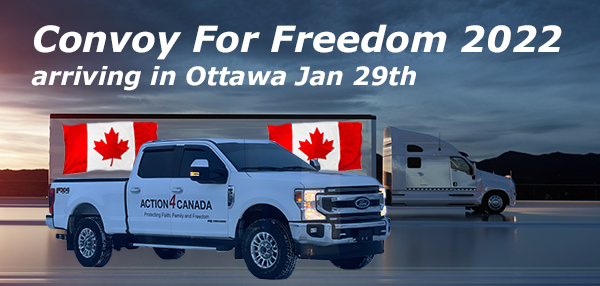 Action4Canada is calling on Canadians to come out and support the truckers who are traveling across the nation to arrive in Ottawa on January 29, 2022 to give the federal government a message… put an end to the vaccine mandates and all things Covid! It is time for the tyranny and the corruption to end.
Message from Convoy for Freedom (the organizers of the event)
"We are taking our fight to the doorsteps of our Federal Government and demanding that they cease all mandates against its people. Small businesses are being destroyed, homes are being destroyed, and people are being mistreated and denied fundamental necessities to survive. It's our duty as Canadians to put an end to these mandates.  It is imperative that this happens because if we don't our country will no longer be the country we have come to love.  We are doing this for our future Generations and to regain our lives back."
A special shout out to Tracey, Action4Canada's Chapter Leader from Grande Prairie, Alberta who is making the journey to Ottawa. Be sure to say hello. You can't miss that white truck with the A4C logo.
Our good friend Laura Lynn Tyler Thompson is also on the journey to Ottawa. For live updates and a list of the route schedule View Here.
Rocco: Get Well Wishes and an Update
Rocco is getting better and his family appreciate all the prayers and well wishes and thanks everyone for respecting his medical privacy. 

Some of the defendants in the Action4Canada Notice of Civil Claim have responded with a Motion to Strike. This is a common response to a claim of this magnitude and in no way means the legal action has been dismissed. Action4Canada continues to work with Rocco's office and will be proceeding with the case as planned.
To Bring a Smile to Your Face
On January 23rd in a small town in Merritt, BC, citizens gathered on an overpass and waited for hours in the cold to cheer on and support the truckers who were at the start of their journey through BC enroute to Ottawa. And in the freezing cold something unexpected and wonderful happened. A good and kindly Samaritan, Peter, the manager of Panago Restaurant, sent 20 hot pizzas to feed the crowd. Next time you are in Merritt be sure to stop by Panago and say hi.
The Liberals meant to divide this nation, to break the will of the people and destroy our democracy. But instead, deep bonds of friendship have formed amongst strangers as they unite and come together with a common goal, to fight for freedom.
Freedom of speech, thought, belief and the right to life, liberty and security of the person are guaranteed. We do not need to beg, barter or ask for them…they are ours for the taking.
Please consider becoming a monthly donor and help Action4Canada continue to bring solutions and hope to the nation!
God bless you and God bless Canada!
The Team @
Action4Canada