Call it what you may: Communism; Fascism; or Marxism, but the ultimate goal is the destruction of western civilization as we know it.
Our government institutions and our education system have effectively been taken over. If we are going to turn this around we need to work as a unified body. Action4Canada's team of leaders and volunteers are fighting on multiple fronts, but one of the most important is focusing on our children.
A critical part of the Global Agenda is reliant on indoctrinating our children through the education system (pre-school to post-graduate) to produce compliant Marxist soldiers to carry the Globalists' plan into the future. Children are being taught to hate themselves, their parents, their country and anyone else who does not agree with the ingrained social justice ideologies.
These children are the future leaders of our country and this is why Action4Canada is working tirelessly to remove all of the propaganda from the education system, including Comprehensive Sexuality Education, Critical Race Theory and Climate Change disinformation.
A4C is also working hard to provide Canadians with solutions, such as facilitating parents in finding homeschooling alternatives and providing  Youth Leadership and Speaker Programs. Scroll down for more information on the Youth Leadership program and listen to the speeches of past participants. 
Are you ready to get involved? Join Action4Canada and help us win this battle of a lifetime.
Empowering Youth to Become the Leaders of Tomorrow!
When: Wednesday, April 12, 2023 4:30pm PST/7:30pm EST Register in Advance. The zoom doors open at 4:30pm PST and the Empower Hour begins at 5pm PST/8pm EST
We are so thrilled about the next Empower Hour as we spend time with Glynis D'souza, CEO of Glynis D'souza Personal Development, who is facilitating the A4C Youth Leadership and Speaker Program. Several of the youth: Chesney; Geneviève; and Olav; who attended the February to March program, will also join us and give their speeches and their personal testimony on how the program has helped them. Glynis will provide further information on the program and how we are working to effectively empower youth to give them the confidence, the knowledge and the tools they need to become leaders in their community. Learn more about our guest and share the Empower Hour invite HERE.
It's Back: Youth Leadership and Speaker Program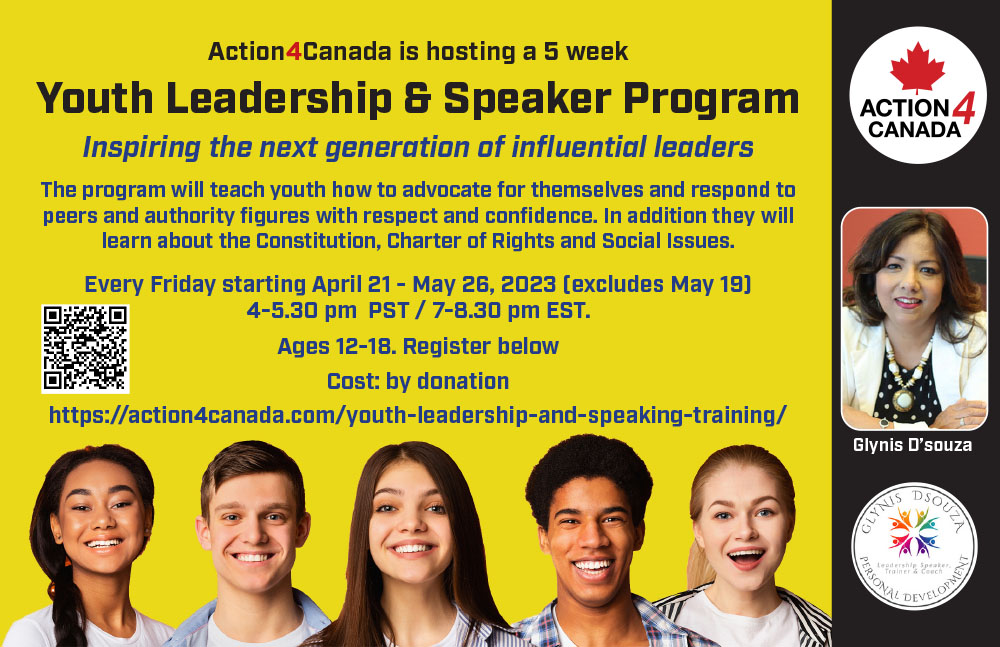 We are excited to announce that Action4Canada is hosting another five week Youth Leadership and Speaker Program scheduled to begin April 21 through to May 26, 2023 (excludes May 19). Register in Advance.
This Level 2 course will include persuasive strategies that youth can use in order to be influencers in the community they live in. These strategies will include impromptu speaking techniques and debates, using powerful tools such as problem-solution, pros and cons, cause and effect, compare and contrast, to name a few. It will also include various methods on how to provide feedback and be an effective listener.
The following is a response from one of the parents who provided testimony of how the program made a difference in her daughter's life:
"I would like to take the opportunity to thank you from the bottom of my heart for holding this course. I have seen an immense difference in our daughter's confidence being boosted. We have a saying in our family that all it takes is 10 seconds of courage to change your perspective. This course has made a world of difference for Naomi. Thank you." Emily March 2023
Below are three speeches from the recent Youth Leadership and Speaker Program.
Geneviève gives a speech on the meaning of the rainbow, reminding us that it is God's special creation and has a deep meaning and purpose. It's time to take back the rainbow!
"I have set my rainbow in the clouds, and it will be the sign of the covenant between me and the earth." Genesis 9:13
Our Attitude Affects Our Actions
Chesney's speech is on how our attitude affects our life and how perseverance plays a huge part in achieving success. A positive attitude isn't all it takes to get a positive result, it also takes action! The example from the Bible of Peter and the disciples' decision to act on Jesus' instructions to cast the net one more time is evidence of perseverance, and faith, paying off…big time! 
Wayne Gretzky also said, "You miss 100% of the shots you don't take".
Olav gives real life examples of making free and informed choices and stresses the importance of not being pressured into making decisions that violate your conscience, bodily autonomy or your rights. 
Testimonies from Participants
Kalani, Age 13: "I started with no confidence, but after just five weeks, I was able to learn how to speak without preparation and speak in front of many people. Action4Canada will help you speak for your causes that are meaningful to you so you can make a difference. You can learn all of this in just five weeks. Plus, you can learn leadership skills that will help you off the podium as well. This course is highly recommended by many, including me. Please join as soon as you can."
Mele, Age 11: "When I came in I was like a butterfly who couldn't fly but now I can fly."
If you are in need of prayer please reach out to our Prayer Team @ [email protected]
Remember: Freedom of speech, thought, belief and the right to life, liberty and security of the person are guaranteed. We do not need to beg, barter or ask for them…these are God-given inalienable rights and ours for the taking.
As Action4Canada continues to courageously defend Canadians rights and freedoms we ask that you would please consider courageously giving, either a one time donation or becoming a monthly donor. Help Action4Canada continue to bring solutions and hope to the nation!
God bless you and God bless Canada!
The Team @
Action4Canada