We must fight for justice and hold the guilty to account!
Canadians must not give up hope. They must continue to press in and seek justice, whether it's against an employer, union rep, school trustee or fellow citizen. When the law is being broken and guaranteed protected rights violated, individuals must be held accountable!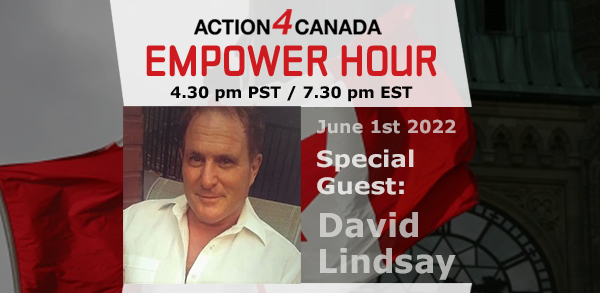 When: Wednesday, June 1, 2022 4:45pm PST/7:45pm EST Register in Advance
David Lindsay will once again join Tanya Gaw on the Empower Hour to discuss the process of laying a private information (criminal charge) against an employer, union rep and anyone else who is in violation of citizen's guaranteed and protected rights in Canada. Laying a private information is accomplished by filing directly with the Court rather than the police. David and Tanya will provide a refresher on how to collect your evidence and present your case to the Crown. Learn more and share the Empower Hour invite HERE.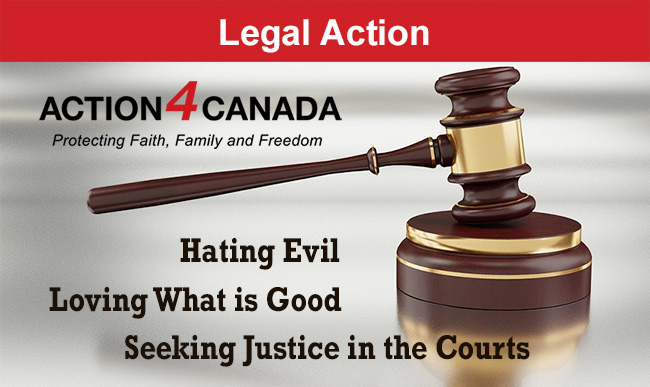 NOTICE: On Tuesday May 31, 2022 at 10:00am PDT, Rocco Galati is set to address the defendant's Motion to Strike via Zoom. Tanya Gaw and the Action4Canada team will be attending in person at the Vancouver Supreme Court located at 800 Smithe Street.
Come and join us. Your presence is important to send the government a clear message that this is a critical case in bringing criminals to justice…and we demand justice. Check the following page for updates on time and access to the Zoom link HERE
A4C is Committed to Giving Youth a Voice
Action4Canada is committed to providing a platform, Youth Freedom Movement, to give Canadian youth a voice. So, each week A4C will highlight one of the speeches presented by an A4C youth who attended the A4C Youth Leadership and Speaker program. This week Jack will give us a lesson in history from the Hitler era and show us how we are currently in the midst of experiencing the same tyrannical take over. Now is the time to rise up and stop this attempt to enslave Canadians! See more videos HERE.

Call to Action #1 – Reach out to every elected official at all levels of government in your city or town and send them the youth videos.
It is critical that elected officials understand the harm that is being done to our children and youth as a result of their reckless actions. The political social justice propaganda and messaging in the schools, plus the extreme restrictions and unnecessary mandates, are causing permanent damage. Contact Elected Officials and Senators HERE
The education system was not created so that elected officials could use our children as pawns in their nefarious schemes.
Call to Action #2 – The Liberals reintroduced registry, C71 measures. Do NOT give up your guns or give in to the government's continued efforts to remove guns from responsible gun owners by applying further restrictions. Canadian firearms owners are already among the most vetted in Canadian society and least likely to commit ANY crimes. Sign the Parliamentary E-Petition E-4010 calling for the government to immediately repeal the Order in Council. Learn more
For a tyrannical government to exist, they must first disarm the people in order to gain full control. Contact Elected Officials HERE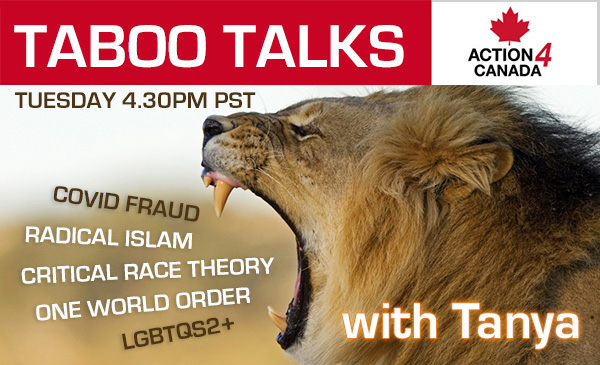 NOTICE: Action4Canada meets via zoom every Tuesday @ 4:30pm PDT/7:30pm EDT to help further equip Canadians in defending their rights and freedoms, as well as educate them on how to best utilize the Action4Canada resources. A4C also covers current events and taboo issues that the government would prefer we didn't discuss. This Tuesday Tanya will be further discussing the Rapid Antigen Testing and the serious risks to children, adults, pets and the environment, due to the bio-hazardous ingredients. Register in advance for this meeting.
If you are in need of prayer please reach out to our Prayer Team @ [email protected] 
Remember: Freedom of speech, thought, belief and the right to life, liberty and security of the person are guaranteed. We do not need to beg, barter or ask for them…they are ours for the taking.
Please consider becoming a monthly donor and help Action4Canada continue to bring solutions and hope to the nation!
God bless you and God bless Canada!
The Team @
Action4Canada