Empower Hour
Every Wednesday Action4Canada hosts the Empower Hour, an online zoom meeting open to everyone. We have a special guest each week, who will educate, inform and answer your burning questions.

To be kept informed of these webinars sign up for our Email Updates so as to receive advance notification along with details on how to pre-register for each Empower Hour webinar.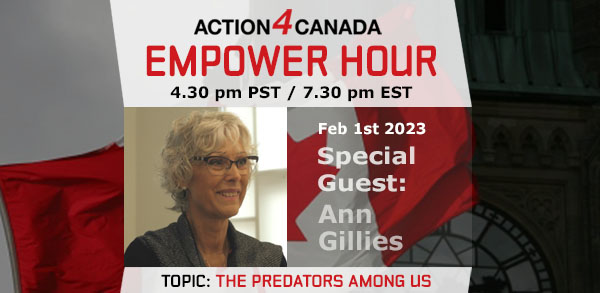 February 1st, 2023
4.45pm PST/7.45pm EST

Next Empower Hour: 
Dr. Ann Gillies, author of Damaged By The Predators Among Us, is our special guest this week.
Pre-Register Now for this Webinar
For Videos/Podcasts of Previous Empower Hours…see below
Video Introduction to Action4Canada 
Video Recordings of Previous Empower Hours

Mikki Willis, Mass Psychosis
Jan 25th, 2023
Tanya Gaw, Winning the Spiritual Battle
Jan 19th, 2023
Courage Under Fire
with Pastors Artur Pawlowski, Randy Beatty & Philip Hutchings
December 14th, 2022
Chapter Leader Success Stories and Updates
December 7th, 2022
David Lindsay – Know Your Rights and Assert Them!
November 30th, 2022
Dr Peter McCullough
November 23th, 2022
Died Suddenly News
November 16th, 2022
Town Councillor – Jab Extortion
November 9th, 2022
Sexually Assaulted Students Silenced, Defender Wrongfully Accused
November 2nd, 2022
Sarah's Detransition Story
October 26th, 2022
Court Case Update
October 19th, 2022
Euthanasia: A Murderous Scheme
October 12th, 2022
Mutilation and Sterilization of the Next Generation
October 5th, 2022
SOGI-123 Sexualizing Children
September 21st, 2022
Digital ID/Government Corruption with Tom Quiggin


September 14th, 2022
Coronation Oath and the Constitution with David Lindsay
September 7th, 2022
A panel of special guests, Stephanie Jackson, Christian Peterson, Heather Zwart, Doris Livingstone and Genevieve Coulombe, discuss how you can become a part of the Homeschooling Revolution.
August 17th, 2022
Special guest Alex Newman, founder of Liberty Sentinel, discusses the crisis of globalists targeting children in the education system. 
Aug 10th, 2022
Remo Gaita joins Tanya to discusses International and domestic travel, as well as Action4Canada's notice of liability related to mobility rights. 
Aug 3rd, 2022
This week, Dan Vachon joins Action4Canada to talk about food security
July 27th, 2022

Rocco Galati, top Canadian Constitutional Lawyer, engages in conversation surrounding Action4Canada's legal action
July 20th, 2022

Tom Harris of the International Climate Science Coalition – Canada joins Tanya to discuss the Agenda behind the climate change fraud.
July 13th, 2022

Ted Kuntz of Vaccine Choice Canada joins Tanya to discuss the growing awareness that childhood/adult vaccinations are causing much greater harm than good. 
July 6th, 2022

Tom Quiggin Discusses the Growing Concerns Surrounding the RCMP's Top Brass Aiding and Abetting Government Corruption Across Canada
June 29th, 2022

Tanya Gaw Discusses the Radical UN/WEF Agenda
that has Infiltrated Schools Across Canada
June 22nd, 2022

Greg Gerrie Talks about Finances
June 8th, 2022

Laying Criminal Charges
June 1st, 2022

Rapid Antigen Tests
May 25th, 2022

Hear How Our Youth Feel About Being Used as "Agents of Change"
May 18th, 2022

Corinne Beresford discussing the World Economic Forum
May 11th, 2022

Pastor Billy Crone
May 4th, 2022

Pastor Artur Pawlowski
April 27th, 2022

David Lindsay
April 20th, 2022

Rev. Majed El Shafie
April 13th, 2022

Alan Strudwick
April 6th, 2022

Click here to see the testimonies Alan received after this Empower Hour.
Dr Greg Gerrie
March 30th, 2022

Dr Greg Gerrie and Genevieve Coulombe
March 23rd, 2022

Leighton Grey
March 16th, 2022

Hon. Brian Peckford
March 9th, 2022

Stewart Staudinger
March 2nd, 2022

Danny Bulford and Vincent Gircys
February 23rd, 2022

Giving Kids a Voice
February 16th, 2022

Laura-Lynn Tyler Thompson
February 9th, 2022

Tanya Gaw
February 2nd, 2022

Meet the Chapter Leaders
January 26th, 2022

Jeff Rath, Brian Mark and Kevin Brett
January 19th, 2022

Vincent Gircys
January 12th, 2022

David Lindsay
January 5th, 2022

Previous Empower Hour videos: page 1
Feedback from Previous Empower Hour Participants

Thank you for your encouragement everyone! & for being on the front line to help teach us to stand!
Thank you so much for your efforts and sacrifices. Thank you for helping us fight
This has been great info. Blessings to you all and the team and a big thanks to David!!
Hey Tanya I tuned in on Wednesday. Excellent excellent excellent. Lots of my friends also tuned in. I can't even thank you enough for all your work!
Huge Thanks to all the panelists for a brilliant Zoom!
Thanks for all the amazing information 💖💫🙏😇
I can't thank you enough Tanya for all the stunning work you're doing 🙏
FREEDOM♥️
Thank you Tanya and David for all your hard work! Very much appreciate such an informative and encouraging evening. 🙏
Thank you David, Tanya and Heather for this awesome program. So glad you fighting for us who are in our late 70's.
♥️thank you!!!!!!
Bless you, Tanya and all A4C
Bless Each One and remember the power of numbers and the power of prayer.
Thank you!!! Amazing session.
Tanya for premier!
You are awesome! Truly amazing people!
YOU GUYS ARE ASTOUNDING.
YES. Amazing! So grateful for your hard work!
Thanks all for excellent information!