Empower Hour
Every Wednesday Action4Canada hosts the Empower Hour, an online zoom meeting open to everyone. We have a special guest each week, who will educate, inform and answer your burning questions.

To be kept informed of these webinars sign up for our Email Updates so as to receive advance notification along with details on how to pre-register for each Empower Hour webinar.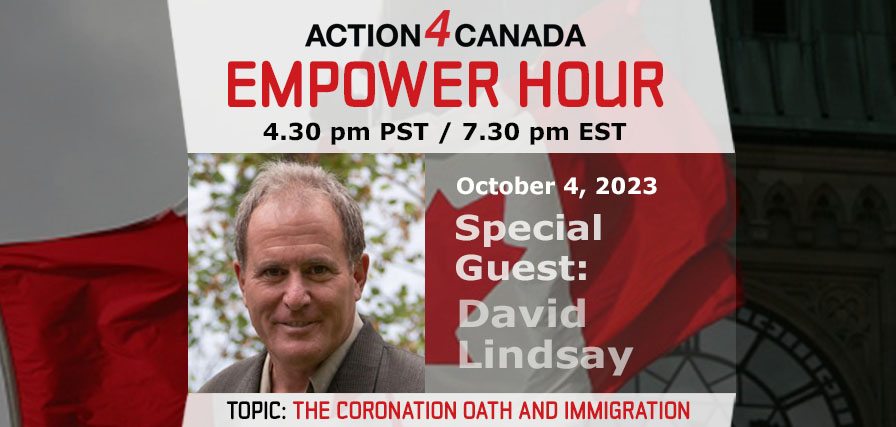 David Lindsay will be our guest on the Empower Hour on Oct. 4, 2023
Learn more HERE.
4.45pm PST/7.45pm EST
Pre-Register Now for this Webinar |
Join us! Share this page and link with your friends and social media!
For Videos/Podcasts of Previous Empower Hours…see below
Video Recordings of Previous Empower Hours

Robert, forensic arborist
September 27, 2023
Audrey Werner
September 20, 2023
Mike Beckwith
September 13, 2023
Alex Newman
September 6, 2023
Kirk Cameron
August 30, 2023
Tanya on Tour Part 2
August 23, 2023
Tanya on Tour Part 1
August 16, 2023
Plandemic 3
August 9, 2023
Plandemic 2
August 2, 2023
Robert, Forensic Arborist
July 19, 2023
Dr. Peter McCullough
July 12, 2023
Majed El Shafie
June 28, 2023
Alex Newman
June 21, 2023
Maxime Bernier
June 14, 2023
Dr. Ann Gillies
May 24, 2023
David  Lindsay
May 17, 2023
A4C Chapter Leaders
May 10, 2023
Pastor Matthew Trewhella
May 3, 2023
Food Security
April 19, 2023
Youth Empowerment
April 12, 2023
Tom Harris, Climate Change Propaganda in Schools
April 5, 2023
Dr. Sherri Tenpenny, Holistic Approaches to Getting Well
March 29, 2023
Part 2: Jon Uhler, White Collar Sexual Psychopaths
March 22, 2023
Part 1: Jon Uhler, White Collar Sexual Psychopaths
March 15, 2023
Josh Alexander, Youth Rising Up! 
March 8, 2023
David Lindsay, 15 Minute Cities
Feb 22, 2023
Christine Douglass-Williams, Canadian Race Relations
Feb 15, 2023
Rocco Galati, Legal and Health Updates
Feb 8, 2023
Ann Gillies, Predators Among Us
Feb 1, 2023
Mikki Willis, Mass Psychosis
Jan 25th, 2023
Tanya Gaw, Winning the Spiritual Battle
Jan 19th, 2023

Feedback from Previous Empower Hour Participants

Thank you for your encouragement everyone! & for being on the front line to help teach us to stand!
Thank you so much for your efforts and sacrifices. Thank you for helping us fight
This has been great info. Blessings to you all and the team and a big thanks to David!!
Hey Tanya I tuned in on Wednesday. Excellent excellent excellent. Lots of my friends also tuned in. I can't even thank you enough for all your work!
Huge Thanks to all the panelists for a brilliant Zoom!
Thanks for all the amazing information 💖💫🙏😇
I can't thank you enough Tanya for all the stunning work you're doing 🙏
FREEDOM♥️
Thank you Tanya and David for all your hard work! Very much appreciate such an informative and encouraging evening. 🙏
Thank you David, Tanya and Heather for this awesome program. So glad you fighting for us who are in our late 70's.
♥️thank you!!!!!!
Bless you, Tanya and all A4C
Bless Each One and remember the power of numbers and the power of prayer.
Thank you!!! Amazing session.
Tanya for premier!
You are awesome! Truly amazing people!
YOU GUYS ARE ASTOUNDING.
YES. Amazing! So grateful for your hard work!
Thanks all for excellent information!