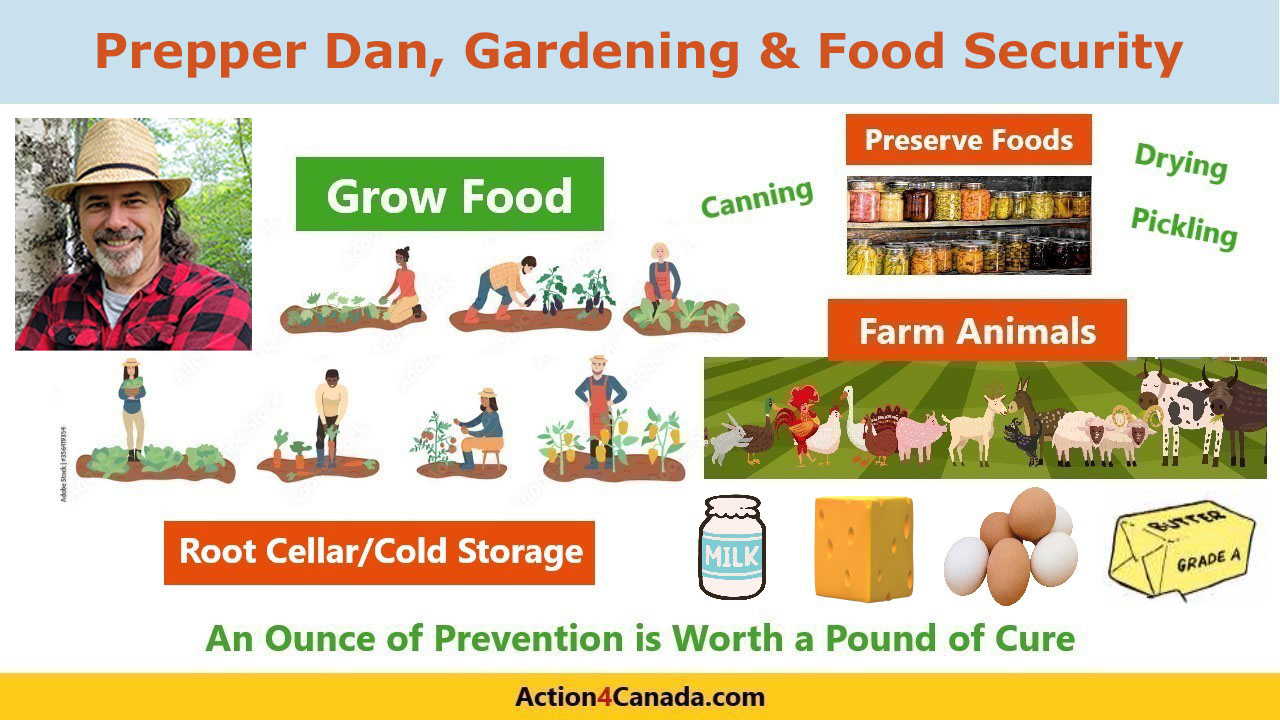 In these uncertain times it is wise for Canadians to be prepared for potential food shortages. It also important to learn how to grow and preserve your own food to avoid genetically modified and harmful additives that affect the safety and quality of store bought products.
Preparing for Hard Times and Making Healthy Choices
When: Wednesday, July 27, 2022. The Zoom doors open at 4:45pm PST/7:45pm EST Register in Advance. The Empower Hour will begin at 5:00pm PST/8:00pm EST. NOTICE: New Start Time for Summer! 4:45pm PST/7:45pm EST
There is talk of looming food shortages in Canada and it is important for citizens to be pro-active and prepared. Action4Canada is delighted to have Dan Vachon joining us on the next Empower Hour, to discuss this very important topic. Dan will provide a PowerPoint presentation on gardening, canning and preserving as well as meat, greenhouses, cold storage, poly tunnels and more. Learn more about Dan and share this Empower Hour Here.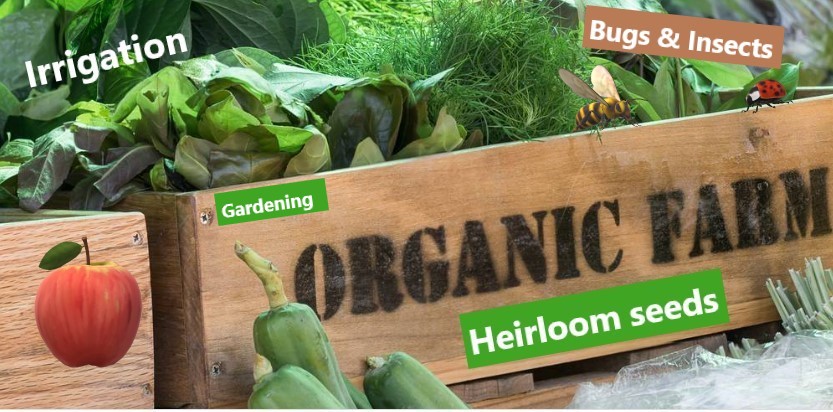 When you begin your journey of growing, preserving and storing your own food be sure to support family run organic farmers who are committed to providing high quality products. Heirloom Seeds and Natural Seed Bank are companies within Canada reported to provide top quality product.
Grow Organic is based in the USA and has a great website where they not only provide seeds but also instructions on what to plant, how to plant it, tools and equipment needed, storage, how to deal with pests, and more.
Globalists are Sabotaging Fertilizer Prices to Create a Food Crisis
The war on our food supply continues, as the insane climate policies are implemented in countries around the world, at the command of WEF globalist leaders. Action4Canada recently provided an excellent report that countered many of the false claims regarding the narrative that the world is on the precipice of a climate armageddon. Tom Harris joined A4C on the July 13th Empower Hour and gave a wonderful presentation confirming that CO2, nitrogen, fossil fuels and cows are not posing a threat to the environment, and that electric cars are definitely causing more harm than good.
In the video above David Friedberg explains how essential fertilizer is to growing crops. All fertilizer is made up of nitrogen, phosphorous, and potassium. These are the three major minerals that farmers around the world need to use every year to grow their crops. The globalists have already strategically driven up the cost of fertilizer, and as a result farmers are pulling acres out of production and are growing less this year because they cannot access or afford the fertilizer needed. 
This is deliberately contributing to food shortages at catastrophic levels.
Food Banks Feel Pinch as Food Prices Soar Amidst Rising Inflation
Most regions of Canada are experiencing an influx of Canadians visiting food banks for the first time – up by 25% in some regions. "Canadians are telling us that they are running out of money for food because of rising housing, gas, energy and food costs."
Newly released Statistics Canada tables show that rising grocery prices have shoppers paying 20 percent more for spaghetti, flour, cabbage and other staples. The cost of even the cheapest meats increased by a third or more, year over year, while basic white bread averaged $4 a loaf: "Canadians are feeling left behind and ripped off." 
Globalist's Targeted Attack Against the Meat Industry
The crazy UN globalists want citizens to eat food created in a lab and produced in factories so as to move away from food produced in nature. 
In reality, this is not better for the environment and it most certainly isn't better for human consumption. In fact, CBC reported in 2019 about the health concerns of fake meat as it is a highly processed food which is in complete contradiction with the Canada Food Guide which very clearly says, 'keep away from highly-processed foods.' Some of the fake burgers have something like 19 different ingredients and they've been massively processed, are high in sodium and are still 'drenched in pesticides.'
Patrick Brown, the CEO of Impossible Foods (fake foods) and Bill Gates backed Impossible Burger, said, it's "game over" for the meat industry and "they just don't realize it yet." And Patrick Brown is paying big bucks to make it happen. To date, Impossible Foods has raised $1.5 billion in investment capital to fund its mission and recently launched the Impossible Investigator Project, a hiring initiative that will double the number of scientists working at the company to accelerate its mission of disrupting animal agriculture on a global scale.
You want to help farmers and maintain your freedom? Then Stop buying fake meat but also educate yourself on the meat industry's standards which allow animals to be routinely administered antibiotics and growth hormones, fed soy products drenched in pesticides, with many animals held in inhumane feedlots and cages. Instead support local farmers who raise their animals under more humane conditions.
Sustainable Development Goals: Epic Failure

There is no doubt in the minds of those who have been awake, aware and opposed to the UN's 2030 Sustainable Development Goals that they were never created to decrease human suffering but rather the opposite. The globalists sold the 2030 Agenda as if it was some noble cause to achieve a better world and to eliminate world hunger. It comes as no surprise to us to read the WHO's July 6, 2022 report advising that Global hunger numbers rose to as many as 828 million in 2021 and that they are further blaming it on Covid-19. The 2022 numbers will be even worse as the Globalists continue to interfere with the food supply causing people in Western developed nations to become part of those statistics.
… an increase of about 46 million since 2020 and 150 million since the outbreak of the COVID-19 pandemic (1), according to a United Nations report that provides fresh evidence that the world is moving further away from its goal of ending hunger, food insecurity and malnutrition in all its forms by 2030. 
A

4

C Youth: A Little Humour with a Serious Message
To anyone who believes the past two and a half years have not had a serious impact on our youth, think again. They have been used as pawns in the government's agenda to instill fear and uncertainty. As a result children and youth are experiencing high rates of depression.
In response, Action4Canada launched the Youth Freedom Movement with a focus on educating youth and giving them a voice. After all, they are the future of Canada.
This week we are highlighting Austin's speech where he brings an element of humour when delivering a very serious message. In the end, Austin challenges Canadians in saying, "I'm ready to fight for freedom, are YOU?!
Rocco Galati & Tanya Discuss the Legal Actions
Great interview July 20, 2022 with Rocco Galati. It is packed with great updates and critical information on the cases Rocco has filed, and includes reported wins as a direct result of filing each Statement of Claim. Action4Canada's case is currently awaiting a decision from Judge Ross on the Motion to Strike. Rocco advises that it can take up to eight months for a decision so if you are a praying person, please pray for a speedy ruling.
Rocco and Tanya also discuss the recent legal actions, filed by Rocco as plaintiff, against Kipling Warner, of the Canadian Society for the Advancement of Science in Public Policy (CSASPP) and Donna Toews for libel and slander (defamation) and irresponsible publication. As well as filing legal proceedings against Sharon Greene of the Law Society of Ontario. Rocco, Action4Canada and Vaccine Choice Canada have sustained vicious, underhanded and ongoing attacks since January of 2021. Kipling Warner's objective was reportedly to undermine A4C's case, the public's confidence in our attorney and the merits of our case, as well as obtain the funds donated to Action4Canada for Warner's own limited class action against the BC government.
Mr. Warner, along with other individuals who spread lies and misinformation on social media and during podcasts, need to be held to account. Canadians are incredibly vulnerable and it has been a cruel attack against fellow citizens to cause unnecessary doubt and uncertainty after they have invested both emotionally and financially in Action4Canada.
Rocco, Tanya and the Action4Canada Team will continue to work tirelessly, and with integrity, on behalf of all Canadians, despite any attacks.
If you are in need of prayer please reach out to our Prayer Team @ [email protected] 
Remember: Freedom of speech, thought, belief and the right to life, liberty and security of the person are guaranteed. We do not need to beg, barter or ask for them…they are ours for the taking.
As Action4Canada continues to courageously defend Canadians rights and freedoms we ask that you would please consider courageously giving, either a one time donation or becoming a monthly donor.  Help Action4Canada continue to bring solutions and hope to the nation!
God bless you and God bless Canada!
The Team @
Action4Canada