We Need All Hands On Deck!
To counter the military-style psychological warfare being waged against the citizens of the world, we need all hands on deck. Educating others, perseverance, civil disobedience and non-compliance are a few of the actions you can take. Joining an Action4Canada Chapter and helping to build communities within communities of like-minded people is one of the most powerful resistance measures available to crush the lofty plans of treasonous government leaders. 
Whatever label is given to the madness that has consumed humanity, we must continue to focus on countering the lies with truth. We need to embrace those who were deceived and fell prey to the wicked schemes, and find a way to heal and move forward in a unified body to overcome our mutual enemy.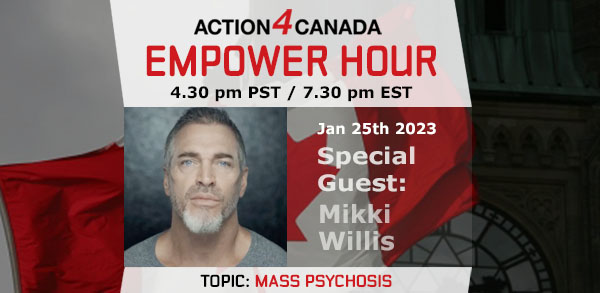 When: Wednesday, January 25, 2023 4:30pm PST/7:30pm EST Register in Advance. The zoom doors open at 4:30pm PST and the Empower Hour begins at 5pm PST/8pm EST.
You will not want to miss this Empower Hour. Join Tanya and our special guest Mikki Willis, husband, father and an exceptional man with an extraordinary mission. He is a purveyor of truth and has a deep love for humanity. Mikki is an award winning investigative filmmaker and the founder and CEO of Elevate, a production company on a mission. The company is one of the most famous creators of socially conscious media, whose primary goal is to correct false media narratives. The controversial documentary series "Plandemic" is an excellent example of Mikki, and his team's, work.
Tanya and Mikki will be discussing the upcoming release of Plandemic 3 which focuses on mass psychosis, in-fighting, and the masterful voices of propaganda who manipulate the population in order to control our thoughts, so as to divide and conquer. Mikki will also provide some thoughts on his personal decision to leave Hollywood for a greater calling. Read More about our amazing guest, access movie links, Mikki's book and to  share the Empower Hour invite HERE.
Plandemic 3: The Great Awakening
Watch as trusted public figures use their power and position to coerce and deceive people into taking the deadly jab. Movie stars, talk show hosts, comedians and elected officials shamelessly manipulate and mock viewers with a happy tune, a song, a dance and a joke. But whose laughing now as reports of deaths and extreme adverse reactions rise into the millions?
Remember the faces of these criminals. Justice will be pursued until everyone one of them stands trial for their crimes.
Be encouraged, evil will not prevail! Judgment is coming to those who choose to live in darkness and love their evil deeds. It is the godless attitude that produces the wicked actions, and that is why the wrath of God will be revealed from heaven against man. It is God that will execute His judgement, in His time.
But know this, every person will be judged according to their deeds. It is not confined to those committing heinous crimes against humanity but all of mankind. It is not enough to say, "I am a good person" and believe you are immune from judgment. We are all sinners and in need of a Saviour. We need to get right with God. 
We have been a nation of people who ignored the signs of evil creeping in. Removing God from our government, our schools and in some cases, our churches. With a humble and contrite heart would you consider taking a knee today to ask God to take charge of your life and to forgive you for your part in where we find ourselves today? He is a merciful God and ready to forgive. 
Did you know that repentance brings about restoration. 2 Chronicles says, "if my people who are called by my name humble themselves, and pray and seek my face and turn from their wicked ways, then I will hear from heaven and will forgive their sin and heal their land."
If you are in need of prayer please reach out to our Prayer Team @ [email protected] 
Remember: Freedom of speech, thought, belief and the right to life, liberty and security of the person are guaranteed. We do not need to beg, barter or ask for them…these are God-given inalienable rights and ours for the taking..
As Action4Canada continues to courageously defend Canadians rights and freedoms we ask that you would please consider courageously giving, either a one time donation or becoming a monthly donor.  Help Action4Canada continue to bring solutions and hope to the nation!
God bless you and God bless Canada!
The Team @
Action4Canada