Flyer Distribution this Halloween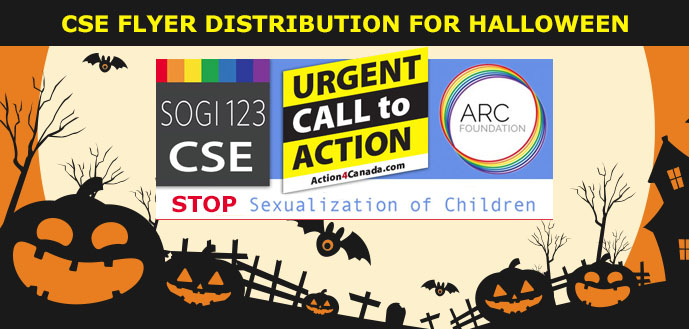 We request that you hand this flyer directly to the PARENTS of the "Trick or Treaters"
showing up at your door this Monday (do not give it to the children).
As concerns grow across the nation regarding the sexualization of our children in the education system, more and more citizens are joining Action4Canada in the fight to protect them!
Knowledge is Power and when you have it you MUST use it and share it! Educating our fellow Canadians on this matter is critical. This is very serious and needs everyone's attention and participation. Learn more here.
Therefore, would you please join us in the SOGI 123/CSE awareness campaign this Halloween by printing and distributing the A4C SOGI 123/CSE flyer. Print Flyer: https://action4canada.com/wp-content/uploads/SOGI-leaflet.pdf
Please be very careful to not expose children to the flyer but rather ensure that it gets straight into the hands of the adults.
Thank you in advance for being courageous community leaders on the frontline for the children in your neighbourhood.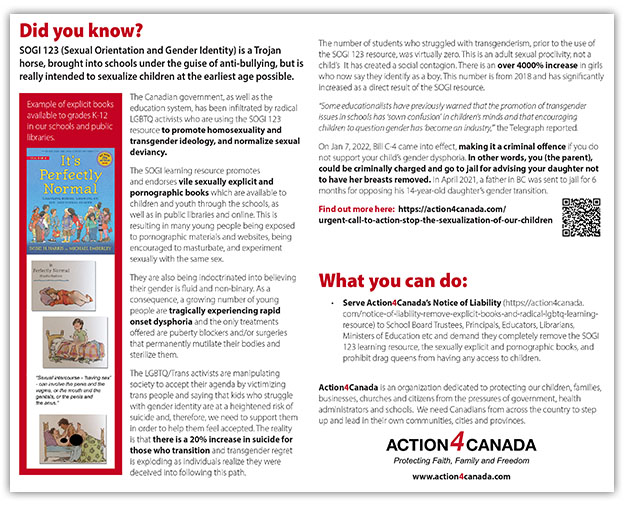 Please make a decision to Join Action4Canada in this war for the hearts and minds of our children.
Remember: Freedom of speech, thought, belief and the right to life, liberty and security of the person are guaranteed. We do not need to beg, barter or ask for them…these are God-given inalienable rights and ours for the taking..
As Action4Canada continues to courageously defend Canadians rights and freedoms we ask that you would please consider courageously giving, either a one time donation or becoming a monthly donor.  Help Action4Canada continue to bring solutions and hope to the nation!
God bless you and God bless Canada!
The Team @
Action4Canada