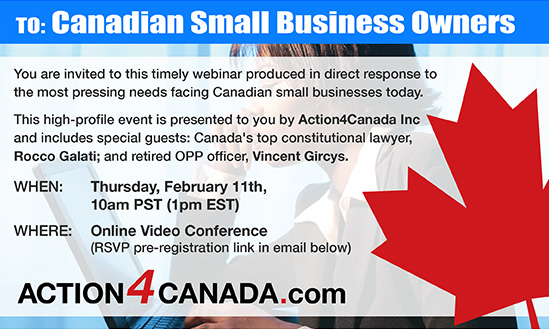 Dear Small Business Owner,
The seminar will be an educational and informational presentation covering the following topics:
Your Guaranteed Constitutional Rights
Manipulation techniques to disempower citizens
How to manage interactions with government agents/police
Resources to support opening your business
Q&A
Facilitators: 
Tanya Gaw – Founder, Action4Canada 
Denise O'Donnell –  Coordinator, Action4Canada 
Rocco Galati – Top Constitutional Lawyer
Vincent Gircys – Retired OPP Officer
Resources Click Here  Speaker bios Click Here 
Register in advance for this meeting:
https://zoom.us/meeting/register/tJAsdO6hpjIrHtDVND95kBjnAK7l7L1TG3S2 
After registering, you will receive a confirmation email containing information about joining the meeting.
We look forward to you attending as we endeavor to inform you of your guaranteed rights and freedoms. 
Thank you,
The Team @
Action4Canada Inc
Disclaimer:  This information is not intended to be used as legal or health advise. Use at your own risk. We encourage you to do your own research.