The Rise and Fall of a Dictator

Justin Trudeau is a ruthless wannabe dictator who never would have advanced this far had it not been for the support of his comrades in the Globalist Cabal. However, it looks like his days are numbered as the Prime Minister of Canada and we pray that justice comes quickly. But Trudeau is not going to go down easily and he has made it clear that he is not going down without a fight. Or, at least that's what he is pushing for.
Like every fascist dictator that has gone before him he continues to weave a web of lies and conjure up stories made up of unicorns and fairy dust to manipulate Canadians. It's like a bad dream, riots and violence in the streets, racists and bigots walking freely, mayhem everywhere and then, all of a sudden, you turn the channel and there is nothing to see.
The truckers and protestors have brought more goodwill, laughter, kindness and joy to the City of Ottawa than it has experienced in decades. But the Mayor and City Council are Team Trudeau and they are also using drastic language to create any excuse to arrest or persecute the protestors to shut this legal gathering down. 
The Mayor and Council met on Feb 6th and discussed using Section 63 of the Criminal Code to declare it a riot so they could start arresting people. They discussed Section 21, aiding and abetting, to shut down the delivery of fuel. They even discussed trying to find grounds to call in the military. The Mayor declared a State of Emergency and eventually rallied law enforcement to target the fuel supply.
It is beyond comprehension to cut off the fuel supply which is essential for the truckers to stay warm. Many of the truckers are in Ottawa with their wives and children, including toddlers and infants. The temperature is minus twenty at night. 
You may wish to contact Mayor Watson and let him know how you feel about this.
Phone:  (613) 580-2496 Email: [email protected] 
Ottawa Police Move In And Seize Fuel
Live with Laura-Lynn. The Ottawa Police swooped and seized fuel and other goods from the Trucker Convoy encampment. Snipers were deployed on two rooftops during the operation. Organizers however, were unfazed by the heavy-handed tactics.
Live Update: Freedom Convoy 2022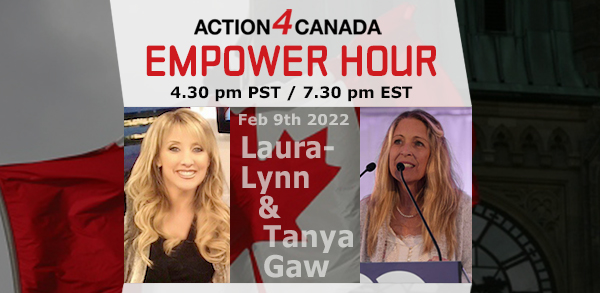 Empower Hour: Wednesday Feb 9th, 2022 at 4:45pm PST/7:45pm EST Register in Advance
Join Tanya with special guest Laura-Lynn Tyler Thompson who traveled out to Ottawa with the Freedom Convoy and has been on the ground live streaming every day since. Laura Lynn is one of the most adored, trusted and respected Independent News Sources in Canada. You won't want to miss this Empower Hour. Read More and share this invitation.
Mr. Trudeau: You are a Laughing Stock to the World
Trudeau has no shame and no limit to how low he will go in his quest to destroy Canada's democracy. He is a traitor to this nation and we need to continue to call and to write the Liberal Members of Parliament and demand he be ousted from the party, and convicted for his crimes against humanity.
Liberal MPs have been a party to and complicit with Trudeau's treasonous ventures since he took office in 2015. Not one Liberal MP should be exonerated but the courts may rule more favourably if they do the right thing and remove Trudeau now.
Last week Action4Canada requested that Canadians contact all Liberal MPs and begin applying the pressure to have Trudeau removed and for every liberal MP to resign. We ask that you would continue this Call to Action. MP Contact INFO
BC Medical Representation Agreement

Hospitals across Canada have been prohibiting access to loved ones after being admitted. This has been a frightening ordeal for many due to the consistent reports of patients not receiving proper care or being coerced into taking the jab. It has been a draconian policy that has caused many to avoid the hospitals at all costs, resulting in deaths that could have been avoided or late diagnosis of disease.
The Representation Agreement allows you to be physically present and help make decisions and oversee the care of your loved one.
This form is only applicable in BC and we are requesting that if anyone comes across a form from other provinces that you bring it to our attention and we will post it on the website.
Remember: Freedom of speech, thought, belief and the right to life, liberty and security of the person are guaranteed. We do not need to beg, barter or ask for them…they are ours for the taking.
Please consider becoming a monthly donor and help Action4Canada continue to bring solutions and hope to the nation!
God bless you and God bless Canada!
The Team @
Action4Canada
Disclaimer:  This information is not intended to be used as legal or health advise. We encourage you to do your own research.