Live Update: Freedom Convoy 2022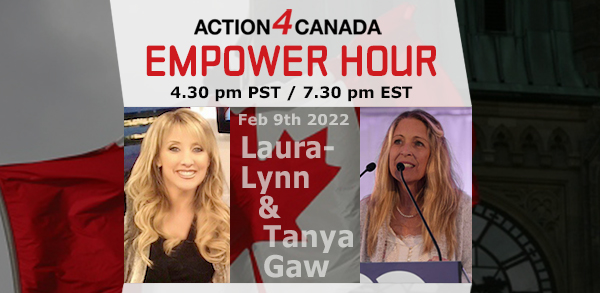 Empower Hour: Wednesday Feb 9th, 2022 at 4:45pm PST/7:45pm EST Register in Advance
Join Tanya with special guest Laura-Lynn Tyler Thompson who traveled out to Ottawa with the Freedom Convoy and has been on the ground live streaming every day since.
About our guest:
Inspirational and comedic speaker, Laura-Lynn Tyler Thompson is the former co-host of The 700 Club Canada, and author of Relentless Redemption. God called Laura-Lynn to the media miraculously one night in 1999. Laura-Lynn's career has spanned many years in the entertainment industry, having the privilege of speaking with many great men and women of faith in Canada. Over 90 of her personal interviews have aired on The BIOGRAPHY Channel Canada.
Laura-Lynn has also taken on many challenges outside of the media realm, such as running as a candidate for the People's Party of Canada and as the Provincial Leader of the Christian Heritage Party. Laura-Lynn is a mighty defender of Canada's Christian foundation and is on the front-line fighting for our freedom and democracy. 
To make this happen Laura-Lynn now hosts Live with Laura-Lynn, a daily podcast bringing attention to current news and politics from a Christian perspective in Canada. Laura-Lynn is one of the most adored, trusted and respected Independent News Sources in Canada.
Laura-Lynn's success simply stands as a testimony to her life's passion for serving God and people with all her heart. Please visit Laura-Lynn's website and help financially support her as she is on the road in her quest to speak the truth and expose the lies.  http://www.lauralynn.tv

Be sure to Register in Advance. You won't want to miss this Empower Hour!
Remember: Freedom of speech, thought, belief and the right to life, liberty and security of the person are guaranteed. We do not need to beg, barter or ask for them…they are ours for the taking.
Please consider becoming a monthly donor and help Action4Canada continue to bring solutions and hope to the nation!
God bless you and God bless Canada!
The Team @
Action4Canada
Disclaimer:  This information is not intended to be used as legal or health advise. We encourage you to do your own research.