Education or Indoctrination?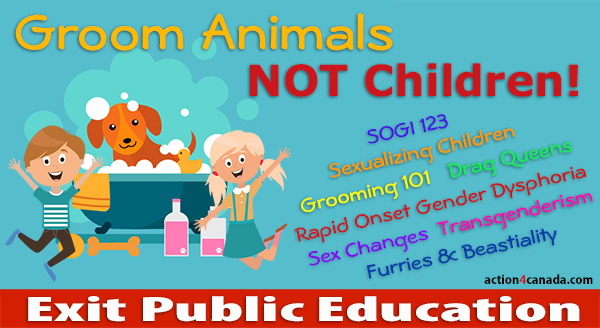 Socialism is gaining ground at warp speed in Canada, especially in our school systems, turning children into "social justice" activists. Young people are being brainwashed at all levels of the public education system and as a result are embracing the socialistic ideology. Action4Canada has been on the front line of this battle working to warn Canadians, and provide them with effective resources to fight back to demolish the globalist's agenda. Thankfully, citizens are rising up, taking action and successfully putting the A4C resources and campaigns to work. See below how you can also take action (6 minute read).
When: Wednesday, August 10, 2022 4:45pm PST/7:45pm EST Register in Advance. The zoom doors open at 4:45pm PST and the Empower Hour begins at 5pm PST/8pm EST.
Join Tanya with special guest Alex Newman, founder of Liberty Sentinel, as they discuss the crisis resulting from the globalist agenda targeting children in the education system and using them as "Agents of Change." The UN is hyper-focused on children to "accelerate fulfillment of the Sustainable Development Goals and to help build back better."
In 2019, Alex and a coalition of high-profile Christian leaders formed "Public School Exit," the nation's premier ministry working to rescue American children from the horrors of government "education." The organization exists to facilitate a massive exodus from public schools by raising awareness and knocking down barriers for parents, pastors, and children. Read more and share the Empower Hour invite HERE
Tanya Gaw, the Founder of Action4Canada, discusses the radical UN/WEF Agenda infiltrating schools and deconstructing societal norms. Our children and youth are being subjected to twisted ideologies using social justice as a means to indoctrinate and groom them. From the highly politicized, radical LGBTQ agenda to the made-up critical race theory, the government has a target on our children's heads, and we need to step up and put a STOP to it. Take Action Today!
Use the following Notice of Liability: "Facilitating in Exposure of Minors to Sexually Explicit Materials, Performers, Activities and/or Events", to serve educators, trustees, superintendents, librarians and anyone else involved in the grooming and abuse of minors.
File a Freedom of Information request and find out who approved the pornographic books available for children in your district. Then take that name to the police and demand they investigate and press criminal charges. 
NOTE: Introducing children to the SOGI 123 program is a portal for exposing minors to sexually explicit/pornographic materials (books, magazines, comic strips), sexual deviancy (such as teaching children to masturbate and introducing youth to organizations that are involved in exploiting minors). These are criminal offences according to Section 163.1, Section 152 of the Criminal Code, and the Canadian Centre for Child Protection defines them as sexual abuse. 
Alex Newman stresses the importance of getting children out of public schools as quickly as possible. His reasons for this are many and stem from the global agenda being forced into the curriculum. Due to the focus on social justice, students are not receiving a proper education. To cover up the academic failures, schools are inflating grades to give the impression students are achieving academic success. The reality is that many students are graduating with a subpar education.
Tag Teaming: The Government and Teacher's Unions
Canada's government has funded an anti-free speech booklet that teaches kids to be suspicious of "free speech" supporters. A sneaky ploy to censor free speech using children. Disgusting! The Canadian Anti-Hate Network is behind this deplorable piece of work and they have a long track record for opposing a free, equal and democratic society. Don't let their name fool you, as they are anything but.
Teacher unions across Canada are fully on board and facilitating the indoctrination of students into Marxist ideologies. The following are examples of what the BC Teachers Federation is promoting:
The Clinical Steps To Grooming Kids
Match Exactly How They're Being Taught In Schools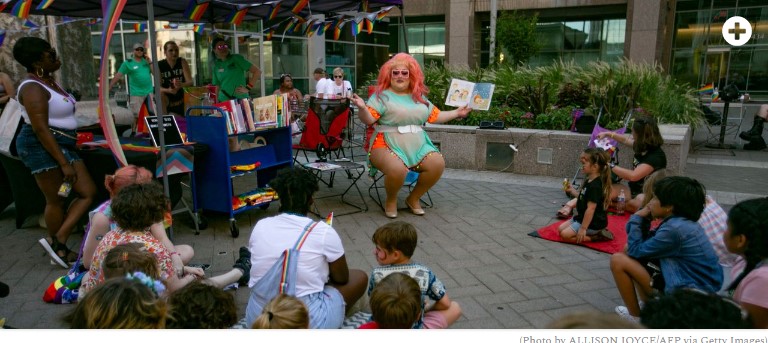 The most common tactics groomers employ are cultivating a positive reputation within a community, introducing sexualized topics or imagery to kids, isolating them from their parents, and encouraging them to keep secrets, experts told The Daily Caller. Each of these red flags have manifested themselves in classroom policies or public programs for children within the USA and Canada.
"Progressive" Trustees MUST be Voted OUT in the Next Election
A teacher, Carolyn Burjoski was ejected from a Waterloo Region District School Board meeting for expressing concerns over content in board-approved school library books. One book taught that boys (children) in grades K-6 are asexual if they aren't imagining girls naked. Carolyn was quickly shut down by Scott Piatkowski, the Board Chair, who falsely claimed that she was in violation of the Human Rights Code. School board trustees across Canada are supporting queering children and the sexualization and abuse of children, and it must STOP! 
The amendments to the Provincial Human Rights Code to include gender expression and gender identity as a protected class, does NOT trump Section 163(1) of the Criminal Code that clearly states that it is an indictable offense, liable to imprisonment, to exploit or expose minors to any form of pornography or sexually explicit material or activities.
Piatkowski is in a trusted position and must put the safety and well-being of students first, and not his ill-informed interpretation of the Human Rights Code.
Carolyn is suing the school board to defend free speech and protect children! Learn more here. 
The four trustees who supported Carolyn Burjoski should be re-elected.
NOTE: The Waterloo School Board attempted to censor this video to prevent public scrutiny. However, meetings are open to the public and therefore, cannot be censored or forbidden unless it is to protect sensitive information or the identity of a minor. Trustees are elected, they work for the people and they answer to the people.
Socialism: Three Biggest Lies
Socialism is based upon lies. What are some of the biggest? D. James Kennedy Ministries debunks three of socialism's central lies: That there is no God; that we can get something for nothing; and that socialism works. 
Christianity must be eradicated for any of the "isms"to exist (communism, Marxism, socialism, secularism). Listen at the 4 minute mark to learn how Castro persuaded children to follow him. 
Action

4

Canada:

Giving Young Adults a Voice
This week Action4Canada spotlights Quest Fuite who is involved in A4C's youth leadership and is a Canadian freedom fighter. Quest shares his views and experience after surviving the public school system. Quest also warns parents of the destructive socialist agenda and encourages parents to be involved and know what their kids are being taught. 
It is time to push back parents. If you can, pull your children out of public education and help create a home-schooling revolution. 
Action4Canada's next action will focus on providing information on homeschooling. We will feature a guest panel consisting of parents, homeschool educators and a student. Homeschooled children are proven to be much further advanced in their education, tend to graduate ahead of schedule and are better prepared for life.
We will continue to work toward taking back our education system and school boards but in the meantime a mass exodus would have a powerful impact, and keep children safe. 
If you are in need of prayer please reach out to our Prayer Team @ [email protected] 
Remember: Freedom of speech, thought, belief and the right to life, liberty and security of the person are guaranteed. We do not need to beg, barter or ask for them…they are ours for the taking.
As Action4Canada continues to courageously defend Canadians rights and freedoms we ask that you would please consider courageously giving, either a one time donation or becoming a monthly donor.  Help Action4Canada continue to bring solutions and hope to the nation!
God bless you and God bless Canada!
The Team @
Action4Canada