Mission, BC SD 75 Discriminatory, Defamatory and Libelous Statement Against Action

4

Canada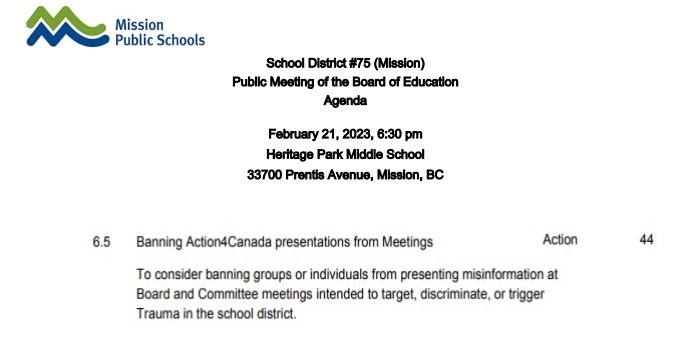 Call to Action! 
Please Note: What happens in BC effects all of Canada so we hope we can count on your support in voicing your concerns.
If you are in the area on Tuesday the 21st, please be sure to attend the board meeting. Thank you!
The Mission, BC Chapter Leader Krystyna, is a concerned citizen and resident of School District 75. Krystyna and Tanya Gaw, founder of Action4Canada, have attended several of the School Board meetings as well as met with Superintendent Wilson. They have respectfully voiced their concerns and requested action from the Board to investigate the pornographic books in their District, and to review the SOGI 123 learning resource due to measurable harm being reported by residents, such as a young woman who committed suicide at the age of 20 as a result of being indoctrinated at the age of 14 by the Trans/SOGI 123 agenda (see letter below for further details). Another example is a mom in Mission who filed legal action in January 2023 against the School District because her nine year old son was sexually abused by five other boys whilst at school.
On Tuesday February 21, the School Board is having a meeting and Agenda Item 6.5 calls to ban not only Action4Canada, but also any other groups and individuals from participating in future board meetings if the subject raised challenges the Board's biased ideologies. Excluding dissenting voices is not only discriminatory and in violation of protected constitutional rights, but is also intellectual fascism, so must be opposed.
They also make a discriminatory, defamatory and libelous statement – see screenshot image above. This is all being done in the name of complying with the amendment to the Human Rights Code to include gender identity and sexual orientation as a protected class. But the amendment is being used in a vexatious manner which is putting children at risk.
Call to Action: Please copy, sign and paste the letter below and email it to the School Superintendent and Board listed below. You can also send by mail: Print and sign the pdf version HERE
Do not be concerned about the deadline of writing to the board by February 21st, as public outcry is needed so that they understand they are not an island onto themselves acting as an independent dictatorship.
Superintendent Angus Wilson [email protected]
Shelley Carter shelley.carter@mpsd.ca
Tracy Loffler [email protected]
Jash Bains [email protected]
Randy Cairns [email protected]
Linda Hamel [email protected]
Address and Phone Number:

33046 4th Avenue,
Mission, BC V2V 1S5
604-826-6286

SOGI 123 Notice of Liability and other critical resources: HERE
Child Protection Facts and Resources Document: HERE
Dear Superintendent Wilson and SD 75 Board of Trustees,
It has come to my attention that agenda item 6.5 has been included for the upcoming Board meeting on February 21, 2023 which makes a discriminatory, defamatory and libelous statement about Action4Canada. This is in violation of the law, the Human Rights Code, the Trustee Code of Ethical Conduct, the Provincial Standards of Code of Conduct Order and Section 007 of the BC Provincial School Act, Part 1 — Discriminatory Practices Prohibited:
Section 007 — Discriminatory publication 
7 (1) A person must not publish, issue or display, or cause to be published, issued or displayed, any statement, publication, notice, sign, symbol, emblem or other representation that
(a) indicates discrimination or an intention to discriminate against a person or a group or class of persons, or
(b) is likely to expose a person or a group or class of persons to hatred or contempt because of the race, colour, ancestry, place of origin, religion, marital status, family status, physical or mental disability, sex, sexual orientation or age of that person or that group or class of persons.
The BC Human Rights Code and Section 6(a)(i) of the Provincial Standards for Code of Conduct Order – School Act, sections 85(1.1) 168 (2) (s.1) clearly states that the following elements must be included:
6 Boards must ensure that the following elements are included in their codes of conduct:
(a) a reference to
(i) each of the prohibited grounds of discrimination set out in section 7 (Discriminatory publication) and section 8 (Discrimination in accommodation, service and facility) of the Human Rights Code, RSBC 1996, c. 210,
According to the Mission Code of Ethical Conduct the board is in violation of nearly every section of the following ethical conduct commitments:
Behaviour:
Trustees are expected to use respectful behaviour in all School District and community interactions.

Trustees are expected to use behaviour that is not disrespectful of others or their opinions.

Trustees are expected to maintain decorum during all meetings, respect the protocols of the meeting process, the authority of the Board Chair, and encourage full, open, and courteous discussions in all matters with other trustees.

Trustees will endeavour to work cooperatively in spite of differences of opinion.

Trustees shall refrain from making discrediting comments about others, engaging in unwarranted personal criticism, or taking private action that could compromise the integrity or authority of the Board.
Decision-making process:
Trustees are expected to give the opinions and objectives of other trustees, staff, partner groups, and the public, their respect and full consideration.

Trustees are expected to conclude discussions and reach decisions, only after considering all available information and opinions for each situation. Trustees shall remain open to altering a perspective or an opinion after considering other information received in the discussion process. Trustees shall not have an unreasonable bias or closed mind to an issue.

Trustees must encourage full and open discussions in all matters. Trustees must not dismiss or disregard others when they submit an opinion that is different or contradicts their own opinion.

Trustees must not withhold or conceal matters or information from other Trustees that would be of concern to the School District
There is growing evidence to support the fact that there is a systemic problem in BC schools and specifically the Mission School District in direct relation to concerns about SOGI 123 and the pornographic books. Examples include the recent civil claim filed against the Mission School District regarding the nine year old boy who was sexually abused by five other boys. Another example is the girl who was a victim of the SOGI 123 program who at the age of 14 was indoctrinated into believing she was the opposite sex. The Mission school changed her name and gender without her parent's knowledge. After years on hormone blockers, getting addicted to drugs and suicide attempts she realized at the age of twenty that she was fully female and that it was because of the school's interference that she was led down this path. The devastating end to this story is that she died of a fentanyl overdose in November 2021. 
Action4Canada's objective is to enable fair and open dialogue regarding matters of concern. Our goal is to protect and safeguard all minors from predatory and harmful pornographic and sexually explicit materials. The Mission School Board is circumventing their responsibility to listen to the concerns of parents and citizens and investigate illegal and harmful materials in the school district. They are shutting down debate over this serious matter by incorrectly quoting the amendment to the Human Rights Code as a justification for their actions. The Mission School Board has a duty to act in the best interest of all students and to uphold the rule of law, and each trustee is personally accountable for doing so.
Therefore, I demand that the agenda item be retracted and a public apology made for accusing Action4Canada of "presenting misinformation at Board and Committee meetings intended to target, discriminate, or trigger Trauma in the school district."
This is a highly defamatory statement which is unsubstantiated by any facts.
Are the members of the board willing to continue to use the amendment to the Human Rights Code in a vexatious manner and are you willing to be held personally, criminally, liable for your participation in the abuse of children under your care?
I look forward to your immediate attention to rectify this matter.
Yours truly,
Tanya Gaw
Founder and President
Action4Canada
Mission SD 75 School Board Agenda
https://action4canada.com/wp-content/uploads/Action4Canada-Evidence-Mission-School-Board-Agenda-Discrimination.pdf
BC Provincial School Act
https://action4canada.com/wp-content/uploads/BC-School-Act.pdf
BC Provincial Standards for Code of Conduct Order
https://action4canada.com/wp-content/uploads/BC-Provincial-Standards-Code-of-Conduct-School-Act-sections-851.1-168-2-s.1.pdf
BC Human Rights Code
https://action4canada.com/wp-content/uploads/HUMAN-RIGHTS-CODE.pdf
https://www.canlii.org/en/bc/laws/stat/rsbc-1996-c-210/latest/rsbc-1996-c-210.html
The Trustee Code of Ethical Conduct 1.2
https://action4canada.com/wp-content/uploads/Mission-BC-trustee-Code-of-Ethical-Conduct-Policy-Mar-22.docx.pdf
Mission mom files civil claim
https://action4canada.com/wp-content/uploads/Mission-mom-files-civil-claim_-son-sexually-abused-by-five-boys-Mission-City-Record.pdf
If you are in need of prayer please reach out to our Prayer Team @ [email protected] 
Remember: Freedom of speech, thought, belief and the right to life, liberty and security of the person are guaranteed. We do not need to beg, barter or ask for them…these are God-given inalienable rights and ours for the taking.
As Action4Canada continues to courageously defend Canadians rights and freedoms we ask that you would please consider courageously giving, either a one time donation or becoming a monthly donor.  Help Action4Canada continue to bring solutions and hope to the nation!
God bless you and God bless Canada!
The Team @
Action4Canada