Rapid Antigen Test: consists of toxic chemicals and is a medical procedure. You have the right to refuse. Serve the Rapid Antigen NOL and the RAT Toxicity & Harms Fact Sheet.
PCR Testing: According to the Genetic Non-Discrimination Act, Bill S201, it is an indictable offence to force anyone to take a DNA/RNA test or deny any service, employment, or education opportunity. If anyone is attempting to force you to take a COVID test than you may wish to first warn them that they are committing a criminal act: Warning letter  English version | French version
**If they do not immediately change their position, serve them with the Forced COVID Testing Notice of Liability above.  
The PCR test is a form of genetic test as it tests an individuals genetic material.  The Genetic Non-Discrimination Act clearly defines "genetic test": genetic test means a test that analyzes DNA, RNA or chromosomes for purposes such as the prediction of disease or vertical transmission risks, or monitoring, diagnosis or prognosis. 
Protect you and your family's guaranteed inalienable right to bodily autonomy by signing and serving a Notice of Liability to anyone attempting to force Covid testing. No…to forced medical procedures. This is a violation of your rights.
Instructions for Sending the Notice of Liability

Only one Notice of Liability needs to be served per person:
Print the Notice of Liability 

Fill in the name of the person you are serving (one notice per person)

Keep a photocopy, or take a photo with your phone, for your records
Video record when serving the notice of liability in person.
If sending by mail, you must send by registered mail
Note: It is important to keep a record of all information (eg. documents, videos, dates, times, etc.)
Important Legal Win:  Toyota Employees Win Right to Decline Medical Treatment – Weekly Antigen Testing No Longer Mandatory
Rapid Antigen Test (RAT) Information

Manufacturer's Safety Data Sheets (MSDS), Instruction sheets and Product Inserts for each RAT
Abbott Panbio
Artron
BD Veritor
BTNX Rapid Response
SD Biosensor (these tests are banned in the US)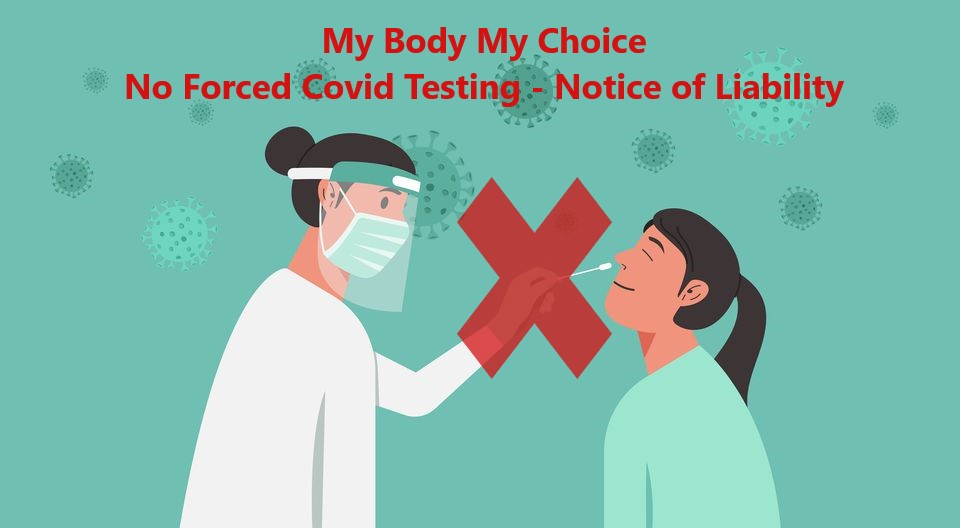 Action4Canada accepts no responsibility or liability for any harms or losses that occur as result of delivering this notice. If you do not agree to these terms then please do not use this notice. We do not make any representations or warranties about the potential consequences of delivering this Notice of Exemption/Non-Consent (eg. removal of child from a private school). A parent/legal guardian must decide what is in the best interest of their child.