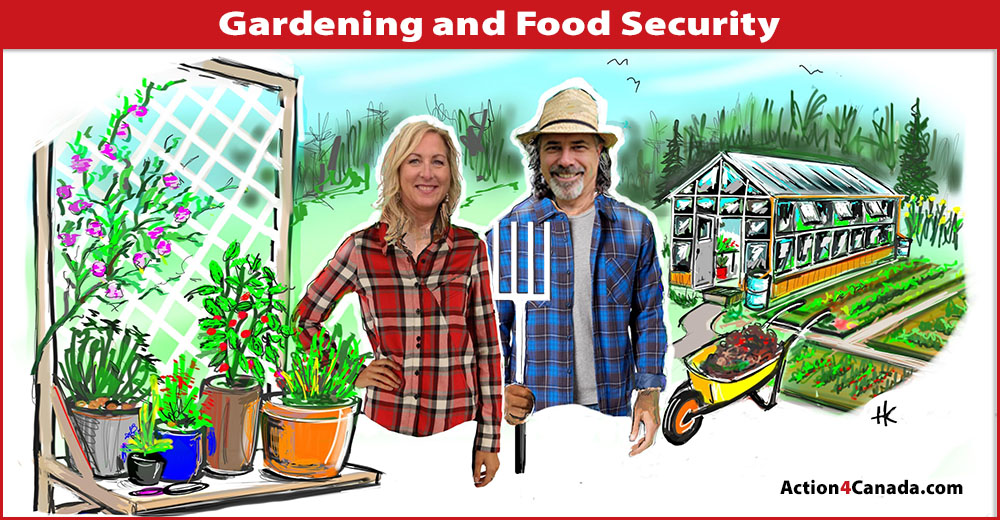 Are you thinking about the cost of food or the quality of food you are receiving at your local grocery store? Are you concerned about the growing evidence that our food is being injected with vaccines (see below)? Are you thinking about getting a little dirt under your fingernails and growing your own garden, but just don't know how to begin? Then we encourage you to read on and also register for the next Empower Hour to learn about the three P's: Prepping; Planting; and Preserving.
It is critical that Canadians once again learn how to become self-sufficient by growing and gaining access to healthy food. We must be fully in control of what goes into our bodies. 
When: Wednesday, April 19, 2023 4:30pm PST/7:30pm EST Register in Advance. The zoom doors open at 4:30pm PST and the Empower Hour begins at 5pm PST/8pm EST
Dan Vachon is Action4Canada's very own Chapter Leader in Sydney, Nova Scotia as well as the Chapter Team Leader for the Maritimes and Co-leader of the Pastoral Support Team. Dan is a devoted to Action4Canada and is committed to sharing his knowledge and using his gifts and talents to help others. Dan will provide a presentation on gardening, container gardening, extending the growing season, whole foods as opposed to processed foods and much more. Learn more about our guest and share the Empower Hour invite HERE.
Prepper Dan is creating a step-by-step series on growing your own food, harvesting, prepping and more. In his first video Dan provides instructions on how to start heirloom seeds, a tour of his greenhouse, rabbit shed and chicken coop, and discussion on homemade manure tea. Whether you live in a condo or on a farm, you will benefit from Dan's tips and information.
WARNING: mRNA Technology/Edible Vaccines
Beef, Pork, Chicken and Vegetables
This is an important interview to watch with Missouri attorney, Tom Renz, who is just a regular guy that decided to fight back against the corruption. He is pushing forth a very important bill, HB1169, introduced by Holly Jones, which requires the labeling of products that can alter your genes. It also asserts that fully informed consent must be given for all vaccines, gene therapies and medical interventions, and requires companies share info on transmissibility of gene altering interventions. The Bill does not ban anything, rather it demands transparency so that consumers can make an informed choice.
The pushback against HB-1169 is shocking but not surprising as it has the power to put a stop to gene therapies in food from advancing not only throughout the entire US but possibly, the world!
At this point no States are requiring disclosure or informed consent for foods that act as gene therapies. Big Pharma is working with the bio-engineers that create the GMOs that make up a majority of our food supply, to ensure this is everywhere. Bill Gates has been pushing this for some time. Big pharma DOES NOT WANT people to know they are going to use food to alter our genes.
Are you aware that in 2018 Merck introduced customizable mRNA-based vaccines and that pork producers have been using them on their herds for the past 5 years? On April 1, 2023 the lobbyists for the cattleman associations in several States confirmed they WILL also be using mRNA vaccines on cows. Missouri HB-1169 is reported as the only chance to prevent this.
HB-1169 has the potential to not only destroy Big Ag, but it would also decimate any covert attempts by Big Pharma to use the food supply as a tool to distribute vaccines unbeknownst to consumers. In the meantime, it is recommend to avoid all pork products, including organic ones, as they not only have high levels of the omega-6 fat, linoleic acid, because of the grains they are fed, but virtually all have been contaminated with the mRNA vaccines for the past five years. 
Eat Your Vaccines! … I Mean Your Vegetables!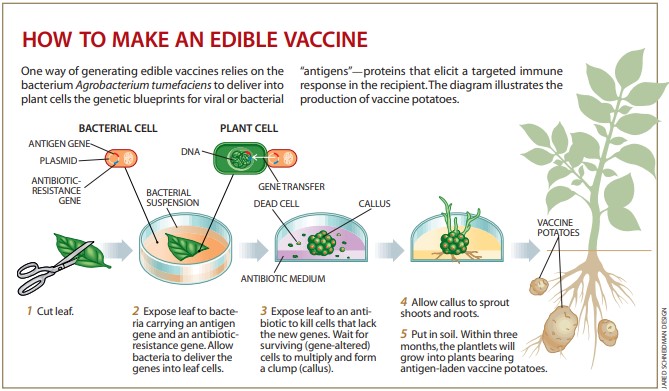 Read Tom Renz's informative substack article. 
"Let me begin by putting to rest any questions as to whether this can happen. The idea of vaccines in food has been around for a long time & is definitely possible". 
Google Search: "food as a vaccine" Sunday April 2, 2023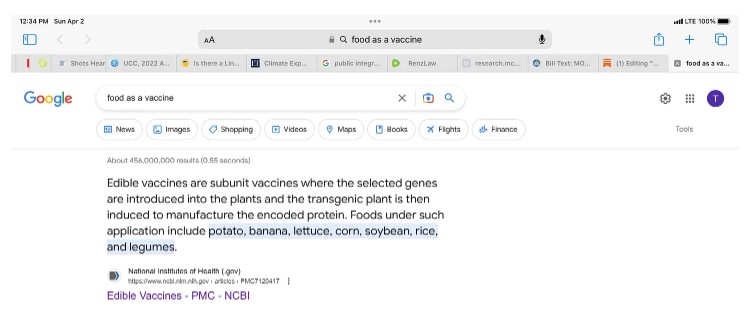 As in human mRNA treatments, Merck claims that the RNA can't replicate itself and only lasts a short time in animals' bodies. They also say that animals do not shed any RNA particles. There is no mention about fruits and vegetables. Given the wide range of findings in humans after mRNA treatments, the public has reason to be very concerned. A recent report revealed that data on miRNA transfer from food into the human body are inconclusive.
Watch this video: WEF Insider Admits Gates is 'Force Jabbing' Humanity with mRNA in Food…
As soon as it became clear that a significant percentage of the population was going to refuse to be coerced into being vaccinated, the elite began working on cunning alternative schemes to force their jabs on us.
I don't know about you but I have no interest in being a human guinea pig for the next 10-20 years, which is the normal time it takes to obtain accurate data outcomes for a vaccine, pharmaceutical, gene therapy or any product that contains mRNA-altering technology.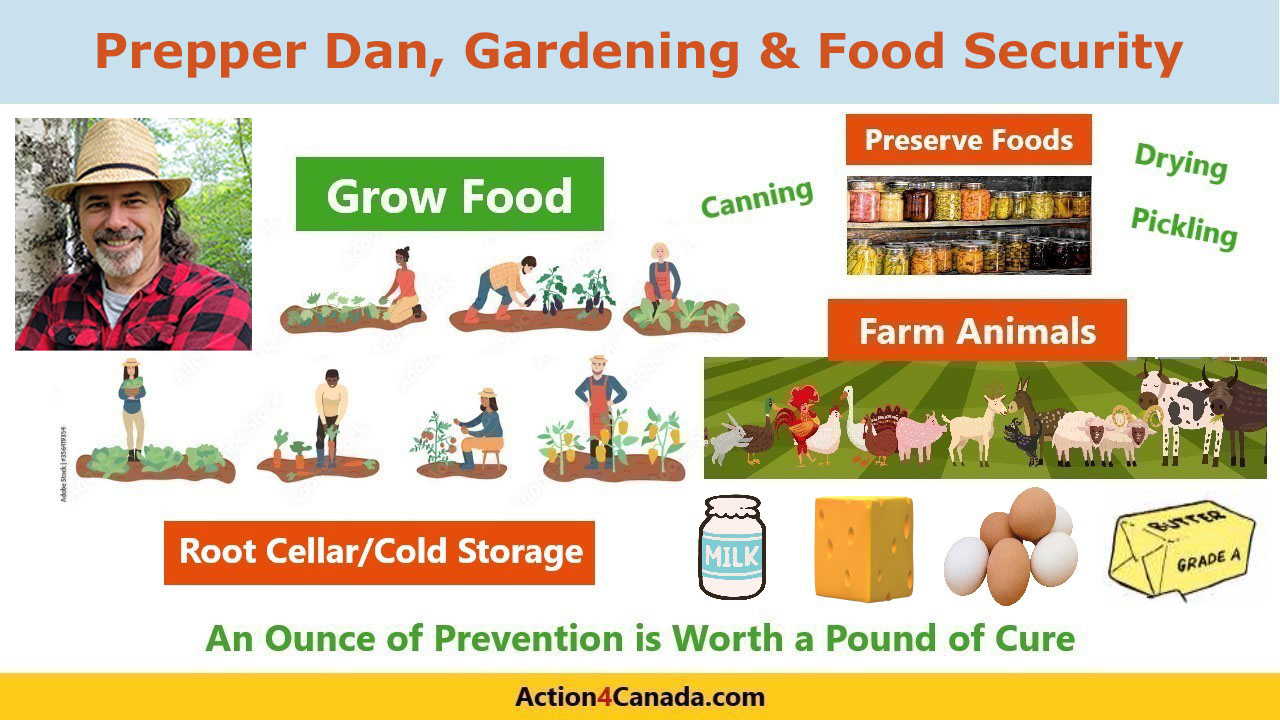 Review the following page for helpful information Action4Canada is providing on gardening, food security, supplies and more HERE.
Solution: Help Action4Canada by encouraging others to sign up and JOIN our mission to set up Chapters in every town and community so that we can effectively take back all levels of government and replace the corrupt politicians with leadership who will genuinely put the best interest of Canadians first and foremost!
If you are in need of prayer please reach out to our Prayer Team @ [email protected]
Remember: Freedom of speech, thought, belief and the right to life, liberty and security of the person are guaranteed. We do not need to beg, barter or ask for them…these are God-given inalienable rights and ours for the taking.
As Action4Canada continues to courageously defend Canadians rights and freedoms we ask that you would please consider courageously giving, either a one time donation or becoming a monthly donor. Help Action4Canada continue to bring solutions and hope to the nation!
God bless you and God bless Canada!
The Team @
Action4Canada