Security of the person is guaranteed!
It includes: The right to work and the right to say what goes into your body.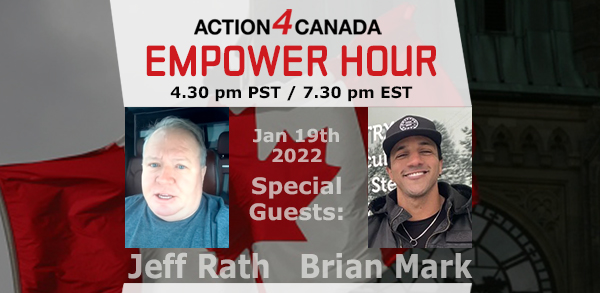 Empower Hour: Wednesday Jan. 19, 2022. "Note NEW Start Time" – We begin an hour earlier at 4:45pm PST/7:45pmEST Register in Advance
Join Tanya with special guests Jeff Rath, Constitutional lawyer, and business owner Brian Mark.
Since the onset of the COVID-19 fraud the government has been working diligently to destroy small businesses in favour of large corporations. Action4Canada has worked consistently since the onset to bring awareness and provide business owners with effective resources. However, many business owners were too concerned about being in defiance of the Orders and as a result hundreds of thousands permanently closed their doors, without a fight.
But times are changing and, thankfully, business owners are ready to throw their hat into the arena and take on corrupt governments in defense of what was their RIGHT all along.
About our guests:
Alberta constitutional lawyer Jeff Rath of Rath & Company, has been practicing law in Canada for over 20 years. In response to the egregious constitutional violations citizens are suffering as a result of the draconian Covid measures, Mr. Rath has commenced numerous legal actions. A criminal complaint has been filed claiming "fraudulent submissions of Pfizer Corp" with regard to the Pfizer vaccine for children 5-11 years of age. As well as a lawsuit launched on behalf of four Alberta doctors over the mandatory COVID-19 vaccine policy. The plaintiff's allege the vaccination policy 'amounts to assault.' Watch video
Brian Mark is owner of a BC gym and is one of a number of  gym owners who are defying a recent order to close. Bonnie Henry, BC Health Officer, ordered all gyms close without any prior notice and despite the fact that she admitted they had no evidence to prove gyms were a source of transmission. 
Action4Canada stepped up to assist the gym owners in providing the education and resources they need to stand their ground and stay open. The gym owners are giving firsthand testimony that in 22 months they have not experienced any outbreaks of COVID illness in their facilities. The government is unable to provide any evidence to the contrary. Listen to the CBC Daybreak interview with gym owner Justin Grover to learn more.
Be sure to Register in Advance. You won't want to miss this Empower Hour!
Remember: Freedom of speech, thought, belief and the right to life, liberty and security of the person are guaranteed. We do not need to beg, barter or ask for them…they are ours for the taking.
Please consider becoming a monthly donor and help Action4Canada continue to bring solutions and hope to the nation!
God bless you and God bless Canada!
The Team @
Action4Canada
Disclaimer:  This information is not intended to be used as legal or health advise. We encourage you to do your own research.