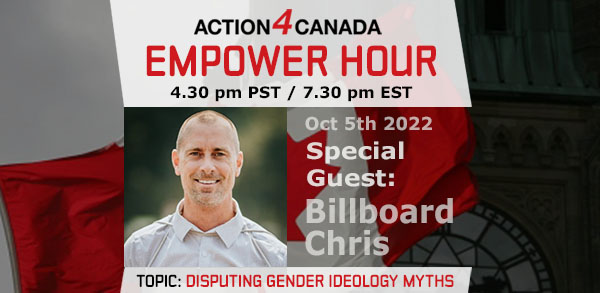 When: Wednesday, October 5, 2022 4:30pm PST/7:30pm EST Register in Advance. The zoom doors open at 4:30pm PST and the Empower Hour begins at 5pm PST/8pm EST.
This week Chris Elston, AKA Billboard Chris, joins Tanya on the Empower Hour to discuss his unique strategy in bringing awareness to an unsuspecting public about the stealthy assault against our children's God-given identity. Chris is the father of two girls. He travels across North America meeting people one-on-one to have conversations about gender ideology and the dangers of puberty blockers and medically transitioning minors. Chris believes that children should be free to be who they are — not indoctrinated to believe they were born in the wrong body.
Chris disputes the myths around gender ideology. Join the Empower Hour to learn the most effective strategies for communicating about this difficult topic.
Website:
www.billboardchris.com
Follow Chris on Twitter: @BillboardChris
Read the weekly email with info related to this topic HERE.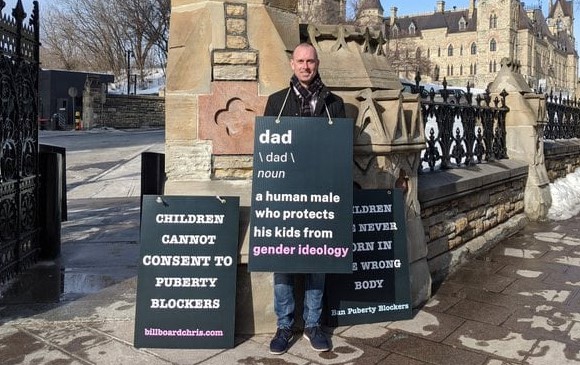 If you are in need of prayer please reach out to our Prayer Team @ pra[email protected] 
Remember: Freedom of speech, thought, belief and the right to life, liberty and security of the person are guaranteed. We do not need to beg, barter or ask for them…these are God-given inalienable rights and ours for the taking..
As Action4Canada continues to courageously defend Canadians rights and freedoms we ask that you would please consider courageously giving, either a one time donation or becoming a monthly donor.  Help Action4Canada continue to bring solutions and hope to the nation!
God bless you and God bless Canada!
The Team @
Action4Canada