Thank you to Everyone who took ACTION!
This is Not Over. Check out the following page for ongoing

UPDATES!
Continue to write letters of support!
Send a message of support to New Brunswick Premier Higgs and Education Minister, Bill Hogan for implementing Policy 713! Encourage them to continue to stand strong and thank them for protecting parental rights and vulnerable children from the radical LGBTQ2S+ agenda that is indoctrinating students through the education system. The new Policy 713, among other changes, now forbids teachers and staff from using the chosen name or pronoun — officially or unofficially — of a child under 16 without parental consent!
Urgent Call to Action:
Write a letter to Premier Higgs, Minister Hogan and CC: all MLA's and CBC News today!
Example letter
This was a heroic decision and they need our support. The LGBTQ activists are losing ground and they are attacking anyone who opposes them. In response to the implementation of Policy 713, Premier Higgs is facing opposition from the Prime Minister,  the unions (no surprise) and a revolt from eight members of his caucus over changes made to the province's policy on sexual orientation in schools, and Higgs is willing to call an election on the issue.
In our view, an election would be a welcomed opportunity to run new candidates in order to replace the eight dissenters. The list includes, Ministers Dorothy Shephard, Daniel Allain, Trevor Holder, Arlene Dunn, Jeff Carr and Jill Green and backbenchers Ross Wetmore and Anderson-Mason. These individuals believe that children should have the right to change their given names and outwardly transition, without their parent's knowledge. Do these sound like individuals who can be trusted to act on behalf of the taxpayers of New Brunswick?
Please read this message in its entirety and share these Urgent Calls to Action!    READ UPDATE HERE
Further Call to Action!
Who is Gail Costello (She/Her)?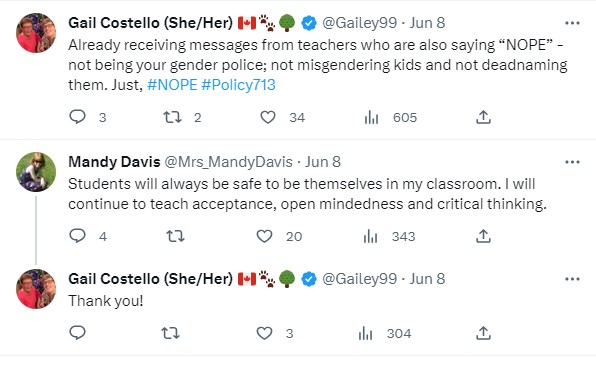 Costello is Co-Chair on the Board of Directors of Pride in Education NB. According to her Twitter page @Gailey99: Vaxxed. Educator. Advocate. Activist. Senior Care. Protect our Earth. Animal lover. Pet mom. Be kind. Personal account. 
So let's get this straight, an individual with no children of their own is interfering with parent's (who actually have children in the education system) rights and is advising children to rebel against their parents (10:51) and do whatever they like. How did this happen? How did an LGBTQ advocate and activist gain access to our children and think that she has a say in policy? Did the people of New Brunswick vote for her?
Action: Request that the Premier and the Minister of Education prohibit activists from interfering with education and from having access to children in order to push their agenda. School is not the place for political activism, especially when it is causing division and harm to the greater community.
Premier Higgs and Minister Bill Hogan have courageously and unapologetically taken the first steps, in Canada, toward protecting children from going down a path of destruction. They are also protecting parent's 'guaranteed' rights. Higgs said "we're taking a strong position for families." Hogan said, "parents are key partners and stake holders in education and we need to respect parents rights and parents do have rights."
Children are being brainwashed into believing that they are gay, lesbian, bi, trans, queer, two spirited and a long list of other made-up and delusional labels. Costello reports that 21% of students in NB identify as LGBTQ. The activists claim they are involved to make schools "safe spaces" but in fact they are causing harm. What we are witnessing is a mass social contagion wherein children are being 'queered' and led to believe that they were born in the wrong body. Many children are being fast-tracked onto puberty blockers and eventually, surgeries to medically transition. This involves painful operations, with horrendous side-effects, that removes perfectly good body parts and permanently mutilates their bodies. This is criminal and must be stopped.
Citizens Nationwide Are Taking A Stand!
Protests are growing and going on nationwide. Parents and citizens are attending school board meetings, Drag Queen events and marching in the streets in protest of the radical LGBTQ agenda. On Friday, June 9th, 2023 in Ottawa, Muslim and Christian parents showed unbreakable unity over protecting their children from militant pro-transgender ideologues pushing radical indoctrination on minors K-12 in public schools.
Citizens in Canada and around the world are rising up against the radical LGBTQ activists. Numerous US States and other Countries are passing Bills to protect children and put a stop to the LGBTQ's campaign of destruction. Policy 713 is just the beginning in Canada. It is critical that you send a note of support to the Premier and Minister today!
Children Do Not Have the Mental Capacity to Handle the Indoctrination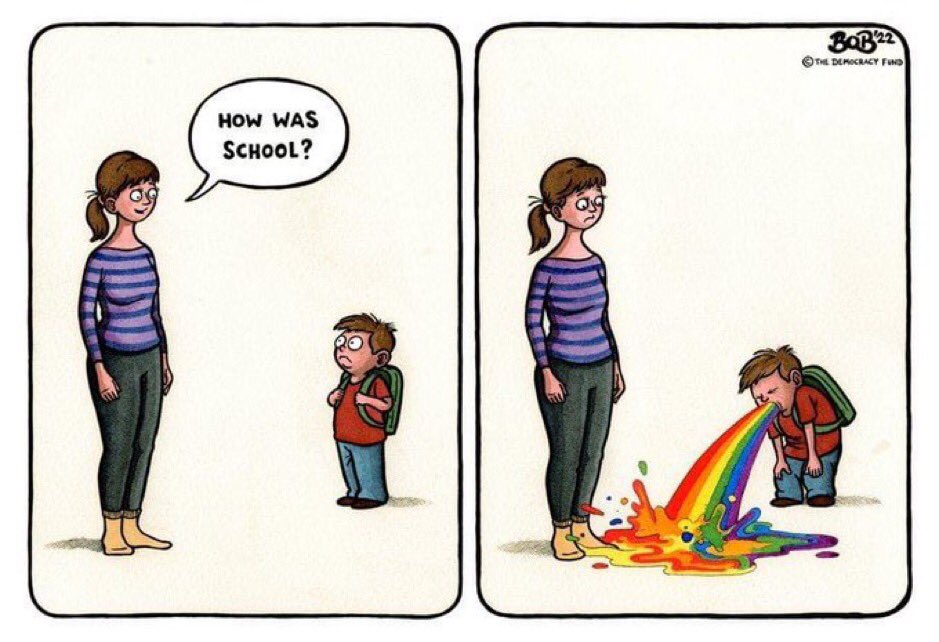 Action4Canada is committed to not stopping until SOGI123 is eradicated from the education system. But we need your ongoing and relentless participation!
Solution: JOIN an Action4Canada Chapter near you and the A4C Parent Support Group. Also, know who you vote for in upcoming elections and where they stand on this critical issue. 
View the following Action4Canada pages for effective resources and to learn more about this critical issue:
If you are in need of prayer please reach out to our Prayer Team @ [email protected] 
Remember: Freedom of speech, thought, belief and the right to life, liberty and security of the person are guaranteed. We do not need to beg, barter or ask for them…they are ours for the taking.
As Action4Canada continues to courageously defend Canadians rights and freedoms we ask that you would please consider courageously giving, either a one time donation or becoming a monthly donor.  Help Action4Canada continue to bring solutions and hope to the nation!
God bless you and God bless Canada!
The Team @
Action4Canada