Business Campaign
Reaching out to small businesses and educating and equipping citizens
 BC businesses have been hit hard as a result of the extreme and draconian Covid-19 lockdown measures. Large Corporations are being favoured over small business and the provincial "requirements" are putting business owners at risk of closure and potential civil litigation.
By enforcing masks, social distancing, and hand sanitizers the Constitution and Charter of Rights and Freedoms are being violated. Employees and the public have the right to breathe unimpeded, to move freely, and to be assured personal privacy, safety, and security of the person.
In response, Action4Canada is launching a "Boots on the Ground" campaign to:
Raise funds

 to proceed with legal action against the Federal and BC Government

Support business owners

 as they navigate their way through these very challenging times
Therefore, we need your help! If you are interested in volunteering to help with our fundraising efforts by visiting businesses in your community, please email us at [email protected].  Make sure to include  "Business Campaign" in the subject field.   An Action4Canada team member will contact you to ensure you are signed up and included in our regular trainging meetings:
Information for your review:
Business Campaign Resource Package. (UPS and Staples provide high quality printing)
Letter PDF –  Action4canada Business letter
Postcard PDF – Action4Canada 5×7 Postcard Side 1
Postcard PDF – side two –Action4Canada Postcard 5X7 Side 2
Mask Poster PDF – Action4Canada Mask poster for businesses
Additional, but critical, resources to help business owners remain open and effectively deal with gov. officials interfering with their business. 
Business Strategy Against Injection Passports
Protect your business! Business Notice of Liability
NEW: Include this vital notice with the above Notice of Liability Additional Vax Mandate Letter of Response
No Discrimination Poster PDF – Action4Canada No Discrimination poster for businesses
VCC Covid Quiz – Great extra resource
Action4Canada Business cards are an excellent way to engage the public and bring awareness to the legal action. Click here for a hi res pdf file to send to a printer.
The extreme measures have placed the burden on businesses to implement policies that violate the guaranteed Charter rights of Canadians. Business owners who mandate masks and refuse service to customers could find themselves involved in a costly human rights complaint wherein plaintiffs can be awarded up to $75,000.00. It is critical that business owners be informed of their Constitutional guaranteed right to "life, liberty, and "security" of the person"…. as well as their duty to uphold the Charter rights of their employees and customers.
Thank you for your interest. We look forward to hearing from you.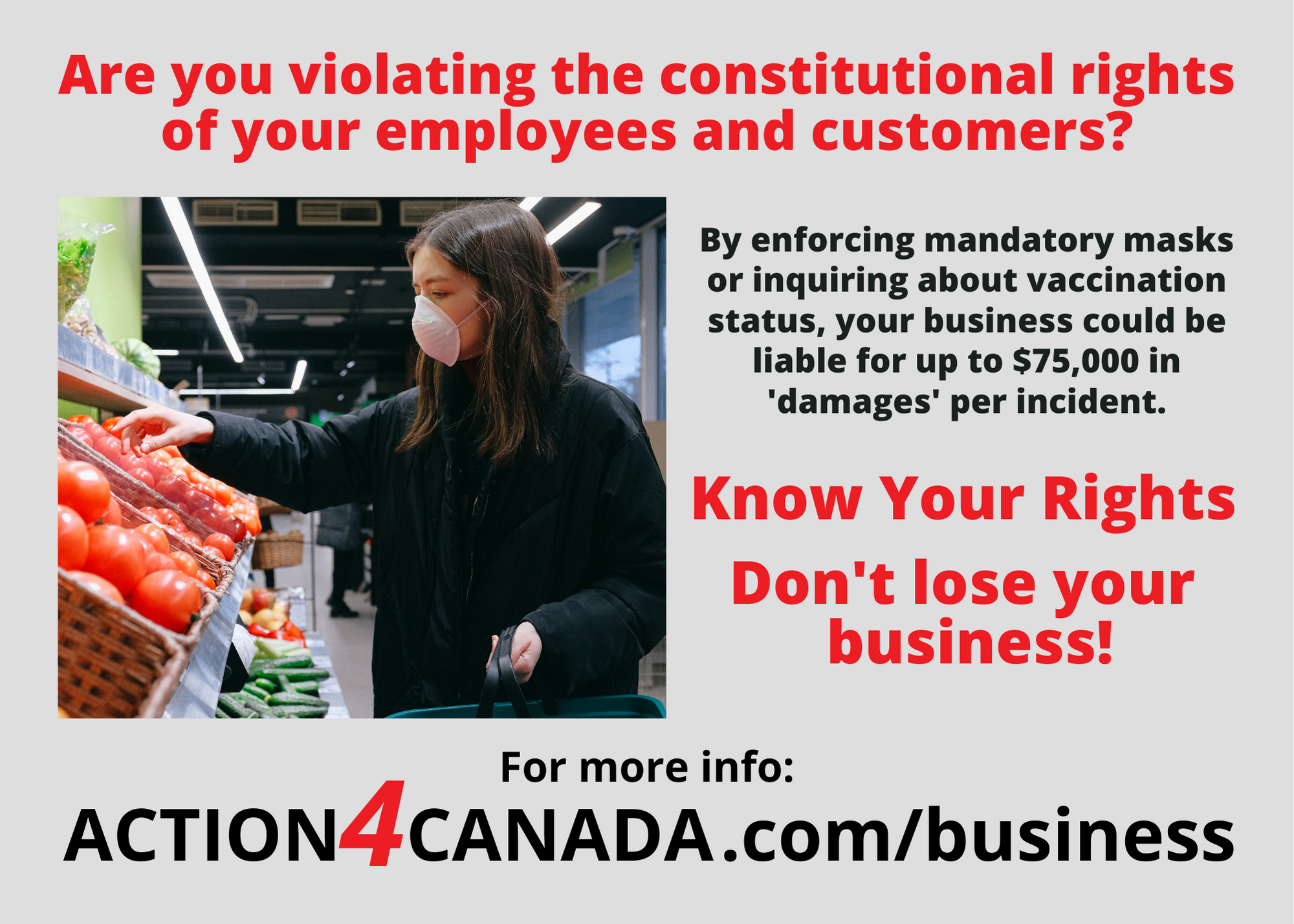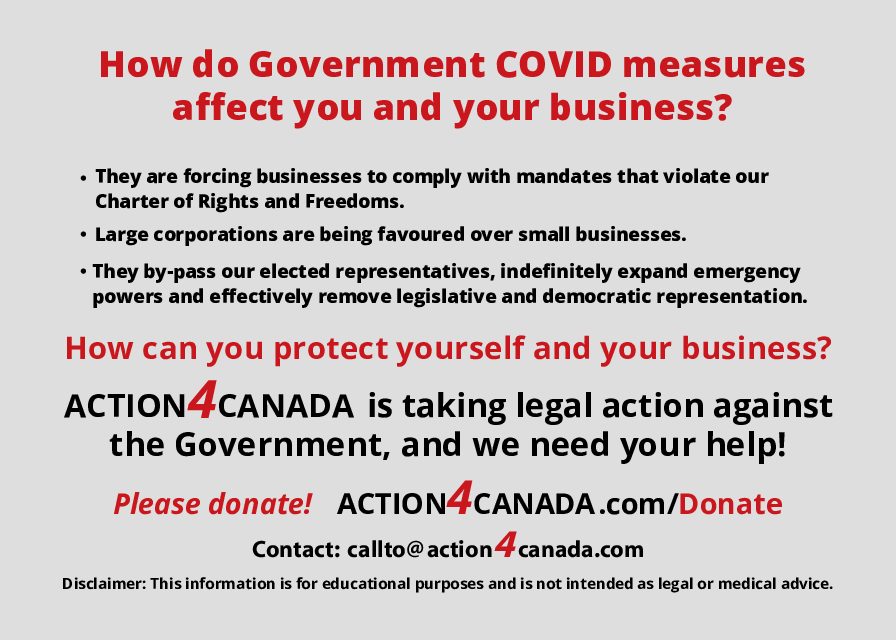 ALL RIGHTS RESERVED ACTION4CANADA INC.