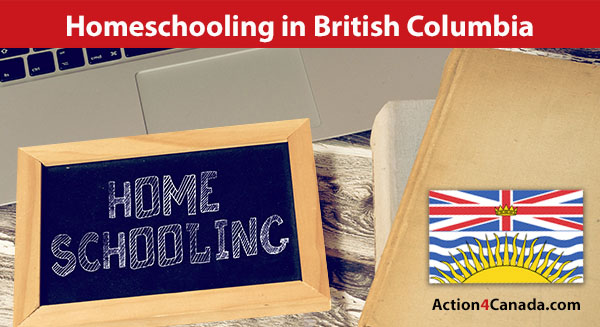 In BC, homeschooling and online learning at home are two separate things, even though the child is at home in both situations.  There is Registration (homeschooling) and Enrollment (Online learning at home with a certified teacher).  Both options allow the freedom or choice of religious education.
The minimum requirement in BC is to register the child in any school in the province by September 30.  Age requirement is age 6-16.  (Ages 17-19 is optional).  Each child in BC is assigned a PEN (Personal Education Number), whether attending school or home schooled.
Registration/Homeschooling
Registration ensures the most freedom with no accountability to the government or obligation to teach prescribed curriculum.  The government allots 1/8 of funding per year, per student, plus or minus $250 depending on which school the child is registered at.  Registration is also known as "Traditional" homeschooling.
Some independent schools offer a Homeschool Equivalency Graduation Certificate which satisfies many colleges entry requirements and job application forms in lieu of an accredited BC Graduation Diploma.
Many families create their own weekly co-op groups or learning pods for their children, where they find new friends and build their own educational communities.
Distance Learning/Online Learning
A second option in BC is to Enroll the child in schools that have been accredited by the Ministry of Education.  This is also known as Distance Learning or Online Learning.  There are many wonderful supportive schools with great teachers.  The BC government allots a portion of funding for the child, plus or minus $600 per year, again, depending on the school. This money goes toward curriculum, sports groups, music lessons, etc. Some parents choose this option to receive the support and confidence to educate their children at home.
Distance Learning can be done through the public school system or an independent/private school. Public education can be quite laborious and non-engaging.  Independent schools, Christian and non-Christian, are far more engaging and tailored better for home education. With Enrollment comes accountability to the government Learning Outcomes with both parent and teacher oversight.
Many of the independent schools where children are enrolled locally, also offer co-ops or group learning pods for kids to participate in on a weekly basis. This is where many students make new friends.
A registered homeschooler in grades 10 to 12 may enroll in one or more courses through an Online Learning school. The combination pairs very well for many students with the essence of traditional homeschooling and the desire to achieve the BC graduation diploma (aka the Dogwood).
Whether a parent chooses to homeschool traditionally or enroll their child, the province has many support groups to help parents on their journey in home education.