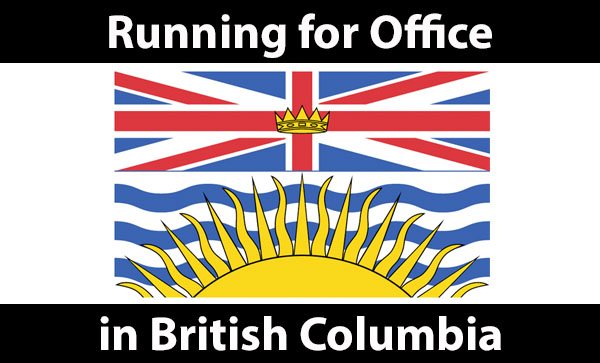 The nomination period for candidates to submit their nominations to local election officials in B.C. runs from Tuesday, August 30 to Friday, September 9 2022.
Download the nomination package and become a candidate for the October 15, 2022 municipal election in:
Alphabetical listing of other municipalities and their websites
Running for provincial office
Determine if you meet the basic eligibility requirements to run
Complete the nomination form
Review the other forms for candidates
Review the provincial guides on running in provincial elections:
Note, if a candidate wants to be associated with a registered political party on the ballot, the individual must seek the nomination from the political party prior to submitting their nomination documents with Elections BC. If the individual is not endorsed by the political party, the candidate's name will not appear on the ballot with the party affiliation. Candidates who are not representatives of a political party may run as independent.
What's the New Voting Technology All About?
The 2022 Vancouver-Quilchena by-election was the first provincial by-election in B.C. conducted under the modernized Election Act. New technology was used to administer the election.
The new technology included electronic voting books and tabulators.
Electronic voting books are laptops that are used by election officials to cross voters off the voters list..
Electronic tabulators were used to count voter-marked paper ballots. Tabulators are a proven technology and have been used successfully in other provincial elections in Canada and in municipal elections in B.C.
For more information, see the Government of B.C. Voting Modernization page.